Before there was NASCAR, there was a hotshot young promoter named Bill France (often tagged as "Wild Bill") and the National Championship Stock Car Racing Association. On Labor Day Monday, September 2, 1946, in partnership with Richmond's American Legion Post #1, France brought the NCSRA traveling show to the old Richmond Fairgrounds half-mile dirt track (not the soon-to-open Atlantic Rural Exposition Fairgrounds track, where Richmond Raceway sits today) for the first stock car race in the area post-World War II (and only the second ever).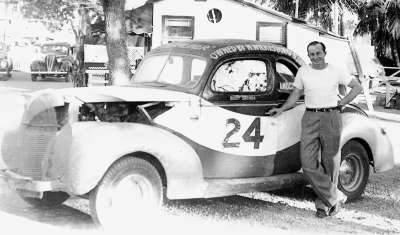 Buddy Shuman won the 30-lap feature that day, and France was so pleased with the 10,000-fan turnout that he declared the show would return for another race at the end of September. For some reason, that never happened. Nevertheless, stock cars had made their mark, and although all attention was on the midgets running weekly at Richmond City Stadium and the "big cars" at the new fairgrounds track, stock car racing had given notice it could succeed, and barely five years later, it was the dominant form of racing in town.
Thanks to historian Larry Jendras, I recently became aware of a copy of the program from that first race, available for all to see on the tribute website, www.wallycampbell.com. Everything written here to this point is a lead-in to Bill France's letter to the fans in that program. Here it is:
Stock car racing has been a favorite sport since the birth of automobiles. Stock cars first raced at the Vanderbilt Race Course and, later, some of the world's most famous stock car races were held at the Elgin, Illinois, course. Today at Daytona Beach, Florida, the racing Mecca of national championship stock car racing, the city entertains one hundred thousand of racing fans annually.
The sport is definitely on the upswing in this country since its incorporation in the national championship racing circuit for several reasons; namely, it is highly competitive; no special racing parts are allowed in races of this kind; a man does not have to be wealthy to participate, which, which makes the drivers' field unlimited. Lastly, the customers who pay the bill on all events see a race driven by daredevils in cars which run the highway the world over. Mr. and Mrs. America – watching these events – can readily compare these cars to those which they themselves own and operate."
Read that second paragraph carefully. Of course, by the time Bill France gave up the reins, NASCAR was allowing quite a few "special racing parts," and the racing was no longer done by "cars which run the highway the world over." You can argue about whether a man had to be wealthy to race.
You know where I'm heading with this. The cars today – designed by NASCAR and not the automakers – hardly compare to those fans own and operate. Is that part of NASCAR's problems today? NASCAR and I disagree.
NASCAR is painting an almost rosy picture of the sport's health today, about how ratings are moving back up, and the price of charters has gone through the roof.
That's fine, but it's not my sport anymore. Give me 1946 winner Buddy Shuman, or Gober Sosebee, who was involved in a multi-car wreck and probably had to scoot back to Georgia to haul some 'shine the next night. Give me third-finishing Red Byron from Atlanta, with his bad leg from WWII, or Marshall Teague of Daytona Beach, who took a double roll-over in his heat race and still ran the car in the consolation. Give me Tommy Bradshaw, who came down from Trenton, was involved in the big wreck and still finished fourth in the feature, taking home $100 for his trouble.
That's my STOCK CAR racing. In 1946, it wasn't yet NASCAR, and in 2021, it's become something else entirely. You can have it.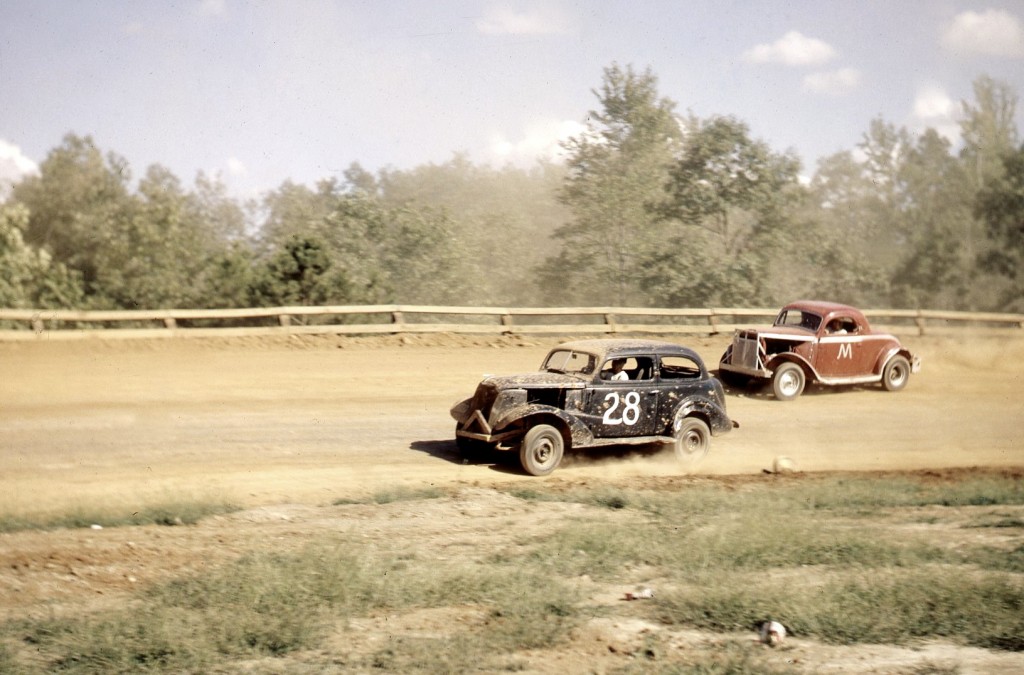 (Photo Credits – Our cover photo today is from NASCAR.com. The photo of Bill France is from Racers Reunion, which no doubt copied it from somewhere else. The Buddy Shuman photo is from HowStuffWorks and probably isn't original to that site, either, but in neither case do I have other information. The final photo is from Hilltop or Central VA Speedway in Zions X-Roads, Va. (although it's misidentified by Google as being from Douglas Racetrack in Ruckersville), and it's part of a private collection that may have first seen the light of day via Racers Reunion.
Frank Buhrman