Sometimes I read a story and still can't believe it. Example: The announced creation of NASCAR Refuels ("A Virtual Dining Concept), a partnership between Daytona and DoorDash. (Available items do NOT include the hot dog pictured above.)
I read the news release and asked myself: How many times have you gone to a sporting or entertainment event, bought some incredibly over-priced food, and said to yourself: "Gee, wouldn't it be great if I could get this stuff delivered to my house?"
Now earlier this season, at HighView Speedway, the West Virginia go-kart track, I got a burger, a hot dog, chips and a bottled drink for $8 – that's eight bucks total (and I saw it cooked on their little grill)! That I would have considered doing again – even with a DoorDash mark-up – IF I was ever inclined to have burgers and dogs delivered at all. NASCAR food? Not so much, especially since the Martinsville hot dog isn't on the menu (it's really not all that special, but there's some awesome tradition involved).
In case you missed the story, in essence, "Virtual Dining Concept" contracts with local restaurants to fix – according to provided recipes – the NASCAR Refuels menu items and have DoorDash deliver them to us. So the restaurant isn't even doing what it presumably thinks it does best, only what is needed to follow the "concept" recipes. Now I know that not every one of us is a Guy Fieri clone, but I'll boldly suggest that you wouldn't need to be one to take an all-beef hot dog on a soft hot dog bun and top it with jalapenos, coleslaw and pepper relish to whip up a Daytona Firecracker Dog. In fact, yours might even be better for not having traveled across town via DoorDash.
Oh, there you go again, Frank, picking on NASCAR. Are you just jealous because they make a lot more money than you do?
No, I just wish they'd devote more attention to common-sense fixes for the sport's problems, not food marketing concepts.
NASCAR hopes it's got your number
A minor element of the Kurt-Busch-to-23XI announcement was the note that the mock-up of Busch's 2022 car included a number that had been "moved forward on the door" a bit. Huh? What happened to moving the numbers to the rear quarter panel? That's what we were told NASCAR was studying.
In my recent travels, in fact, I saw evidence that NASCAR was doing more than just studying the rear quarter panel idea on paper. At both Motor Mile Speedway and Larry King Law's Langley Speedway in Virginia, some drivers in the lead division the night I attended had their numbers on the rear quarter panel.
A coincidence? Let's just say that one of the cars at Motor Mile was sponsored by NASCAR Technical Institute – now how do you feel?
Colleague/friend Vivian Simons doesn't like these, and she's hardly alone, but I kind of lump the issue into the same pile as concession food delivery: I just wish they'd pay more attention to the stuff that really matters.
These days NASCAR seems to have put most if not all of its eggs in the Next Gen Race Car basket, hoping its driving characteristics will cure all that ails the sport. Good luck with that.
The schedule changes seem more an example of throwing everything at a wall to see what sticks, and the inaction on points and rules show that those in charge only listen when they want to.
You know what I'm going to say next. There are other issues that the above efforts won't fix even if they go much better than some of us think they will. A closed club for owners, drivers the fans don't know or care about, and a car designed by NASCAR and not the people who actually make STOCK CARS are not issues the Next Gen car can touch, and as long as Daytona refuses to acknowledge that they're problems in the first place – much less look for fixes – at least some of us think things won't get much better.
And that doesn't bode well for Daytona Firecracker Dogs cutting into the number of Domino's, Pizza Hut or Little Caesars delivery cars out there on the roads.
Fun with History
It was my privilege last weekend to announce at the Eastern Museum of Motor Racing's Latimore Valley Fairgrounds restored race track as old race car enthusiasts ("old" refers to the cars, not necessarily the enthusiasts) brought their restored/recreated cars out for a spin.
I'm just going to put a few photos of those cars below. If these don't rekindle the glory days in your racing memory, I don't know why.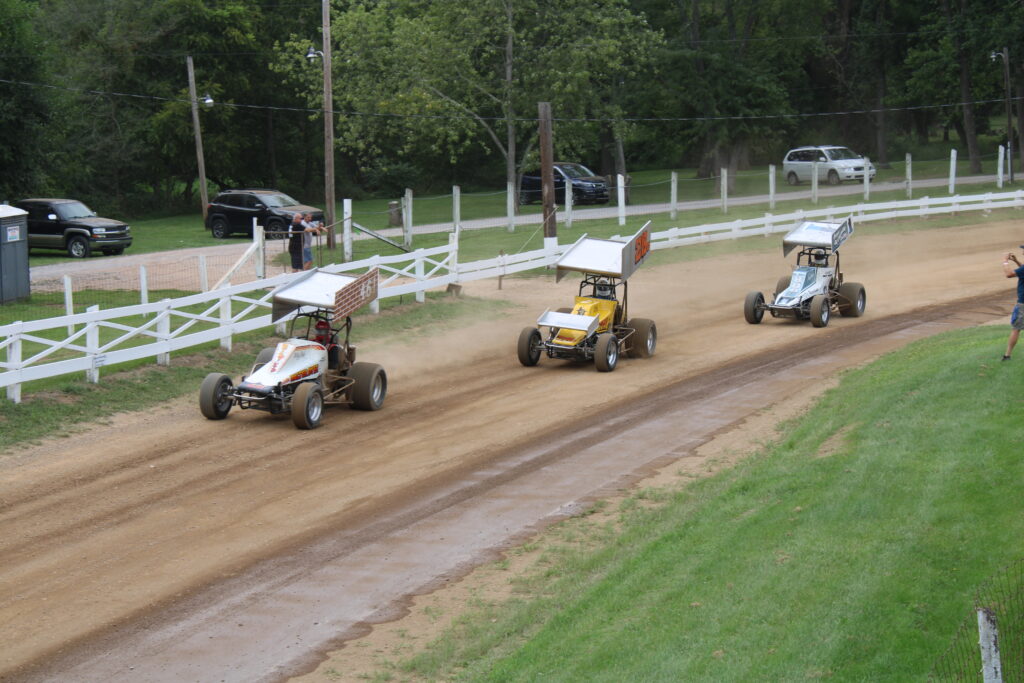 Frank Buhrman
Photo Credits: All photos by Frank Buhrman, except for the hot dogs, the image of which was borrowed from Kroger.