This race was on NBC and in the broadcast booth crew were Dale Jr, Steve Latarte, Jeff Burton and Rick Allen. On pit road were Dave Burns, Parker Kligerman and Marty Snider.
During the prerace, we were told that Kurt Busch will be racing the #45 for Hamlin and Jordan in 2022.
Before the race started, they showed a short segment on Dale Jr winning the July 2001 Daytona race 6 months after we lost Dale Earnhardt, Sr in the Daytona 500. It was a great presentation which showed quite a few NASCAR people expressing what they felt and still feel, and how they gained closure and dealt with his death.
Other information we were told was that Larson, LaJoie, Gace and Grala would start at the back due to multiple infractions found during pre-race inspection. Also starting at the back were McDowell and Alfredo because of issues with their deck lid assemblies.
When the race started, Hamlin took the lead right away. The cars were side by side on the first lap, and then Byron took the lead on lap 3. The cars ran single file until Harvick moved down to the inside lane and took the lead on lap 8. However, when they came back on lap 12 after a commercial, Hamlin was leading again. About that time, Chastain hit the wall and headed for the pits.
There was a competition caution on lap 21 and all cars pitted for fuel. Just as they were going to go back to green, McDowell blew up so they extended the caution for that. They talked with Chase Elliot during this time and he said the new package they were running was quite different, and the car could be run more aggressively. He came out in lead after the caution.
By lap 28, they were running 3 wide and Jeff, Dale Jr and Steve got very excited and loud. Rick remained calm during this time. They showed us some debris on Chase's radiator and shortly thereafter, Chase gave up the lead to drop back behind Logano to have the debris fly off. Then Logano got debris and as his temp went up, he also dropped back to get it off and lost several spots. Chase then went on to win Stage 1.
As Stage 2 started, things calmed down. Truex was leading on lap 62 and they were then running side by side. Went to commercial, and when they came back to racing, there had been no change. They started a through the field segment, and during this time, Bell, Stenhouse, KyBu and Dillon all passed Truex. There was a caution on lap 78 when Almirola was hit by Bowman. The field behind them checked up and Hamlin hit Preece, but did not sustain much damage. The cars were all bunched up again for a couple of laps. I noticed Larson was moving up through the field. Logano was leading and really started blocking with 8 laps to go in the stage. However, Blaney was able to get next to him and there was some great side by side racing between the two of them. There were no more cautions and Logano went on to win Stage 2.
Stage 3 was a bit more exciting with more racing between competitors. Hamlin was leading, but Harvick passed him with 52 laps to go in the race, and with 49 laps to go Logano was back in the lead. Then Blaney was in the front with 47 laps to go. During the pack racing, there was lots of pushing and blocking going on. Chastain went to the front on lap 118. They were running 3 wide again when the Fords lined up and they all pitted together with 37 laps to go. Chastain and Wallace were fighting for the lead and first one, and then the other took it. The Chevy's and Toyota's were still bunched up and had not pitted. The small group of Fords was still running in a line about half a lap behind since they had pitted.
With 20 laps to go, 3 of the 4 Rick Ware cars had an incident and a caution came out. The broadcast crew talked about the possibility of the Fords having an advantage since they had pitted earlier under green. Everyone in the pits was just taking fuel, but Larson and Elliot each took 4 tires. Dillon was too fast on pit road and he was also having an electrical problem. There was a caution after a big crash and Reddick was in it. He and Dillon were fighting for the last spot in the chase and both were having problems. With 13 to go, they flew the red flag to clean up the track. They talked with Byron, who was out of the race now, and he said it was like bumper cars out there. When back under caution, Dillon got a new battery and Reddick's crew worked on his car.
There was lots of blocking the last 8 laps. With 5 laps to go, Logano had a flat tire and had to go to pit road. Then there was a really big crash (what they like to call "The Big One") with 3 laps to go. Buescher was leading at this time. When the G/W/C flag flew, Blaney was in the lead. During the final lap, Suarez got into Harvick when he was tapped by another car so the race ended under caution. Blaney was the big winner. When he went up to get the checkered flag, as usual, he gave the flag to a very young Blaney fan he picked out from the stands.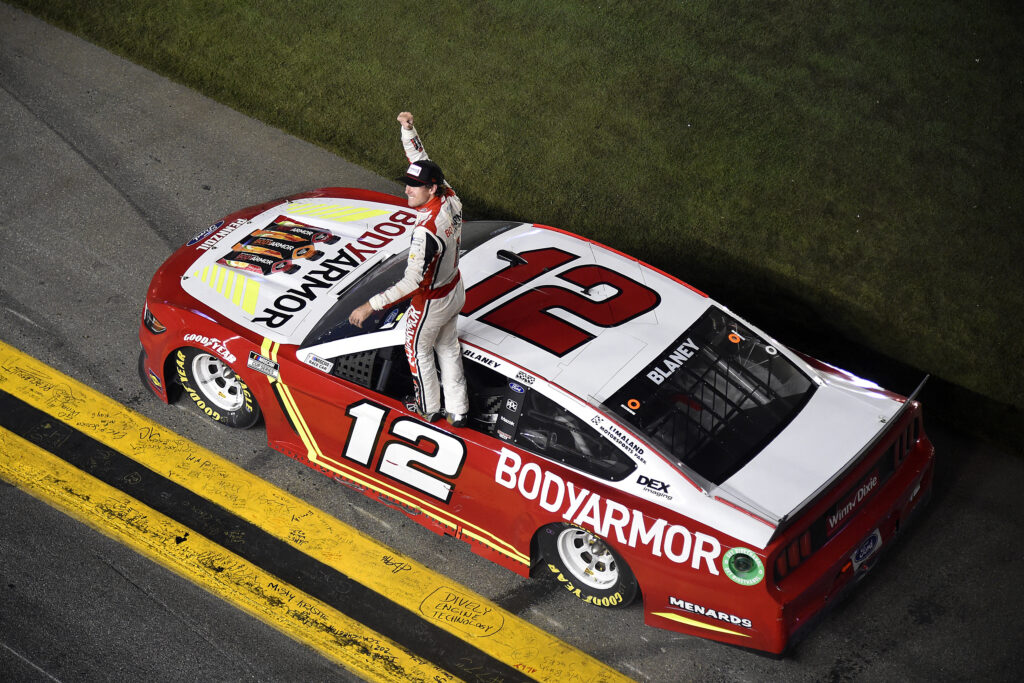 Reddick got the final spot in the chase and I was pleased by that.
Larson was presented with the regular season trophy which was beautiful. When he was told to lift it up, he said he was not sure he could as he had very small arms. I chuckled at that. He was able to lift it and he made a very nice picture standing there holding it over his head. I really like this young man and am proud of him.
As it is at most restrictor plate races, there was a lot of damage to many cars. Some fans like this type of racing and others do not. At times, there is good competitive racing, but other times I am on the edge of my seat waiting for accidents to happen. I am sure others feel the same way, but it never seems to change.
Thank you for reading. Your comments will be appreciated.
Vivian Simons
Photo Credit; Jared C. Tilton & Logan Riely / Getty Images and HMS.