Sorry race fans that this is late. Just got dried out from Sunday's EchoPark Texas Grand Prix@COTA. I didn't get to go mind you. I, like 2.362 million others watched on TV and my living room was damp after that. I'm glad I didn't have Fiber or I could have drowned.
The NASCAR Loop Data numbers for this much promoted and anticipated new road course on the Cup circuit were not quite what I had anticipated, but not surprising as race conditions went from damp to dangerous, resulting in the race being called due to inclement weather with 14 laps to go. 2020 Cup Champ Chase Elliott found himself as the lucky recipient of the deteriorating conditions, getting his first win of the season and his 12th Career Cup win.
Back to those soggy Loop Numbers
In the 40 green flag laps in the rain-shortened 54 lap inaugural affair, NASCAR Loop Data recorded 2760 passes for position at the no telling how many scoring loops strung throughout the 3.410 mile course. This worked out to an average of a whopping 67.3 green flag passes per lap, the most for the season. Talladega registered a 62 green flag passes per green flag lap average which held the previous high. This is quite a bit more than what we saw at the Daytona Road Course (49.6) and was the opposite end of the spectrum from what we saw last week at Dover (1.4).
Where was the passing?
Of the 2760 green flag passes, 750 were classified as Quality Passes or passes that took place in Positions 1-15. These made up 27% of the green flag passes. P1-P15 makes up 37.5% of the 40 car field so the bulk of the green flag passes took place in the back of the field or as cars up front pitted and dropped to the rear and made their way back to the front… or slid off course and recovered. Rain can do that you know? For example, race winner Chase Elliott registered 96 passes at the scoring loops but only 33 of those were in P1-P15.
What about lead changes… the ultimate Quality Pass?
In the race, we had 11 lead changes among 10 drivers. Ross Chastain was the only driver to lead more than once. Joey Logano and Kyle Busch were the only drivers to lead double figure laps (14 and 12 laps respectively). Totals then fell off to Chase Elliott who lead the final 5 laps, Kyle Larson, Chastain, Austin Cindric leading four laps each. Michael McDowell, Alex Bowman and Martin Truex, Jr. each lead three laps, while Ryan Preece got two laps under caution.
Of the 11 lead changes, 10 took place while a damp green flag flew over the field.
Ten Lead Changes over 40 Green Flags Laps meant lots of Racing didn't it?
Hmmm on the surface yes but when you dig a little deeper, maybe not. Three of the Lead Changes took place on Starts and Restarts. The remaining seven took place when the Leader would pit from the lead and relinquish it to second place. That was it.
Does this mean there was no Racing Passes for the Lead?
COTA had lots of excitement, but two cars racing for the lead, two laps or more after a restart and before green flag pit stops was not a part of that excitement. You saw lead changes in the first two laps after a restart, lead changes when the leaders would pull off the track to pit and that was it.
This is the first race of the season where there was not a single green "Pass On Track", a Racing Pass for the lead.
So if you're into Restarts and Strategy this race had it. Dueling for the lead… maybe next week.
Here is the COTA Lead Change Summary that outlines the action: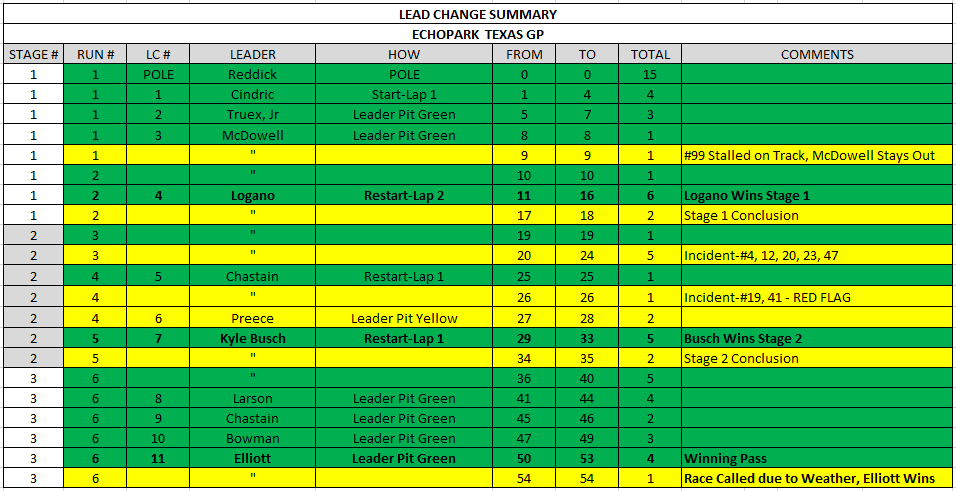 That all the numbers I could wring out for this week from the available loop data. There were a couple of other metrics of interest I'd hoped to get but they just weren't available yet.
Other numbers of interest not reflected in the Loop Data that factored into the race
These weren't part of the loop data, but were numbers of note for NASCAR's initial soggy soiree deep in the heart of Texas:
0-Ability for Race Control to see all the way around COTA. COTA is a large track. On Monday's SIRIUSXM's "The Morning Drive" NASCAR's Sr. VP of Competion, Scott Miller told Mike Bagley and Pete Pistone that on road courses NASCAR cannot see the entire track and "officiates through an elaborate camera system".
0-Number of laps many cars that started the race on slicks completed before heading to pit road to get rain tires.
0-Driver and Spotter visibility at times during the race, especially after restarts as major wrecks occurred after the field was bunched together then.
0-Traction on the backstretch at speed as we saw aerial shots of Chase Elliott hydroplaning down the backstretch
0-Clearance for Kurt Busch to shoot the gap between brother Kyle and Austin Dillion when he locked his brakes entering the turn and was unable to slow due to track conditions. Amazing.
1-First time at COTA… also first impressions
1-Number of red flags scored by NASCAR, a 20 minute 53 second stoppage after the Cole Custer, Martin Truex, Jr. crash.
1-the number of green flag laps between the massive crashes that occurred after going back to green with the field bunched up and zero visibility
2-Number of massive crashes during the race, the second one resulting in a Red Flag.
4-Incredible Laps by Austin Cindric who started the race on slicks and was clicking off laps as fast as his competitors who were racing on Goodyear's rain tires. That was some driving display.
4-Laps lead by Chase Elliott before the final caution and the race was called.
5-The number of times Cole Custer escaped injury in his wreck with a slowing Truex, Jr.
The brutal initial contact with Truex Jr. which had Truex, Jr.'s car on Custer's car and nearly flipping him.,
Hard contact on the left side with the inside barrier which luckily was a foam barrier,
The resultant terrifying fire that engulfed the #41,
Ricky Stenhouse, Jr. narrowly avoided Custer as he tried to escape the fire. Without last second avoidance by Stenhouse, Jr. Custer could have been struck by the still speeding Stenhouse, Jr. or by his own car if Stenhouse, Jr. had hit it.
and just when you thought it was over, the safety vehicle nearly slide into Custer as he stood at the edge of the track.
If Cole Custer was a cat he would have used up more than half of those nine lives in that thirty seconds or so at COTA.
11-The number of cars who had to go to the rear because of unapproved changes made during the pre-race tire swap pit stop.
19-In hindsight is probably the point when the race should have been stopped based on what fans saw on the FOX FS1 broadcast. I guess NASCAR's elaborate camera system saw something different. Stopping the race here though would have meant the race was not official and would have had to finish the next day.
.77 – As we saw on Monday's NASCAR RACEHUB, this is the amount of elapsed time between when Martin Truex, Jr.'s in-car camera detected the flashing red light from Michael McDowell's car and Truex, Jr. slamming into the rear of the #34, triggering the wreck that resulted at the red flag.
28-These are the number of additional laps the race continued after the crash mentioned above with the .77 second visibility at speed before it was finally called.
40-The number of drivers who started the race and amazingly drove these cars beyond the conditions they had to race under. 33 made it to the end.
53.1-These is the percentage of fans who rated COTA as a "Good Race" in the Jeff Gluck poll.
54-The number of laps NASCAR decided there was sufficient visibility to safely put on a race.
120-The number of rain-soaked spotters who did their absolute best to try and safely navigate their drivers through Sunday's weather. 99 were successful. Good job!
268-The number of Cup wins by Hendrick Motor Sports. This ties them with team wins leader Petty Enterprises
800-this milestone is the number of wins by Chevrolet at the Cup level.
40,000+?-The number of hardy and enthusiastic race fans who endured the event Sunday in less than ideal conditions. My hat's off to each and every one of you.
Unidentified numbers-the number of cameras in NASCAR's "elaborate camera system" used to officiate road course races that didn't show visibility issues until lap 54 when the final caution was thrown and the race called
Any way you cut it, it's a lot of numbers. Some good. Some not so good… just like the weather.
I hardly think what we saw Sunday is representative of the kind of race that can be put on at COTA. Next season we'll have a new car that is built for this type of venue equipped with enhancements learned from this trip in the event we have a repeat in weather.
I'm hoping for less damp conditions next year.
The thing I took away from the weekend and it's many challenges, that in order to be able to race as safe as possible in non-ideal conditions you have to have two things – tires that can work in the conditions and drivers must be able see to do their jobs and compete.
When you don't have either, it's time to insert proper judgement and stop the race, no matter what lap you're on, be it lap 1 or lap 54.
I wonder if, heaven forbid, we lose three-fourths of the lights before the end of Sunday night's race would we push on even if the drivers can't see? I hope not, but that was essentially the call made last Sunday on lap 20 can continued to be made until it became too much… it became too "dark".
It's hard to place a number on proper judgement, but as we move into new venues and push the envelope you can never have too much.
Whatever that number is, going forward we need a bigger number than what we saw Sunday.
Thunder On…. Stay Safe
David.
Photo Credit: Chris Graythen / Getty Images