Note: Before I begin my review, I would like to mention something from the Xfinity Race Saturday. In ads and in pre-race show, we kept hearing how Dale Earnhardt, Jr would be pacing the field in his late Father's newly restored 1984 #8 Chevy Nova as part of the throwback weekend show at Darlington. However, FS1 chose not to show us that special moment. Not only were TV fans disappointed, but so was Kelley Earnhardt and she expressed her feelings on Twitter. There was also an interesting article about it that you can read HERE.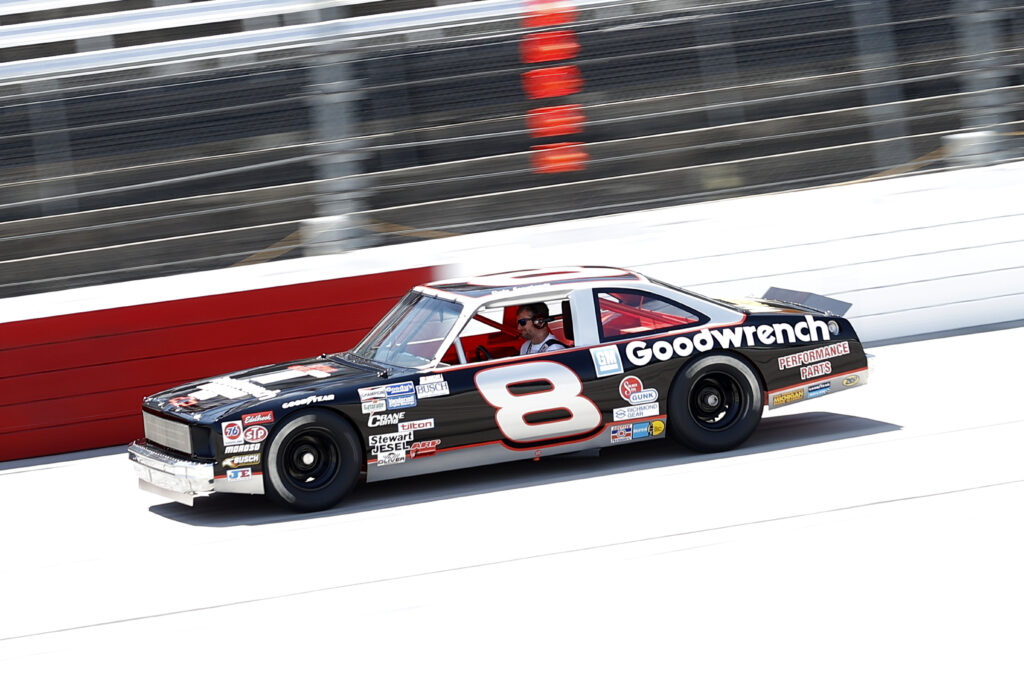 On to the Cup prerace show and it was quite long. I will only mention a couple of things. They had a great interview with Leonard Wood who talked about his homemade engine that he made by special request for Ford. He made every single thing on it from machining to the final assembly and it took him 9 months. It was beautiful. Another interesting part of the show was when Ryan Blaney and his Mom sat and talked about his Grandpa, his Dad and his involvement with racing. They shared pictures and memories from throughout the years. The Ryan Blaney Family Foundation supports the Alzheimer's Association because of his Grandfather who suffered from the disease.
Jeff talked with Byron on the radio and then the broadcast crew gave us the odds for the race. After that we saw a fun video of Joey Logano taking his Mom on a special and fast ride in a dune buggy to treat her to a special early Mother's Day lunch in the woods. He had table set up with white tablecloth and served pizza. She insisted on driving back and did a pretty darn good job. They showed us a picture of the SHR #41 car of Custer which was honoring Margaret Haas who turns 96 next month. They then showed us the SHR #14 car of Briscoe who honored the great A.J. Foyt with his paint scheme.
The Invocation was good and Smokey Robinson sang his special rendition of our National Anthem, which he had sang at the 1986 World Series. I am still not sure how I felt about that. They showed us a video of past drivers Moms and then past drivers and all time winners.
Prior to start of Stage 1, they told us Leonard Wood would be pacing the field on the parade lap. However, we only got a very short glimpse of that as it was more important to them to talk to Harvick on the radio. As usual, they only named the first 5 rows of drivers and left it to the fans to scroll where our favorite driver was starting.
Stage 1 green flag, and both Clint and Jeff told us all drivers had a great start. Larry Mc told us there would be a competition caution on lap 30. Mike mentioned he thought Reddick was against the wall briefly. Then Larry Mc again about the flare on the right rear and how you definitely did not want to push it in. Harvick took the lead from Keselowski on lap 6 and Almirola hit the inside wall really hard on lap 7 with a bit of help from Stenhouse. On restart, we were told they had moved the choose cone (arrow) down the track some to allow for more room on the outside. Caution came again when KyBu's tire started coming apart just before he led his 18,000th lap. In the pits, Jamie told us Harvick said he had no grip and Regan reported on Reddick and Hamlin, but unfortunately, I was unable to hear what he said about them. NASCAR used this caution as their competition caution, which I thought was a good decision. During this time, they talked about Harold Brasington who built Darlington for NASCAR. Green flag racing resumed and remained very calm, and then green flag pit stops began. During the stops, they told us about the blue stripe Goodyears the cars were running and that the tires all had blue stripes until they switched to the Eagles. This was good history. Truex won stage 1. During the pit stops, they jokingly told us about the Speedway Police and how Larson was nailed for speeding coming out of the pits.
Stage 2 started and all was going rather mundane until Custer crashed after Alfredo in the 38 hit him. It was similar to the Almirola crash and now there were 2 SHR cars out of the race. When the green flag came back out, Truex took the lead and the cars got rather strung out, as usually happens in stage 2. On lap 109, KuBu got hit by Wallace and Wallace did not get the free pass as he was involved in making the caution come out. Both Jeff and Clint thought this was a controversial call by NASCAR. They gave us updates on the top drivers, and by now Truex had an 11 second lead. Truex went on to win Stage 2. They told us how the Wood Brothers had choreographed the quick and orderly pit stop. I loved hearing this information.
Stage 3 and Truex was off to another lead that kept growing. It wasn't long though before Larson started catching him. There was slight competition for the lead with 27 laps to go, but then with 17 to go, Larson started dropping back a bit. With 15 laps to go, they decided to show us some of the competition in the pack in several different groups. Meanwhile, Truex began to get a bit nervous and started pushing it a bit more and taking chances with the lapped traffic. There was more competition as Larson kept coming. At one point, Larson split 2 lapped cars to get through and although the booth got rather excited and seemed to be nervous about it, I thought it was one of the most beautiful moves I had seen in a long time. It looked as though the space just opened up for him! To me, this was the most exciting part of the race. I enjoyed watching the last 27 laps more than the rest of the race, because there was finally a chance for another driver to take the lead. However, Truex went on to win the race and Larson finished 2nd.
If you enjoyed reading this and find anything you agree or disagree with, I would enjoy reading comments from you. Thank you.
Vivian Simons.