Talladega and St. Petersburg on the racing menu this weekend. One of the news going into Talladega weekend was NASCARs decision not approve Jennifer Jo Cobb to run the Cup-race on Sunday. I'm not going to say to much about this other than I don't understand the NASCAR decision. I can only hope that Jen Jo can turn this devastating blow into something positive! ( To read more about this click here. )
Nasty weather was in the forecast for Saturdays ARCA and Xfinity race. However this time Mother Nature was kind to us race fans, and especially us who root for Jeb Burton. Had they gone back Green again after the clean up on the lap #85 accident. This easily could been really bad, with the rain coming down hard when hitting the track.
Austin Cindric had the Pole with Daniel Hemric on his outside for the start of the race. Hemric took the lead and led the first 15 laps. Like most of them Superspeedway races, the lane that is the best organized is the lane that moves forward if there is enough cars in it! By the end of the stage Justin Haley had manage to maneuvered his car to the lead.
The second stage also went caution free with Jeb Burton leading the first 10 laps. The Lead changed hands during he rest of the stage depending on witch lanes where moving forward. Two and sometimes three wide racing makes it exciting to watch. When the green and with Flag flew Noah Gragson was the winner of the stage with team-mate Justin Allgaier behind him.
Last stage started off with a bit of single file racing for a while after the restart, mostly with Austin Cindric in the lead. Clicking of laps until green-flag pit stops. Unfortunately for some, last weeks winner Josh Berry, spun with a rear tire going flat, inside the pitting cycle. On the restart Harrison Burton had the lead with Austin Cindric on the outside and Jeb Burton behind. Now, it was go-time, Jeb Burton soon took the lead with help from his wing-man AJ Allmendinger. Jeb Burton had manage to stay in front of the field for a couple of laps. Mid-pack Joe Graf Jr. slid up the track and made contact with Michael Annett and Brandon Jones and from there it was all on. Shout out to Ryan Sieg, P.5 and Brandon Brown P.7 ( Complete results HERE )
Superspeedway racing is always a bit nerve-racking just like this was, but for a Superspeedway race it was OK. Joey Logano and Tyler Reddick in the Fox Booth did a very good jobb along with Adam Alexander. Once Logano retires he could have a great career as a race-analyst. Like I said earlier I am not only happy for Jeb Burton taking the win. I'm also thankful to NASCAR for not giving the field the Green Flag. And to Mother Natur for letting me of easy and saving some of my nails until Sundays Cup-race.
The Cup race on Sunday was about what we been use to seeing with this Package set up on the cars. Vivan Simons got most of it covered, click HERE. to read it. I'm sure most of you have seen video clips of Joey Loganos flip-over coming to the green-with checked flag. One can call this accident a racing incident if you like. To me it looks like a receipt to disaster, six cars been locked together bumper to bumper and someone in the middle tries to break out of line. At a speed round 200 MPH. things goes wrong faster than a blink of an eye. Like Joey Logano said in the interview this needs to be looked at, it is dangerous the way it's done right now. ( Complete results HERE )
Overall a "normal" Talladega race and to round off these lines I want to give a shout out to Kaz Grala in the Kaulig Racing #16 P.6 this time. I hope you didn't miss the Joey Gase entry this weekend honoring Davey Allison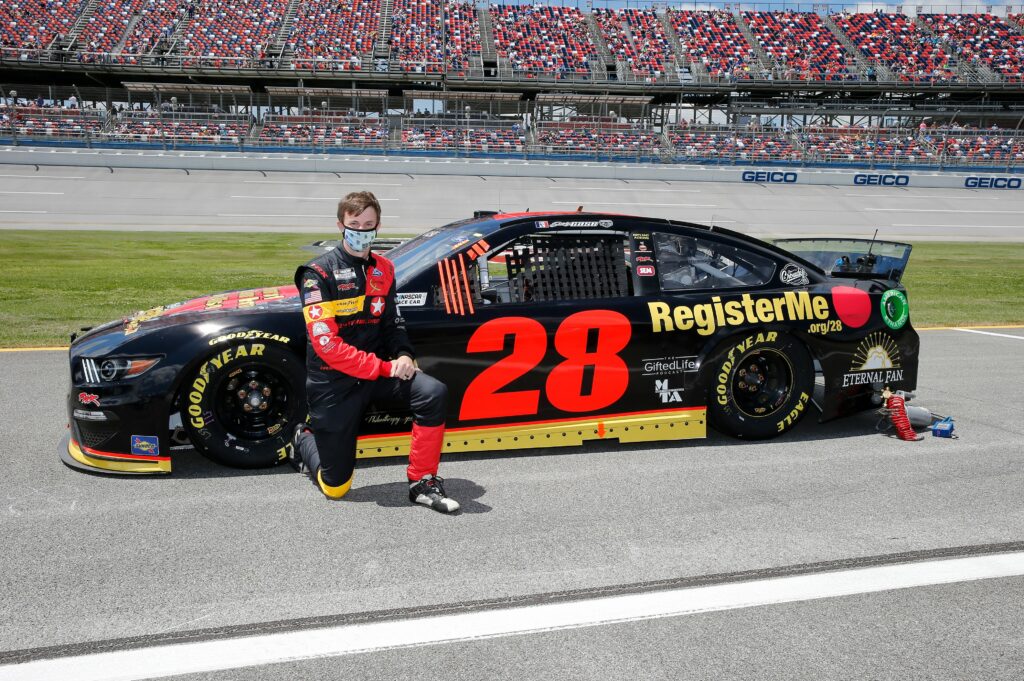 IndyCar from St. Petersburg also this weekend and high hopes for our Swedish IndyCar racers. However in qualifying nether Felix Rosenqvist nor Marcus Ericsson had a fast enough car to advance from the first round of the quals. For the race we had Colton Herta on pole and Jack Harvey on the outside. Last weeks surprise winner Alex Palou was starting from P10 on the grid and the Swedes P16 and P17. Starting back in the field on the tight Street-course in St. Petersburg you have your work cut out for you. This only time we had a lead change was during pit cycles. Colton Herta led 97 of the 100 laps for the win. The Penske team-mates Josef Newgarden and Simon Pagenaud Second and Third but the end of the day, they had nothing for the winner. Marcus Ericsson had a good race and manage to move up true the field a bit to finish P.7. Best Swedish finish at St. Petersburg came in the second Indy Lights race of the weekend where Linus Lundqvist finished third.
That's all for now.
Stay Safe.
//B
Credits;
Photo Credit; Sean Gardner/Getty Images
Statistics; www.racing-reference.info