To many American race fans (especially a Yankee like me) the unofficial opening weekend of summer (the racing season) is gauged by the Indy 500 held every year on Memorial Day weekend in late May. "The greatest spectacle in racing" as it is known, is a race that I have attended 4 or 5 times and every time it delivered an impressive spectacle. Labor Day weekend is seen by many Americans as the unofficial end of summer. The Labor Day Southern 500 "Throwback" weekend is a great way to wind down summer & the racing season. It says put away the grill, autumn is on the way, and soon a new NASCAR Sprint Cup champion will be crowned.
The unlikely tale of Darlington Raceway and how the Southern 500 became one of America's crown jewel racing events begins in the tiny town of Darlington, SC. The traditional small southern town has a population of under 7,000. Its story of becoming home to one of NASCAR's most historic tracks is an unusual, and at times, comical tale.
The story began in 1933 when South Carolinian businessman Harold Brasington, attended the Indy 500.
Upon returning home, he began telling his friends that the South needed a paved race track like Indy. He envisioned a Southern 500-mile race to rival that of the North's Indy 500. Brasington believed that Bill France's new stock car league, called NASCAR, could be the perfect series to showcase such a race.
The townspeople and his friends all laughed at him, but Harold plotted and persevered. In 1949 he found the perfect plot of land, and building began. The site was a dusty old unused field that had previously grown cotton, pecans & peanuts. Around Darlington, the building of the 1.366-mile asphalt track became known as "Harold's folly".
The track is an unusual egg shape because turns-three and four were narrowed to protect landowner Sherman Ramsey's prized fishing hole. The raceway is extremely hard to drive due to its unusual shape with mismatched corners giving it the nickname "too tough to tame", because, well, it's simply too tough for drivers to tame.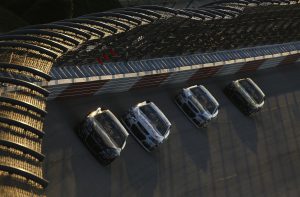 Darlington Raceway hosted its first race on Labor Day September 4th, 1950. This event was NASCAR's first 500 miler & first race on asphalt. Brasington expected 10,000 fans and was shocked when 25,000 fans crammed into the newly built facility. Hollywood Stuntman turned racer Johnny Mantz, dominated the event leading 351 of 400 laps in a black 1950 Plymouth taxi cab. Mantz, who started 43rd, used only one set of truck tires during the race. Mantz averaged a speed of only 75.250 MPH to win the first Southern 500.
Many drivers say Darlington is by far the hardest racetrack on the NASCAR schedule and one of the toughest tracks in the USA to master. Drivers ride the high line inches from the wall, a breadth away from success or failure. The track is famous for giving drivers (especially rookie's) a "Darlington Stripe". This is a scuffing of the sheet metal on the passenger side, from scraping against the track's retaining wall.
With over 65 years of racing under its belt, the raceway has hosted 113 Sprint Cup races with over 715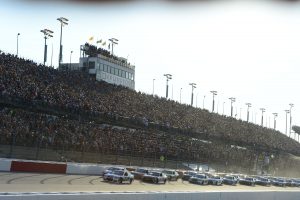 drivers earning their "Darlington Stripe". (124 of these were rookie drivers, making their Sprint Cup debut.) Darlington Raceway has had 49 different winners: Jeff Gordon, leads all active drivers with 36 starts, 1,744 laps led and an impressive 7 victories at the track "too tough to tame". It is easy to understand why the Bojangles' Southern 500 "Throwback" weekend is a greatly anticipated event on the NASCAR schedule and on the calendar of every self respecting "diehard" race fan.
This year's second annual Bojangles' Southern 500 "Throwback" weekend commemorated the years 1975-1984, Showcasing retro- inspired paint schemes, pit crew uniforms, helmets, and driver suits. The theme celebrates the drivers, cars and teams of the era, because without them NASCAR wouldn't be the spectacle that it is today.
One of my favorite things about the weekend is that it creates the opportunity for many of the smaller teams to have a brief moment in the spotlight, due to their retro paint scheme etc. This gives their sponsors a time to shine and draws further fan attention to the teams that truly are the backbone of the sport.
This year's race took nearly four hours to complete with an average speed of 126.437 MPH with 10 cautions for 52 laps and 14 lead changes. Martin Truex Jr.'s margin of victory over second place finisher Kevin Harvick was a mere .606 of a second. Kyle Larson, making his 100th career start and coming off of his first Sprint Cup win at Michigan, finished third.
After the race Truex, the driver of the #78 Auto-Owners Insurance Toyota, stated that his team has had a lot
of bad luck this season but, "we never lost confidence". He went on to say, "Tonight we were the best car and we finally won." He continued by praising his pit crew for a 11.2 second pit stop that helped him get to the front of the field.
Second place finisher Kevin Harvick, criticized his pit crew for a gaffe on a late race tire change saying, you can't make a mistake and be champions. Harvick maintained his points lead in the championship as the series heads to Richmond the final race before the Chase.
Photo credit:
Robert Laberge/NASCAR via Getty
Jonathan Ferrey/Getty Images