2016-08-21
Finally, the V8 Thunder Cars (V8TC) Series summer break was over. It has been five weeks since I heard the lovely V8 engines sound (and smell) from the Camaros, Mustangs and the Challengers roaring at the race track. A 2.5-hour early Sunday morning drive was completed without any problems. My travelling companions and I were among the first race fans inspecting the race track and garage areas. For the first time, I moved from the green grass to sit in the grand stand. Hey, sometimes you need a little variety in your life and see the races from a different angle; don't you agree?
Once more, Falkenberg Raceway was the host for the V8TC Series races.  But this time, not together with the Scandinavian Touring Car Champion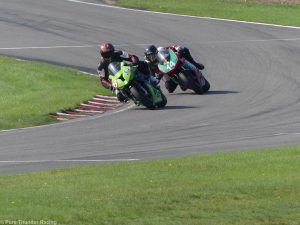 ship (STCC). Instead, V8TC joined forces with their two-wheeled friends – Swedish championship in Road Racing. The two-wheeled Road Racing Series included; A2, 125GP/Moto3, Superstock 600, Superbike, Speedster, Rookie 600 and Rookie 1000. A large variety of motorcycle racing classes and drivers competed all weekend. I'm a rookie regarding two-wheeled racing, but I must say that I got the feeling and excitement for this type of racing as well. Especially when a race included 21 fast going motorcycles with high adrenaline drivers on them.
The Road Racing Series did their tests and qualification between 09.00 &12.20 (9 a.m.-12.20 p.m.).
It was a long wait, but finally the American thunder cars did enter the track – the final event before the lunch break. The wet track had dried up in the morning and the moisture in the air had gone away when the sun finally made it through the clouds. I'm happy to say that the rain tires stayed in the garage this time and the weather conditions were almost perfect. The Swedish National Anthem was beautifully performed trackside and the V8 engines were fired up.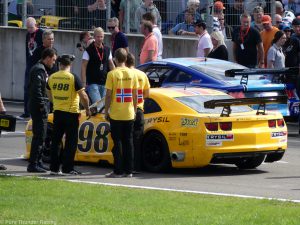 There were 17 cars on the start grid for race one. Bryntesson Motorsport #7, Mattias Lindberg was in pole position, Team Trysil #98, Stein-Frederic Akre in second and Memphis Racing #77, Alexander Graff in third. Memphis Racing #86, Fredric Magnusson had the fastest time in qualification, but failed the technical inspection (body) and had to start at the end of the field (both races). The pole sitter Lindberg was quickly passed by the fast flying Norwegian, Akre. Lindberg did not look as fast as normal and he complained about bad tire grip throughout race one. Graff took second position initially, but Akre worked hard for many laps to find an opening to pass Graff and he finally did it majestically without any problems. Akre took the checkered flag, with Graff as runner-up and Lindberg in third position. #86 Magnusson (who started last) had a remarkable race and drove his white and blue Camaro all the way up to fifth position. #19 Erik Stillman was involved in an early accident and managed to salvage a position eight in the end. #42 Christoffer Bergström tried to pass #78 Jonas Fors, and at least to me, misjudged the situation and both lost control of their cars. Both drivers rebounded from this and #42 Bergström ended up in position nine and #78 Fors in position eight. #11 Robert Möller saw the classic blue flag numerous times and his white and orange Dodge Challenger didn't have any speed today. Rookie #81 Simon Magnusson only managed one lap and ended his race in the gravel.
After the first exciting V8TC race a very nice airshow followed with, I think, an old Russian YAK 55. Very impressive air show by the pilot Mats Andersson.  After numerous motorcycle races, the day would end with the second V8TC race.
Again with #7 Lindberg at pole, #98 Akre in second and Team Pampas #96 Marcus Palnér in third
starting position. Persic Motorsport #13, Toni Persic did not make it to the starting grid, so we had 16 cars at the start. Lindberg managed to keep the lead for a couple of laps, but I think his tire grip had not improved to his liking. Lindberg tried to drive defensively and block the all yellow Camaro of Akre, but could not hold on to the lead. Akre was very fast today and no other car in the field could show that kind of speed. Graff, who started in position four, did get stuck behind Micke Kågered Racing #6, Andreas Ahlberg too many laps to really be a threat to the top three cars. The race settled in and the cars held on to their positions. I was already writing down the top three drivers for this second race when a few laps remained – #98 Akre, #7 Lindberg and #96 Palnér when suddenly Akre didn't come back to the start/finish line. Everybody was confused and wondering what happened to Akre. His lead was large and Lindberg was not tailing him close at all. The reason that Akre had gone off the track by himself was a broken rear axle and the rear wheels locked up. A nasty accident but luckily Stein-Frederic was ok and his car only suffered minor damage. #7 Lindberg took the checkered flag, #96 Palnér was the runner-up and #77 Graff ended up in third position.
#86 Fredric Magnusson did, once more, drive from the last position to a very fine position four at the end. I wonder what would happened if he had started at the front row. His car was fast today. #19 Eric Stillman was the only car with a DNC in race two – a day I think Eric would like to put behind him.
Time to summarize the "fan feeling" experience on this Brith Memorial race day. I think it was one of the best races of the season at Falkenberg Raceway. The weather was on "our side" and with no red flag or pace car disrupting the race, I can only say that this was what I wanted as a race fan.
The only "small problem" is that you want more than 2 x 20 minutes of V8 Thunder Cars racing because this is best racing experience that you can get in Sweden now – if you ask me…
More Photo from Falkenberg Raceway