It's early, somewhat chilly, Saturday morning, June 11. It's time for V8 Thunder Cars (V8TC) to race hard for the second time this season. I've got the same excitement as on the season premiere day. Ljungbyhed Raceway is a new track for me (and for V8TC) and it tickles a little extra to visit a new racetrack for the first time. As a race fan, you always want to see tough and hard races. I'm thinking about the track layout. Will it be some exciting turns for the big American race cars to pass? Also, you want to find a good spot to overlook the race track.
Well, it's the shortest journey to travel this V8TC season – only 1.5 hours to drive from my hometown to Ljungbyhed Raceway and the short distance is a blessing for me. This time, there was a small hiccup at the entrance gate. The gate was managed by staff not from V8TC (Power Meet staff) and the media credential list had disappeared somehow. A quick call to V8TC media officer Joakim Tärnström solved this trouble rather quickly. Parking was easy and without trouble. I have been "warned" that the track facility standard was pretty low, but I must say that the only "grandstand" with four rebuilt 40-foot containers (photo below), was serving its purpose. I got a good spot up on the container roof and held on to that the whole day.
As we all know by now, V8TC stands on their own feet without Scandinavian Touring Car Championship (STCC) as a main event organizer. In Swedish racing, the main event organizer is depending on support classes to fill a 08-17 (8:00 – 5:00) race day with non-stop racing for the hungry race fans. There are always two races for each class, but the races are normally only 20 minutes in length without any pit stop for changing tires. This weekend, V8TC joined forces with Power "No Bullshit" Meet 2016 at Ljungbyhed Raceway. A "Power Meet" is a power car event with two cars competing (drag race) on a 201 meters' straight track (were anybody can test their oversized engine cars). The Power Meet also includes some drifting, but it's also a meeting point for all who love American muscle cars. The race area was filled with American muscle cars, both new and old. It was a very impressing lineup.
The track weather was part sunny, part overcast with cool breezes in the early morning. The temperature went up slowly as the day progressed. Anyway, the racing activities started with a massive Legend Cars lineup qualifying. Legend Cars was also supporting V8TC at Mantorp Park in the premiere, but here at Ljungbyhed Raceway, it must have been three to four times more Legend Cars competing! It was so many that there had to be two qualification races and two finals (A and B final). This is exactly what we race fans want – many cars competing at the track. You get so much more action all around the track. Doesn't matter if the fields spread out – there is always something to follow somewhere on the track – that's racing folks!
It was now time for the main event – V8 Thunder Cars race one. This was the rookie of Memphis Racing's #48 Chevrolet Camaro Andreas Wernesson's race. Wernesson, who started at pole position, did get a nice rebound from the troubles from the premiere at Mantorp Park (DNS, P15) and led all the 20 laps from start to finish. Impressing driving from the rookie. Bryntesson Motorsport's Ford Mustang #7 Mattias Lindberg tried to challenge Wernesson a few times but took the checkered flag as runner up after starting in position two. Memphis Racing's #77 Chevrolet Camaro Alexander Graff started and finished third. As you already noticed, track position is king at Ljungbyhed Raceway. #19 Erik Stillman lost his front splitter and ended up in position 11. #11 Robert Möller only finished one lap before spinning out hard in the tractor gravel and received his second DNC for the season. #44 Peter Möller also spun but managed to salvage a position 13 and finished on the lead lap. Both #99 Christoffer Jarl and #13 Toni Persic ended up with DNC.
Directly after the V8TC race one started the Power "No Bullshit" Meet. It's the first Power Meet for me and I must say it was pretty amusing to watch. Crazy homebuilt old Volvo's with plenty of extra horse power, lovely American muscle cars, German and Japanese cars – both custom and standard built were competing against each other on a 201-meter drag race track. Some drivers chose to drift instead of racing and created smoke all over the Ljungbyhed Raceway! After the Power Meet there was time for lunch and a very nice grid show with all the Legend Cars and V8 Thunder Cars lined up together – nice view indeed.
Then it was time for the National Anthem (did miss that moment at Mantorp Park) and a formation lap for V8 Thunder Cars race two. #7 Mattias Lindberg was in pole position with #48 Andreas Wernesson in second and #77 Alexander Graff in third starting position. This race almost ended in the first turn with multiple cars crashing and ending up in the gravel. Too many drivers gambled too high for a first turn pass after the long front stretch start. I can understand the strategy to some point because the first turn is the best place to pass, but you need to wheel your car perfectly to complete the pass also. The race was over for #96 Marcus Palnér, #13 Toni Persic, #6 Andreas Ahlberg. #66 Joakim Ahlberg ran six laps but it was not enough to pass the 70 % (or 14 laps) limit for a race result (DNC). #78 Jonas Fors ran five laps before his left rear end caught fire. Luckily, Jonas was safe and track personnel were quickly on site to put the fire out. After this initial crash, the race was on cruise control for the leader of #7 Mattias Lindberg. Lindberg was never under any threat and took an easy victory. Rookie #81 Simon Magnusson was up in the top three and stalking his older brother #86 Fredric Magnusson for a couple of laps but faded in the last laps and, unfortunately, lost control of his car and hit hard charging #77 Alexander Graff. That ended Graff's day to get any points from this race and Simon ended up in position ten. Only eight cars managed to finish the race on the lead lap.
The race day was then rounded off with two finals (A and B) of Legend Cars. Hot, intense and actually real interesting racing to follow. I must say that I like Legend Cars more and more. It's the cheapest Series to compete in and a good platform to "move on" to higher Series.
It's time to summarize the day at Ljungbyhed Raceway. I must say that I like it from a fan's point of view. You feel welcome, the pit crews are friendly and open with everybody. The American muscle car "atmosphere" was all over the raceway today. Personally, I don't care about fancy VIP tents and other special commercial areas as we are used to in the STCC world. Here it's all about racing and having a good time together with other enthusiasts, fans, drivers, mechanics and whoever turns up to enjoy themselves at the track. The only thing that I want to see in the season final here at Ljungbyhed Raceway (September) is another "grandstand" section at the start/finish line.
I think V8 Thunder Cars is, without doubt, the hottest Series in Sweden right now!
Results V8TC race 1
Results V8TC race 2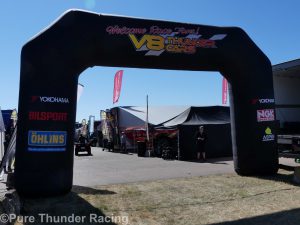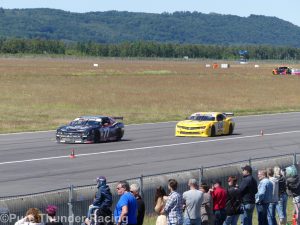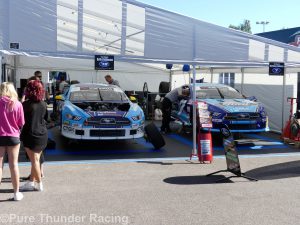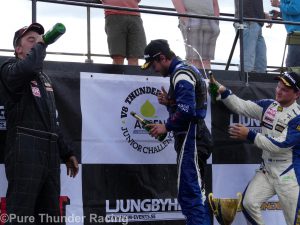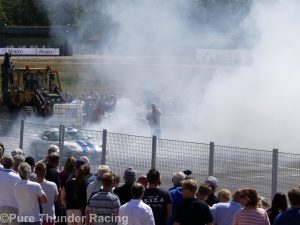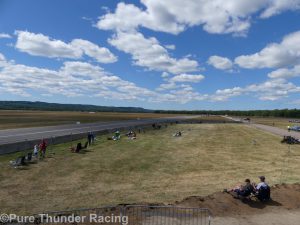 More photos on PTR Facebook
Video on PTR YouTube
Thunder Racing Fans on Facebook

Photo credit: Jens Martin /Pure Thunder Racing