Freddy Nordstrom collected an array of strong results during the third round of the NASCAR Whelen Euro Series (NWES) last weekend (11th-12th June) at Brands Hatch. On home soil, he steered his way to a succession of top 10 finishes
A strong performance during the pre-race weekend test sessions saw Freddy claim a fifth place finish on both occasions. A sound start gave him the confidence he needed as he headed into qualifying, with very little chance at securing the fastest time.
The short Indy circuit layout often presents problems with traffic, and with the competitive field surrounding him, Freddy managed to secure an eighth place start for race one. The competitiveness of the NWES fraternity was echoed in the qualifying session times, with just eight tenths of a second between the top 11 drivers.
Starting on the outside was always going to be difficult, but Freddy was determined not to let it faze him. As the field rushed towards Paddock Hill Bend, Freddy was muscled out by his rivals, in a bid to avoid any first corner drama.
As the race developed, Freddy managed to clamber his way back to eighth place. With the chequered flag just a few laps away from sight, he was promoted to sixth place, when others collided ahead of him, to score a strong result.
Very close lap times during race one made for another competitive grid for the start of race two. As he lined up in eighth place, Freddy was just two tenths away from the second fastest time, with virtually nothing between the top eight drivers.
A wet race this time around added an extra spectacle to the on track excitement. Slight drizzle made for a very slippery circuit surface.
An outside line starting position again made for an interesting launch, as he found himself submerged in high speed action. A safety car quickly simmered the pace, as the train of cars followed for six laps.
An outside line at the restart once again saw Freddy slip back to 12th place. A determined drive saw him make up some positions by the end of the race to bank himself an eighth place finish, and another competitive top ten result.
"It was a good weekend for us, but frustrating at times," said Freddy. "The weekend started very well, but the second race was difficult. The conditions made it extremely tough, full rain would have suited us more than drizzle, but we still managed to secure a good result.
"To finish the weekend with the car intact is a dream, it's just a shame the weather let us down a bit in race two. But two good results is what we needed at this stage."
Freddy's next race will take place at Tours Speedway during 24th-26th June, where there is always set to be excitement.
Leanne Fahy – Media/PR
Tel: +44 (0) 7530 084953
Email: pr@leannefahy.com
Follow Freddy Nordstrom:
Website: www.freddynordstrom.com
Twitter: www.twitter.com/freddynordstrom
Facebook: www.facebook.com/FreddyNordstrom
Photos from Brands Hatch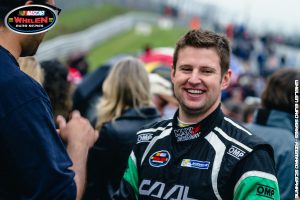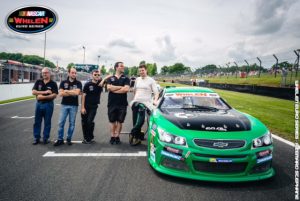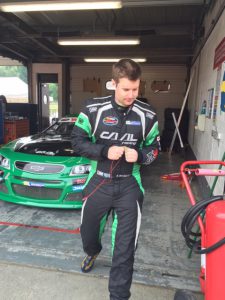 Photo credit: Monica Nordstrom and NASCAR Whelan Euro Series