Team PTR are very proud to present an interview with V8 Thunder Cars team owner and promoter Tony Bryntesson. We would like to thank Tony for taking his valuable time for this interview and also Joakim Tärnström at V8 Thunder Cars for the photos. 
Personal Q
PTR: When did you, for the first time, find out that you were interested in Motorsports?


TB: Sometime in the beginning of 1970 and then in 1975 when I applied for membership in SHRA Jönköping
PTR: How did your racing career started? A short background.


TB: It started 1976 when I got involved in SHRA-Jönköping as an official on drag racing events. Then in 1979 I joined a drag racing team that my friend Lars Theander had and he was the driver at that time. We built and raced a Ford 31 Roadster at the strip. In 1981 I started to drive and we moved on to faster and faster classes. In 1989 to 1995 I drove a Top Fueler, we were racing in Scandinavia, Europe and we went over to the USA and did a race there in 1994. I ended my Top Fuel career in 1995 with winning the Swedish Championship. Then in 1997 to 2002 I changed completely to road course racing with a couple of former DTM Mercedes 190 cars. In 2003 I wanted to race a V8 car and got involved in Camaro Cup. I drove that till 2006. Then from 2007 up to now I race as a team owner.
Photo: Joakim Tärnström / V8 Thunder Cars


PTR: Who is Tony Bryntesson 'the team owner'?
TB: As a team owner I want to have everything as perfect as possible. I work hard to achieve that and my fantastic crew do that as well.
PTR: Who is Tony Bryntesson 'in private'?


TB: I live in a house outside the city with my girlfriend and two cats. I like to meet my friends, having a beer and a chat. For me private also means motorsport because it is form of hobby but also a business for me. Then I have some vintage US cars and a boat I hope I can enjoy during summer time.


Series Q
PTR: If you compare V8 Thunder Cars (V8TC) to other racing series in Sweden, what is the most significant difference?


TB: This is a series that go all the way back to 1975 when it first started as V8 Super Star Cup then over the years it had its up and downs, but it´s heritage is huge and always come back strong, now under the name V8 Thunder Cars. Our series is spectacular with American muscle cars with big V8 engines and a lot of horse power, we try to make it simple and put on a good show, drivers are well known to not back off and that is something the race spectators loves.
Photo: Joakim Tärnström / V8 Thunder Cars
PTR: Under 2015 season, V8TC has increased its promotion for the series. As an owner, have you managed to get more media time and/or sponsorship?


TB: Promotion and PR for a series is one of the most important things to do. We had promotion in the past but 2015 we got an opportunity to step this up. The promotion increase of the series will be done in several steps and 2015 we took the first. For 2016 you will see even more work to be done in that area. Our goal is to make V8 Thunder Cars a well-known name and that will help me and all other team owners and drivers to bring more partners into the championship.
PTR: For the first time, V8TC will not be part of the STCC organization this season. What is your reflections on this?


TB: To be honest, this came as "lightning from clear sky". In October I got the first information that STCC didn't want to continue to cooperate with us but they held the door open for one or two races together for this year. Then a month later in November I received a final e-mail that we will not run together at all 2016. First we were really disappointed because the timing was so bad, we had worked under the assumption that we would run at least one race together which meant that we were dependent on that particular date to sort the rest of our calendar out. The late decision by STCC put us in a real difficult spot in terms of putting a calendar in place. But our board and the members took this as an opportunity for us to finally try to make it our own way with more action, spectacular racing classes, car show´s and Rock & Roll music. 2016 had been extremely hard to put everything together but it will be a little bit of what we want to do but we are already making plans for 2017 and that will be a blast!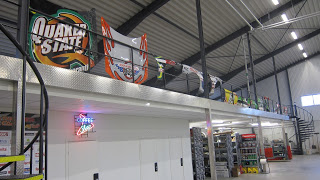 Photo: Joakim Tärnström / V8 Thunder Cars
PTR: "Thunder Cars" are also racing in Norway and Finland. Have you ever thought of a "Scandinavian V8TC Series"? From your point of view as team owner, could it be possible?


TB: Yes of course we wanted that from beginning. 2010, 2011 and 2012 when the new Gen.5 Camaro came, all Danish, Norwegian and Finland drivers were running in our series in Sweden and then we actually had a Scandinavian Championship. Then Denmark decided to use our cars and start their own series instead of their DTC series that was a type of STCC level racing. Some drivers from Norway did follow to DTC also. DTC changed some technical rules so at the moment there is too big off a difference between Sweden and Denmark to compete together. But Finland and Lettland have almost same rules as we and from 2017 we will have a common rule book. And there is also some Norwegian teams running in Sweden. So maybe we will see a championship together with Norway, Finland, Lettland and Sweden.
Team Q
PTR: Short background of Bryntesson Motorsport.


TB: BMS started as a company back in 2003 to work with events and race cars.
PTR: What was the best and worst moment for your team last season in V8TC?


TB: If we start with worst moment, then it must be when my driver lost control of his car at the premiere in Skövde and hit the concrete wall hard. The hit was so bad that we needed to use a spare car. Best moment must be at the same race when all drivers signed a paper to letting us race our spare car. That is typical for V8 Thunder Cars family, the "help each other" thing. Thanks again!
Photo: Joakim Tärnström / V8 Thunder Cars
PTR: Your veteran driver Patric Sundel ended up in position eight last season. What can you say about Patric's season? Will we see Patric driving for you this season?


TB: Patric and I have been working together for two years now and last year was a slight disappointment. Patric has the skills to be in top level in our series. Both of us thought that we had a chance to be in the top five. It is hard to put a finger on what the problem was and if I could do that we would have been in the top five. When this interview is taking place we are talking about continuation in 2016 but there is some parts to be solved first, as it always are in motorsport this time of the year.


PTR: Your rookie driver Erik Stillman, driving the #19 Chevrolet Camaro, made a solid first season. What can we expect from Erik this season? Can he improve his position?


TB: Erik did a good first season and ended up in 10th place in the total. We have already signed a contract for 2016 and we will raise the goal for the coming season. Erik ran former Jens Edman Swedish Championship car from 2014 and that was really a good car, but it is now sold to another driver in V8TC. Our team will run two brand new Ford Mustang gen.6 2016 model so that will be a new experience for Erik Stillman. Now we will see if the new Mustang will be faster than the old Camaro in the hands of Erik.
PTR: What is the costs for keeping a V8TC team afloat one season (one car)?


TB: This is always depending on what you calculate into a budget. Some teams run with friends that help out without any payment another has a paid crew etc. Then you have teams that do all work themselves while another buy all the work for the car. Also, crash budgets differ a lot. But to give you some figures I say around 250`
PTR: What is the costs for a V8TC team if you want to compete for the championship title (roughly)?


TB: A good team with a paid crew and some extra testing I say around 500`
Photo: Joakim Tärnström / V8 Thunder Cars
PTR: How much, in percentage, is the sponsorship covering a V8TC team's expenses?


TB: That´s a difficult question to answer. Approximately 70-80 %
PTR: If you would like to start an own V8TC team, what is the first thing you have to do?


TB: Make a financial budget. Find good and nice crew members, then buy a car and go racing. I also recommend this new team owner to contact me or Richard Berggren, we will be more than happy to help out.
Racing & future Q
PTR: The new gen 6 Ford Mustang has arrived in Sweden. The news says that you are going to switch from Chevrolet to Ford this season. What impact will this switch have for your team?


TB: It is always fun to start the season with new cars and it has an impact on the team when everything is fresh and new. Performance-wise there will be no difference because we all drive the same parts under the body.
PTR: Have any other V8TC teams ordered the new gen 6 Ford Mustang?


TB: No, these two will be first in Scandinavia. But I know there are teams out there who wants it. Also the new Camaro gen.6 will be available this season.
Photo: Joakim Tärnström / V8 Thunder Cars
PTR: Can you challenge for the championship this season?


TB: Yes we can! Everything can happen in V8 Thunder Cars but most likely we put our goal to be in the top 5 this year with Erik Stillman.
PTR: How is it to be a team owner and work as a promoter for V8TC at the same time?


TB: It is not the optimal situation to have it like that. This is not only for me but also my promoter partner Richard Berggren who is also running a team, Memphis Racing. But both of us have our heart in V8TC and will do everything it takes to get our series drivers/teams to have really good racing series and also keep an eye to keep cost to a minimum. I hope everyone see and feel that we are really doing our best to achieve that.
PTR: Your Company, BMS Engineering AB, also constructs race cars and engines, tuning, sales and other race related services. How is this business doing right now? Expanding or decreasing?


TB: Running a business on racing cars and parts associated to that is not an easy task. We do all sorts of work during winter time.


PTR: Can you see that American racing will expand in Sweden, Scandinavia or Europe? Are there any discussions going on in this topic?


TB: Well if you mean racing with American cars, I think it will expand in Sweden. Sweden, Norway and Finland are the countries outside US with the most US cars on public roads so the interest is huge. It is all about finding the right package to those US car owners and make a really a nice race day for them and all others of course.


PTR: Finally, do you still have the feeling to go back inside the race car and compete?


TB: No, I done my part of driving a race car. Now I want to help younger drivers and to develop our V8 Thunder Car series to something special.