By: Stephen Dando
My motorsports story begins on Independence Day, July 4th, 1987, at the tender age of nine. The Cleveland Grand Prix, IndyCar race was my first motorsport experience.  I was hooked from the very first minute, but this comes as no surprise as I am a third generation race fan. To this day I love the bright colors of the cars, the sound and power of the engines, the scent of burnt rubber and ethanol race fuel.  Today racing, or thinking about racing, is a part of my everyday life.
As a kid, every summer my family made the annual trek to Mid-Ohio Sports Car Course for the IndyCar race. I feel that I was almost raised there. I took my first girlfriend to a race weekend as a date.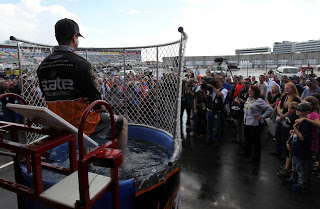 Sarah Glenn/NASCAR via Getty Images
Upon graduating Copley High School in 1997, a group of friends and I made a graduation trip to "The Tricky Triangle" Pocono Raceway in Long Pond, PA for the Pennsylvania 400. I clearly remember my favorite driver, Dale Jarrett, winning. Needless to say, we all had a great time and Jarrett went on to win seven races that year.
In 1999 while at Wilmington College, I studied abroad in England. I left for Europe three weeks before classes began. I absolutely had to attend my first Formula 1 race, the Belgian Grand Prix at Spa, a race won by Scot David Coulthard in a McLaren.
In 2002 after college, I spent a year living in Australia and undoubtedly I had to see a V8 Supercar race. I went to the Sydney Motorsports Park race and V8SC legend, Mark Skaife won both races convincingly. He went on to dominate the Championship.
Let's fast forward to 2012. After working on a successful re-election campaign for U.S. Senator Sherrod Brown. I decided that I would use my Communications degree to become a Public Relations person in the world of professional motorsports.  This was a natural progression of my love of racing and use of my public relations skills. Little did I know what a long and winding road this would be.
I set out on this journey by studying various motorsport Public Relations firms and writing them. Next I gathered NASCAR, IndyCar and United SportsCar team addresses. Slowly I began to understand how the motorsports Public Relations industry works. Several Untied SportsCar PR people were willing to give me guidance and advice about how to get into the industry.
I joined Twitter @SteveOnTheGrid and set up a motorsports- only Facebook page. Next I looked for a Public Relations Internship with a racing PR firm or with a race team. Little did I realize how difficult that would be.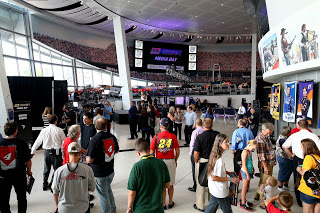 Streeter Lecka/NASCAR via Getty Images
I spent the entire 2013 race season going to NASCAR, IndyCar, United SportsCar and even motorcycle races all over the United States. I handed out hundreds of business cards / resumes, talked to many Team Managers and a multitude of Public Relations professionals.
I spent the month of May in Indianapolis, Indiana, the IndyCar and Sports car capital, in hopes of working with a team in the Indy 500, but, alas, it was not to be. I was able to find a part time PR home in the United SportsCar series with Race Epic/ Murillo racing. I worked the final four races of the season, working two races trackside and two from home. At this point I changed from being a race fan to a motorsport professional.
My first race with the team and my first Public Relations gig was at the famed Indianapolis Motor Speedway. We finished second. I wasn't even credentialed yet and had to watch from behind a fence as the team called out to me from the podium. The feeling was incredible. Walking back to the hauler I was carrying one of the driver's helmets and a champagne bottle. Several small children stopped to get the drivers autographs. Our next race was at Road America in Wisconsin and again we finished second. This time I got to be a part of the podium pictures and one of the drivers gave me his podium hat.  With this second, we took the lead in the points. It looked like the first team I worked for was going to win the championship, but it wasn't to be. Sadly, in the last two races the team had poor results and we finished fourth overall in the standings.
CMS/HHP photo
I was pleased to have spent my time in the media center writing, press releases featured on the United SportsCar and Murillo team websites. I even booked the team on a Boston area motorsports talk radio show.  This was a great experience but I was never paid anything more that a podium hat.
From this I was to realize that I was unlikely to find a PR home in sports car racing due to the fact that many of the teams were cutting back, not hiring. Many of the PR professionals in this paddock were earning less than stellar salaries and had little to no job security.
In 2014, I was to focus all of my time and energy into getting a full time Public Relations position on a NASCAR team. Early on, this shift in strategy looked like it was going to pay off when, speaking to the young team manager of SR2 Motorsports, an Xfinity Series team, who stated that I would be the team PR person. He further went on to say that he didn't have the time to find a PR person and I walked in at just the right time and said I wanted the job, but this was conditional in that the team need to find a primary sponsor.  The team never found a primary sponsor and several months later the team went under. I went on to interview for a few other teams but my lack of "experience" led them to hire people they had known from the paddock.
Later, during the 2014 season, Ohio- based ThorSport Racing, a championship team in the Camping World Truck Series, allowed me to shadow their Public Relations Rep. at the Michigan race, a race that ThorSport driver Johnny Sauter won.  It was a great feeling to be down in victory lane and to be a part of the "hat dance". It looked as though I may have found an in-house Public Relations position for the 2015 season, but it wasn't meant to be. The team felt that they did not have the time to train me, so they retained the outside firm they were using. I spent the 2015 season writing for various blogs and saving my money for the move to Charlotte in 2016.
The next time you watch a race, realize that the drivers aren't the only ones competing. Every crew member, PR person and everyone in the paddock is competing to be at the top of their game. I began my quest to become a NASCAR Public Relations person as a fan but I will finish it as a professional. I will look for you in the paddock in 2017.