#17 Ford, Ricky Stenhouse Jr., Roush Fenway RacingRicky Stenhouse Jr, age 28, a double Xfinity Series
champion in 2011-2012, is trying hard to find his rhythm in Sprint Cup Series. After two subsequent disappointing seasons in Sprint Cup (2014-2015) with declining stats (two top-five total), his seat in the 17 car must be in doubt. He needs the 2016 season to be a positive one with better results, which means more top-tens and a few more top-fives. Last season, Ricky's average finish was 24.3 and that is not impressing at all.
At Daytona, Ricky started in position 19 and ended up in P22. That's acceptable result. At Atlanta, Ricky got his first top 10 finish (P10) after starting from position five. The no.17 car was hanging on pretty good at the Atlanta race and both Austin Dillon (P11) and Joey Logano (P12) were held behind him.
Can this result give Ricky and the team a needed boost at Las Vegas?
#13 Chevrolet, Casey Mears, Germain Racing
Casey Mears, age 38, is a full-time driver in Sprint Cup since 2003. Prior to 2003, Casey had one full-time season in the Xfinity Series (2002) which he ended up in 21st place. Casey has also a background as an open-wheel driver with full-time Indy Lights Series (1997-2000) campaigns and part-time IndyCar Series involvement in 2001 (1 win, 5 podiums in 12 races).
His best year in Sprint Cup was in 2007 when Casey collected 1 Win, 5 top-five, 10 top-ten and 1 pole. Unfortunately, Casey lost his ride at Hendricks Motorsports in 2008. Since 2010, he has been driving for Germain Racing. The statistics for Casey in 2013-2015 seasons shows us a solid team with an average finish of 24.2 (2013), 22.3 (2014) and 23.1 (2015). Keep in mind that Germain Racing is a one-car team with lesser funds.
At Atlanta, Casey has an average Sprint Cup career finish of 21.8. This season race at Atlanta ended up in position 14. We have to go back to 2008 season for a better result (P12 – Hendrick Motorsports).
Las Vegas is coming up next and that is perhaps not Casey's favorite track according to the statistics (with German Racing) but perhaps it's time to turn the statistics around?
#24 Chevrolet, Chase Elliott, Hendrick Motorsports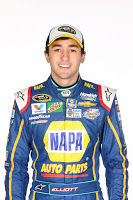 Chase Elliott, age 20, made his second start in the legendary 24 car this season. Chase, the son of Bill Elliott (2015 Hall of Fame inductee) has big shoes to fill after Jeff Gordon. As Ricky Stenhouse Jr, Chase is also an Xfinity Series champion (2014) and runner-up in 2015 season. His statistics from Xfinity Series and lower series are very impressive. Let's see if Chase can get a good rookie season with Hendrick Motorsports. He really has a world-class team around him to "seal the deal."
Chase got five "test" races in the 25 car last season with Kenny Francis as Crew Chief (Henrick Motorsports). This races resulted an average start of 24.2 and an average finish of 26.2 with one DNF. Valuable lessons were made under those five races.
This season, Chase has Jeff Gordon's crew chief of Alan Gustavson at the helm. Starting from pole at Daytona, Chase was involved in an accident and ended up in position 37. At Atlanta, the figures were reversed. Starting from position 24, Chase drove the 24 car all the way up to position 8. The future is looking bright for young Chase Elliott. (JS)
Photo credit: 317685Photo by Todd Warshaw/NASCAR via Getty Images (NASCAR Media)