Pure Thunder Racing is very proud to present a new driver interview with V8 Thunder Cars no. #96 Chevrolet Camaro driver/owner Marcus Palnér. All photos by DeltaPhoto. 
Personal Q
MP: Tough but fair. Some contact between cars
is not a problem if it on the "right" side of the line.
PTR: Who is Marcus Palnér 'in private'?
MP: Happy guy who likes to joke around. Work
a lot, but plays a lot to.
Series Q
PTR: If you compare V8TC to other racing series in Sweden, is there any
significant difference?
MP: The V8TC and STCC is pretty much alike on
paper, Tube chassies with the same engine in all the cars. But V8TC has always
been what the audience wants to see. and I personally think that the Racing
itself has been much tighter and more action involved.
PTR: Under 2015 season, V8TC has increased its promotion for the series.
As driver/owner, have you managed to get more media time and/or sponsorship?
MP:We have notices some increased attention,
But as with all things it takes time.We have been working for years to get
where we are now with the team and sponsors/partners.
PTR: Do you think V8TC should continue to race under the "STCC umbrella",
or perhaps in the future, try to make it by themselves? 
MP: I would like to think that V8TC could make
it but Sweden is to small. We need a big united event and gather the audience
for these kind of events. But I do think that STCC should look closer to
Denmark and make the V8TC to their main class and they would have a lot of
drivers and cars on the grid. 12 cars in STCC as it is now barely make it an
official "SM" title.
#96 in action at Solvalla (DeltaPhoto)
PTR: "Thunder Cars" are also racing in Norway and Finland. Have you ever
thought of a "Scandinavian V8TC Series"? From your point of view as team
owner/driver, could it be possible?
MP:I have, And i think it would be a very good
concept. I dont have all the answers to how it would work but the idea has
crossed my mind a lot of times.
Team Q
PTR: Short background of your team #96 – Palnér & Co
MP: Palnér & Co started up 2 years after I
started racing i V8TC or Camaro Cup as it was called at the time. I felt that I
wanted more then I could accomplish in someone elses team. That is pretty much
where I became "we". Got a lot of amazing guys around the car and
team.
PTR: What was the team's goal for the 2015 season with the #96 car?
MP: The teams goal was as 2014 to Win the
championship. If not that, at least make it a good podium, but with a broken
gearbox at Mantorp and 3 flat tires in Falkenberg from 2nd position, I guess
that have changed to "all in" at Solvalla. Some things you just can't do anything about.
PTR: If you compare the costs to race in V8TC to other Swedish race
series. Can you say it's above or below average in costs?
MP: I would say that if you are looking to race
in Sweden at a top level V8TC is what you want to do. STCC sure is media wise, the top of the hill, but it takes a lot of money for less. At least if you ask me.
It's hard to put a number to it since everybody got different concepts and
income.
Racing & future Q

PTR: You are currently in P6 in the overall standings with 60p. What to
expect in the last two tracks with four races left?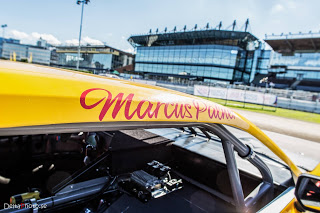 #96 at Solvalla (DeltaPhoto)
MP: Solvalla is my "home-track" and I
will give it all i got to show everybody what I'm made of.
PTR: Have your team made a different approach in preparation/setup in
qualifying/race this season comparing to last season?
MP:We figured out most of it last year but
sure we have made some changes here and there, The biggest one is probably
getting Anders Brofalk as a crew chief. He has a lot of great ideas and dont
mind putting his foot down.
PTR: You have raced in V8TC Series since 2009. Are you satisfied to race
in V8TC or do you want to change directions in the near future?
MP: Sure I'm always looking in different
directions but until now and I don't know about next year, There haven't really
been any alternatives for a guy like most of us who doesn't have a sack of money
laying around. V8TC is a great series and super competitive guys in it.
PTR: Is it possible to see you in any of the American NASCAR series in
the future?
MP: Sure maybe, and the V8 Supercars in
Australia isn't so bad either. Dunlop Series there is a really good way in to
the scene there.
PTR: Finally, if you could pick any Motorsport to race in – which one would you race?
MP: V8 Supercars, Australia. no doubt.
___________________________________________


I would like to thank Marcus for his time and I'm looking forward to watch him race at his home track Solvalla this weekend 11-12 September.
Other interviews with V8 Thunder Cars drivers: 
#77 Alexander Graff 
#83 Patric Sundel
#78 Jonas Fors