My mind can take me down some pretty twisty rabbit holes, given half the chance. Here's how one of them went:
I was trying to pull into focus an article on how certain aspects of "the old days" were, if not better, at least more attractive to me, an older NASCAR fan. Larry Manning came to mind.
Manning was a Richmond driver (originally from North Carolina) who started a NASCAR career less than a month before I attended my first race in 1963. In fact, the Richmond 250, my first race, was his third as a driver. It wasn't his best; the car blew up after 35 laps.
What I liked about Manning was how he got started. He saw a car for sale in Western North Carolina and – with his car owner Bob Adams, I believe the story goes – went to buy it and pick it up. On the way back, he heard that a race was being run at Hillsboro, N.C. (the town name wasn't yet spelled Hillsborough), and since that was more-or-less on the way home, decided to stop and race his new car. He actually finished 8th, although quite a few laps behind (Occoneechee/Orange County Speedway races tended to go like that).
Try that today.
I also like that about five years later, my buddy Dave Fulton and I went to a big late model race at Langley Speedway in Hampton, Va., and Manning showed up with his Grand National/Cup car. Now I'm no economist, but taking a GN car (which had a significant weight disadvantage and wouldn't be competitive) to a late model race (where payouts down the finishing order wouldn't have been anything to cheer about) could not possibly have been a smart financial decision.
Both stories are examples of how much more personal/individual (and maybe just plain odd) decisions within GN teams were in those days, when engineers, accountants, sponsors, car chiefs, and NASCAR officials by the dozens weren't part of the equation. I'll come back to that thought, maybe.
Somehow, my twisted train of thought shifted from Manning to David Pearson's car hauler with Holman Moody in the late 1960s. I've mentioned in the past that, on the afternoon/evening before the fall race at the fairgrounds in Richmond, Fulton, another buddy named John "Chris" Young, and I would cruise Richmond hotel/motel parking lots looking for NASCAR teams, kind of like British train-spotting on an even weirder level. Most teams' budgets were such that, if they could afford to stay in a motel at all, it was something like the Richmond Auto Court with its mini-cottages. Pearson and the Holman Moody crowd stayed at the Holiday Inn.
I tried to find a picture of the hauler I remember spotting back then, but couldn't. The one pictured here is similar – with my memory, it could be the one – but I recall the car sitting in the back at more of an angle . . . for whatever that's worth.
I guess our hauler-spotting was a kind of precursor or NASCAR's glory days when fans used to line all the highway overpasses along I-81 in Pennsylvania to see the Cup haulers pass underneath on their way to Pocono. I'm guessing that doesn't happen as much these days.
Holman Moody not only stayed in better accommodations, but it also had better digs for its cars. I remember a tiny GN team out of Tappahannock, Va., that ran a handful of times around 1970. The driver was Gordon Birkett. When you drove through Tappahannock, you could see the car, parked (uncovered) underneath the sign for the gas station that was its home. It was where other stations tended to park the car they were trying to sell because the owner had neither paid his bill nor come to pick it up. I don't think the gas station offered a race fan's tour.
Those haulers of the '60s weren't the kind of full-fledged shops they are today, which is why I have another "mind's-eye" memory picture that I've related before but will do so again here. In the fall 1965 Capital City 300, I arrived early and was seated atop the fourth turn bleachers, when I looked over my shoulder at the solid line of cars streaming through the fairgrounds into the parking area. One car was quite out of place: it was Gene "Stick" Elliott's Toy Bolton-owned Chevy #18, crawling along the access road like everybody else. Apparently, work was needed on the car, and Elliott had taken it to the gas station across the street. I guess none of the parking lot attendants was creative enough to figure out how to exempt a racer from the line. Stick Elliott must have been a patient guy.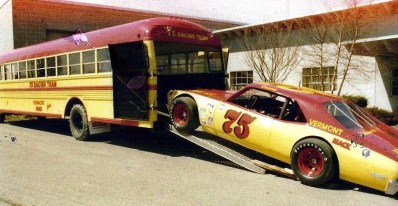 Not only were haulers smaller back then, but they also weren't always purpose-built. More than a few drivers towed their trailers behind hearses, and the school bus conversion was a petty common sight. (Actually, I saw a weekly car towed by a limo-style small bus at Hagerstown, Md., just last year.)
Tracks were sympathetic. At South Boston Speedway, there was a dirt embankment off the second turn for haulers without their own ramps – you just backed up like it was a loading dock. Once at Richmond, I saw Tiny Lund's Lyle Stelter #55 team driving through the parking lot looking for a drainage ditch shallow enough extract the truck from the ditch but deep enough to drop the back end/bed of the truck down enough to get the car out. Somehow, they made it work.
I'm not picking on today's teams, but I'm guessing there would be some grumbling at having to improvise as much as was common BITD. And you probably wouldn't hear the complaint that, "I'm not getting paid enough to have to put up with this," because a good number of those crew members weren't getting paid at all.
It's certainly safer to make everything's exactly as it should be today, but in some ways, I'm not sure it's better. I'll be the first to admit that I always swallow hard when I watch the '63 Daytona 500 on YouTube and see – after a good rain – a large puddle (pond?) of water at the entrance to pit road. Somebody failing to dodge the water hazard could have wiped out a good number of pit crews.
On the other hand, while it was no fun at all for Clyde Lynn, the start of the 1967 Capital City 300 was pretty entertaining for the fans. Rain had washed out qualifying, and the field plodded around the track for 10 laps to dry things a bit before NASCAR decided it was OK to throw the green flag. Lynn, who started 11th, quickly found out otherwise and crashed through Paul Sawyer's whitewashed fence around the track. The stogie-chomping Virginian was physically OK, but his hand probably hurt every time he looked at what was left of his car and then touched his wallet
See? This waltz down memory lane has taken me pretty far afield from where we started, and away from whatever point I may have been trying to make. (You've got to come up with a point for all this, Frank.)
OK, here it is: The Kansas Cup race last weekend gave us a memorable finish, but how many "mind's-eye" pictures did it produce that stand up to those I still remember from more than half a century ago? I wish we could have both close racing and a bit more human interest. Maybe the video game era doesn't place value on that, anymore, but I think there's something to be said for it.
I think all the drivers I've mentioned here have passed away, but I'd still like to thank them for those memories. They never knew what a modern car hauler could do, nor could they afford motor homes to bring the family along. In Clyde Lynn's entire GN/Cup career (four more-or-less full seasons and four with just a race or two), he averaged winning less than $430 per race (even with finishing in the top 10 in nearly half his starts). Things weren't THAT much cheaper then.
Clyde, Larry, Stick, Tony, thanks for loving the sport enough to put on a show for me, Dave, Chris and the others who fell in love with this sport in its formative years. I'm guessing you got plenty of "mind's-eye" pictures as your rewards, too.
An Especially Loose Lug Nut:
Frank Buhrman