By: Stephen Dando  (Twitter: @SteveonTheGrid )
August 15th, The Nationwide Children's Hospital 200 is a unique event. It's one of only three road courses on the Xfinity series calendar. Two of the three road courses are back to back, Watkins Glen and Mid-Ohio. The third road race at Road America is on August 29th.
I am very excited to see my first Xfinity race on a road course, but I 'm no rookie to Mid-Ohio. I began coming to Mid-Ohio when I was nine years old. I feel that I was almost raised here. I 've been to this venue more times than most of the drivers, even more than many of the team owners.
Mid-Ohio Sports Car Course is located in beautiful Lexington, Ohio among the gentle rolling hills and corn fields of rural central Ohio. I sit down at the Keyhole corner,  pull out my snacks / beverages to prepare myself for the action that is to come. I gaze behind me to see ten or twelve of the spotters. Now I know I 'm in the right spot. The next sound I hear is  one every race fan loves to hear– the roar of engines coming to life. Then I smell the sweet scents of American Ethanol and the burnt rubber of Goodyear tires.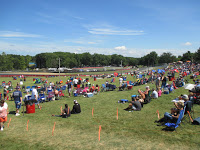 During qualifying, several of the forty car field kicked up dust and bounced off  the gator's teeth curbing. Brendan Gaughan was the first out to qualify. He was also one of the first drivers to run wide up in the Keyhole. Mexican driver Daniel Suarez, also struggled in this part of the track.  He took his Joe Gibbs Racing Toyota for a trip through the pea gravel before regaining control. Bubba Wallace, another notable driver, slid off track at this tricky corner in his Roush Fenway number six Ford Mustang.
This race has several "Road Course Ringers": former IndyCar race winner Alex Tagliani driving the number twenty- two Team Penske Discount Tire Ford, and Boris Said in the number fifty- four Monster Energy JGR Toyota. Tagliani took the Pole with a speed of 96.056 MPH after leading much of qualifying one and two. Defending race champion, Chris Buescher qualified second and Ty Dillon was the only Chevrolet to qualify in the top three.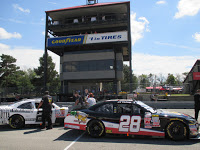 The seventy-five lap Nationwide Children's Hospital 200 at the 2.258 mile thirteen-turn Mid-Ohio Sports Car Course was an action- packed race with a track record eight cautions for a total twenty-five laps. At the final restart with just three laps to go "Road Course Ringer" Alex Tagliani in the number twenty-two Team Penske Discount Tire Ford was in the race lead. It looked as if he was in for an almost certain victory. When on the final lap on the final turn, Regan Smith, driving the number seven JR Motorsports Nationwide Children's car, did a bump- and- run move to win the race.
It seemed very fitting that Smith won for his sponsor Nationwide Children's Hospital. I am sure that after this win  there were many smiling young faces at Nationwide Children's Hospital, no matter how controversial the last lap maneuver was. Smith who won his first race in fifty-two tries is fourth overall in the championship. After the race Tagliani stated "Ï don't respect this win."
All photos by Stephen Dando