Two weeks ago, NASCAR crowned its Cup Championship. Congratulations to Ryan Blaney for winning the 2023 Championship with his second-place finish at Phoenix.
In addition, there was a Championship within that Championship. Blaney passed Ross Chastain for the lead twice in the race to tie Denny Hamlin for the Racing Lead Change Championship. Each had a total of 19 Racing Lead Changes for the season.
What's a Racing Lead Change?
Think of it as Overtakes in Formula One.
A Racing Lead Change is a pass for the lead that
a) happens under green flag conditions,
b) is not the result of the leader pitting and turning over the lead and
c) is not done under the benefit of a bunched field as a result of a start or restart.
It's Car A passing Car B on track, under green to take the lead and keeping it back to the Start/Finish Line to be credited with an official Lead Change.
Though not an official NASCAR metric, it is easily derived from information provided by NASCAR.
Why are Racing Lead Changes Important?
Is there any more important metric to count than a pass for the lead?
NASCAR uses its loop data to count many types of passes, from Green Flag Passes (for any position at any scoring loop on the track) to Quality Passes (green flag passes for positions P1-P15 at any scoring loop) to Green Flag Pass For the Lead (green flag passes for P1 at any scoring loop) to Lead Changes (any P1 position change at the Start/Finish Line no matter the flag). Lead Changes under green flag is used by some as an indicator of how competitive the race was.
Unfortunately, Green Flag Lead Changes are skewed by lead changes that are a result of Green Flag pit stops (where the leader gives up the lead to pit-strategy passes) and Green Flag Lead Changes after race Start and Restarts (where the field is bunched due to race procedures). Since the Racing Lead Changes does not include those factors, it is the only true measure of how "racy" the competitors were as it measures how many times Car A passed leader Car B under green to take the lead.
And isn't a racing pass for the lead the most exciting and important pass of the race?
Over the season, should the driver who passes the most cars for the lead be up for consideration as a Contender for Champion? Conversely, if a driver can't race past the leader to take the lead, should they be considered for Champion?
Let's see how that plays out for 2023.
How did Blaney and Hamlin Tie for the 2023 Championship?
At the end of the 26-race regular season, Ryan Blaney found himself in second place in the RLC Standings with 11, trailing Martin Truex, Jr. who held a commanding 6 pass lead at 17 RLC's.
Denny Hamlin was mired in a three-way tie for third at 10 with Ross Chastain and Joey Logano. The RLC Regular Season Standings among 25 drivers who had at least one Racing Lead Changes was as follows with the Playoff drivers in bold –
2023 Racing Lead Change Regular Season Results
RLCs-Drivers
17-Martin Truex, Jr.
11-Ryan Blaney
10-Denny Hamlin, Ross Chastain, Joey Logano
9-Christopher Bell
8-Brad Keselowski
7-Kyle Larson, Chase Elliott, Aric Almirola, Chris Buescher, Tyler Reddick,
6-Kyle Busch
5-Bubba Wallace
4-William Byron
3-Kevin Harvick, AJ Allmendinger, Ty Gibbs, Harrison Burton, Alex Bowman
2-Austin Cindric, Chase Briscoe, Daniel Suarez
1-Michael McDowell, Ricky Stenhouse, Jr.
It was interesting to note that Truex, Jr., Chastain and Hamlin scored RLCs in 8 of the 26 regular season races. Blaney found the front in six races along with Kyle Larson and Kyle Busch.
Hamlin earns half of Round One's 12 RLCs
During the first round Denny Hamlin went on a tear, scoring 3 RLCs at Darlington, another one at Kansas and two more at Bristol. This was half of the 12 RLCs reported in the first Round. With those additional 6 RLCs, this pulled him within 1 RLC of the leader Truex, Jr., who was shutout during this round. Blaney was also shut out for this round as well. This changed the standings as follows-
2023 Racing Lead Change Round One Results
RLCs-Drivers
17-Martin Truex, Jr.
16- Denny Hamlin
11-Ryan Blaney
10- Ross Chastain, Joey Logano
Talladega's 50 RLCs dominates the Second Round; Cindric scores Six RLCs
Talladega dominated Round Two with 50 of the 53 RLCs for the round. Ryan Blaney and Denny Hamlin scored 2 and 1 RLCs respectively. Martin Truex, Jr. continued his post-season, pass-less streak, while Austin Cindric had a round high of 6 RCLs. Joey Logano was on Cindric's rear bumper with 5 RCLs and moved to third in the standings as shown below-
2023 Racing Lead Change Round Two Results
RLCs-Drivers
17-Martin Truex, Jr.
17- Denny Hamlin
14-Joey Logano
13-Ryan Blaney
Blaney starts his Championship Run in Round Three
After 53 RLCs in Round Two, the three races in Round Three only saw 14 RLCs, with Blaney scoring 4 of them. Denny Hamlin scored 2 while Truex, Jr. got his final RCL at Homestead. This allowed Hamlin to move to the lead. Joey Logano went scoreless in the round allowing Blaney with his 4 RCLs to move to third. This brought the totals going into Phoenix as follows-
2023 Racing Lead Change Round Three Results
RLCs-Drivers
19- Denny Hamlin
18-Martin Truex, Jr.
17-Ryan Blaney
14-Joey Logano
Late Race Battle with Chastain Moves Blaney to the Top with Hamlin
This Championship race saw something it had never seen before-a non-Playoff finalist in the mix for the finale win and it proved to be a major factor in the Racing Lead Change Championship.
Eliminated Playoff Contender, Ross Chastain who was not only the first non-Playoff Finalist to win the final race, but also lead the most times (6) and the most laps (157) took over the lead on lap 254 when leader Chase Briscoe pitted from the lead. This set up the final battle of the season which eventually vaulted Blaney to a tie with Hamlin for the RLC Championship lead.
Chastain held the lead for the next three laps until Blaney went to the front on lap 258. This RLC moved Blaney up to 18 for the season, tied for second with Truex, Jr. Chastain went back to the front on lap 259 and held it for that lap and the following before Blaney went back by and got the lead again on lap 261. This RLC moved Blaney to a tie with Hamlin at 19 for the season. Chastain went back to the point on lap 262. This was the 6th RLC for the race (Kevin Harvick and Chris Buescher each scored one early in the race) and the 233rd RLC for the season.
But it was Ryan Blaney's battle for the lead with Ross Chastain that allowed Blaney to leapfrog Martin Truex, Jr. and tie Denny Hamlin to share the RLC Season Championship. The final results were as follows with Playoff Contenders in bold and final Driver Standings results in parentheses –
2023 Racing Lead Change Final Results
RLCs-Drivers (Points Standing)
19-Ryan Blaney (1), Denny Hamlin (5)
18-Martin Truex, Jr. (11)
15-Joey Logano (12)
13-Kyle Larson (2), Christopher Bell (4)
12-Ross Chastain (9)
11-Chase Elliott (17)
10-Brad Keselowski (8), Aric Almirola (22), Tyler Reddick (6)
9-Chris Buescher (7)
8-Austin Cindric (24), William Byron (3)
7-Kevin Harvick (13), Bubba Wallace (10), Alex Bowman(20)
6- Kyle Busch (14)
5-Michael McDowell (15)
4-AJ Allmendinger (21), Ty Gibbs (18), Todd Gilliland (28), Ricky Stenhouse, Jr. (16)
3-Harrison Burton (31)
2-Chase Briscoe (30), Erik Jones (27), Daniel Suarez (19)
1-Ryan Preece (23)
0-Corey LaJoie (25), Justin Haley (26), Austin Dillon (29)
Observations on 2023 Racing Lead Changes
• Over the 36-race season, there was 531 Green Flag Lead Changes on 7944 Green Flag Laps.
o 233 were Racing Lead Changes in 7231 Green Flag Racing Laps (not Restart Laps),
o 164 were Leader Pitting Under Green,
o 126 on Starts or Restarts on 713 Restart Laps and
o 8 were for Other.
• The 233 Racing Lead Changes is up from 208 last season. This marks a 12% increase. Note-there was schedule differences between the seasons.
• 28 drivers had one or more Racing Lead Changes. Austin Cindric scored a season high 6 RLCs in a single race at Talladega 2.
• Denny Hamlin scored one or more RCLs in 14 different races. Kyle Larson (11) and Ryan Blaney (10) were the only other drivers to find the front in double digit races.
• Hamlin and Blaney's win with 19 RLCs was down 2 from Erik Jone's 2022 RLC Championship with 21 RLCs in six races, but up from 2022 Cup Champion Joey Logano's 10 RLC's (Tie for 7th in the RLC Championship).
• Both Hamlin and Blaney got RLCs in Superspeedways, Intermediates and Short Tracks, but failed to pass for the lead on Dirt or Road Courses. Christopher Bell and Tyler Reddick got RLCs on 4 of the 5 Track Types with Bell failing to get an RLC on Dirt, while Reddick didn't pass for the point on Short Tracks.
• Chase Elliott and Joey Logano were top RLC drivers on Superspeedways with 9 each. Tyler Reddick was tops on Road Courses with 4. Kyle Busch and Ryan Preece each had 1 on Dirt. Denny Hamlin dominated Short Tracks (5) and Intermediates (11).
• Fall Talladega had 50 RLCs for the season high, followed by Talladega Spring (32), Daytona Spring (25), Daytona Fall (13), Kansas (12). These were the only races that saw double digit RLCs. This was down one from 2022 which saw six races with double digit RLCs.
• Pocono and the Indy GP were two races that did not register a single RLC for the race. This was an improvement from 2022 which saw 5 races with 0 RLCs. Darlington 1, Gateway, Chicago, Loudon, Watkins Glen and Texas only had 1 RLC for their entire race. Last season saw 5 races with single RLCs.
• Fall Talladega (19), Spring Talladega (13), Spring Daytona (12), Fall Daytona (10) were the only races that saw double digit number of different drivers pass under green to get to the point.
• Overall, there were 233 RLCs in 7231 Racing Laps. This averages to 1 Racing Lead Change per 31 laps. Superspeedway tracks produced the most RLCs with 1 RLC per ever 6 Racing Laps. This was followed by Road Course (1 per 44 laps), Intermediates (1 per 50 laps) and Dirt Tracks (1 per 68). Short Tracks had the fewest per Racing Lap at 1 per 88 laps.
• The second year of racing on the reconfigured Atlanta track saw RLCs drop from 24 and 15 in 2022 to 8 and 9 respectively.
• Kansas saw the most noted improvement from 2 and 1 RLCs in 2022 to 12 and 2 in 2023.
• One driver with the most Racing Lead Changes won the 2023 Championship-Ryan Blaney.
• The other driver who was the top finisher among those who didn't make the Final Four also had the most Racing Lead Changes – Denny Hamlin.
• The driver with the second most RLCs won the Regular Season Championship-Martin Truex, Jr.
• The lowest four Playoff drivers also had the four lowest RLCs among qualifiers – Kevin Harvick (7), Kyle Busch (6), Michael McDowell (5) and Ricky Stenhouse, Jr. (4).
• The highest ranked non-qualifier, Chase Elliott had the highest number of RLCs among the non-qualifiers with 11 RLCs.
• Ross Chastain's hard racing the Finalists for the Race Win was criticized by some, such as NBC's Steve Letarte but his and Blaney's battle for the lead added 4 RLCs that probably wouldn't have occurred had Chastain raced the way Letarte would have directed. These additional RLCs not only added a much-needed additional level of excitement but elevated the RLC count for the race to 6, up from 2 in 2022. It also provided Blaney the chance to get two more RLCs to move him to the tie with Denny Hamlin.
Final Thoughts on 2023 Racing Lead Changes
Again, congratulations to Ryan Blaney for not only winning the 2023 Cup Championship but for also tying Denny Hamlin for the Racing Lead Change Championship.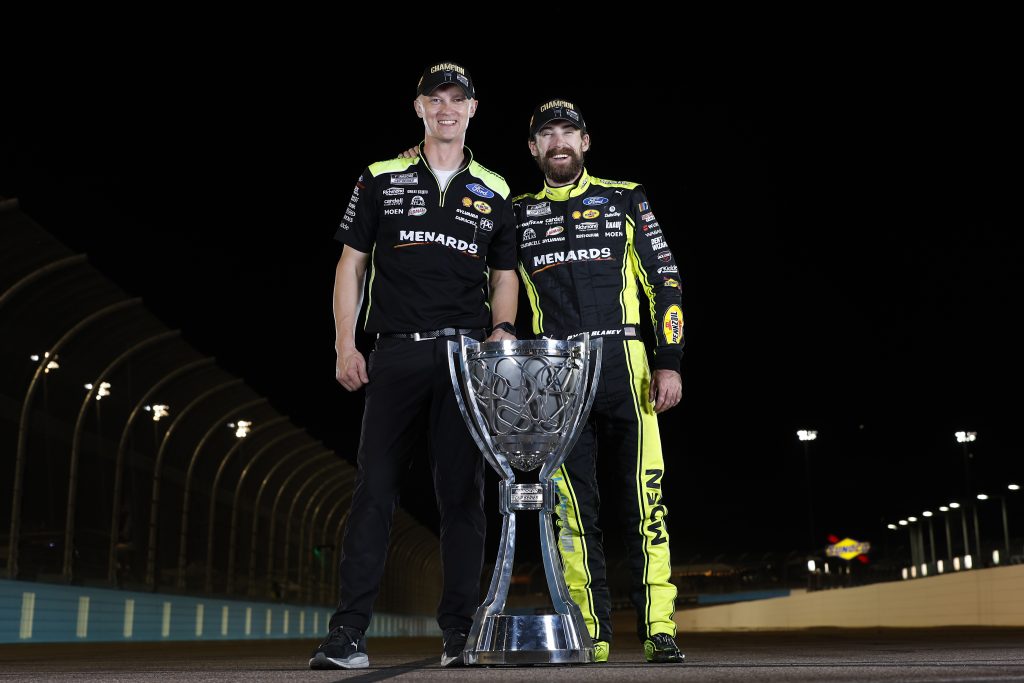 This season, the Racing Lead Changes prove to be an indicator for consideration in predicting a driver's success in the Season, but as Joey Logano proved last year, it's not a full proof indicator as Joey was tied for 7th in the RLC Championship yet won the Cup Championship.
2023 saw areas of improvement in the RLCs for the season, but the low number of RLCs registered in individual races and for the season point to much work still needs to be done to improve the overall competitiveness. To think you can win a 36 race, 7231 Racing Lap Championship season by only passing 19 cars for the lead is a bit concerning. But considering that Joey Logano won the Championship last season with only 10 RLCs, 2023 was an improvement in this area.
Finally, Racing Lead Changes point to the question are the numbers low because the drivers are unable to pass with the GEN-7 car or are the Race Procedures (Stage Racing/Playoffs) and Strategies now such that there are not the risk/rewards necessary to entice drivers to push for the lead.
Hopefully, the off-season work on the car, tires and other components will result in more action up front and produce an even more eventful 2024 season.
We can only hope.
Again, congratulations to Ryan and Denny for their season racing to the point. It provided another race to watch… especially up front.
Thunder On… and Stay Safe!
David Nance
Photo Credit (cover): Christian Petersen / Getty Images