This, my friends is what a sellout looks like to me. 2003 Bristol Spring Race. 160,000 tickets sold. 160,000 seats filled.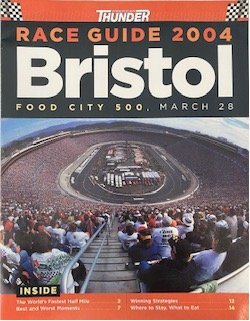 When I hear sellout, that's what I think of. Not all tickets sold to someone, including resellers who may not be able to unload them. Or tickets obtained by a company who couldn't unload them, resulting in empty seats. Yeah, all the tickets were sold, but…
I guess because I was there and a part of it.
I was going through water damaged boxes of books and papers and came across this. A flooded basement forced me to go through mementoes and discard those damaged.
This escaped… and got me thinking.
As I looked at it closely, trying to find where I was in the crowd, I begin to notice things that reminded me just how much things have changed since this shot was taken in 2003. Zoom in and see if you notice anything.
No dirt on the track*
No tarps covering seats.
No fan tables taking up every other row. Coolers went under your seat.
No stadium seats. It was bench seats with every fan packed in as tight as they could fit them.
Butts in the aisle because not all on that row would fit the allocated seating spaces. Just because you had a ticket didn't mean your hind end would fit in the available space if you got there late.
All the concrete seats were eliminated. Capacity had jumped to 160K.
No "aluminum shirt fans"… you know those fans they say are there but somehow blend into the aluminum benches that on TV make sections look empty.
Every ticket sold… not only for this race but for the Night Race… and both Xfinity races. You see that's how you got to keep your tickets. You had to buy the entire package… a year in advance If you didn't want to do that, you had to turn in your seats and they were sold to the next person on the waiting list.
Everyone in their seats. Not walking around. Not souvenir shopping or under the stands which are the reasons given at the other tracks when TV shows empty seat sellout stands.
Everyone watching the race. Not looking down at their phones. Not texting, tweeting, messaging, posting, TikTokking, taking selfies. No watching the streaming March Madness games or whatever other distraction is going on. The action was on the track.
There was no Colossus TV, only a scoring pylon.
No fan party zones, picnic areas, pickleball courts, paddleboards, aerial restaurants or Ferris Wheels or other things to enhance the fan experience… just racing.
No pre-race concerts… just racing.
The sky shows start times were earlier, not late afternoon.
In addition to the 160K in attendance, TV drew a 5.5 rating with an 11 share.
From all the red in the crowd, Dale Earnhardt, Jr. was still at DEI driving Budweiser and brought several fans.
This was the 43rd consecutive sellout going back to 1982 when the track held a mere 30,000 fans. Now at 160K, Bristol just kept topping itself with sellouts continuing for another 12 races before ticket sale and attendance drops ended the streak at 55. There has not been a sellout since.
Here are some other points to consider.
There was no Dale Earnhardt, Sr.
45 cars attempted to qualify for the race. 43 cars started the race. Two went home, Larry Foyt and Hermie Saddler.
No Team Charters
Four makes of cars competed – Ford, Chevy, Pontiac, Dodge. Joe Gibbs Racing was a two car Chevrolet Team with Bobby Labonte and Tony Stewart. Toyota had not yet entered the sport.
The week before at Darlington, Ricky Craven beat fourth year driver Kurt Busch in the closest finish in NASCAR history – 0.002 seconds. Kurt would get his 5th Cup win in this Bristol race. Margin of Victory-a whopping 0.390 seconds over points leader Matt Kenseth.
This was the sixth race of the season. Kurt would be the sixth different winner of the season.
This would be Kevin Harvick's fifth race at Bristol.
Jeff Gordon would lead the most laps (174) followed by Jimmy Spencer (139) and then race winner, Kurt Busch (116)
Matt Kenseth had a 57-point lead over Tony Stewart going into the race. Matt would leave Bristol with a second-place finish and a 138-point lead over Kurt Busch
Jack Roush Racing the parent to RFK was a five-car team – Mark Martin, Kurt Busch, Greg Biffle, Jeff Burton and Matt Kenseth
There was no Stage Breaks, Stage Cautions or Stage Points awarded.
If you wanted Bonus Points you could get them on any lap… just go take the lead
Leading laps also paid bonus money, not just points.
For this race, it was race back to the line for Caution. Lucky Dogs and Wave Arounds would appear later on this season.
There was no Chase or Playoff. No win and you're in. 2003 was the last time a Champion was crowned based on total points accumulated over the entire season.
Winston was the Series Sponsor. This was their last year even though they had additional time on their contract. NEXTEL would have the Series next season.
There was no sports betting. Fantasy Racing was big, but sports betting was a way off.
Most of our information came from broadcast TV, radio, newspaper and print publications. The internet was coming into its own.
Satellite Radio was just coming on with XM appearing in 2001 and Sirius in 2002. They wouldn't merge until 2008.
MRN's Dave Moody began his satellite radio show, Speedway. Was he "The Godfather" by then?
No YouTube. No TIKTOK. No Podcasts. Peacock had feathers. The only streams ran in the nearby creeks.
No NEXT GEN car which according to today's industry experts means the playing field was NOT "level". It also means that:

No 18" Aluminum Alloy Wheels with single lug nut. Raced with 15" steel wheel with five lug nuts.
No low profile tires. Tires used inner liners which allowed them to continue on even with flat tires.
Tires narrower. Brakes smaller
No splitters. No diffusers. No solid underbody.
No holes in windshield for vents
No split exhaust system
No tapered spacers to restrict horsepower on short tracks.
Rear view mirrors not cameras
No shifting except on road courses and maybe Pocono. No transaxle but transmission. No sequential shifting but H-pattern shifting.
No rack and pinion steering, but adjustable steering box
No spontaneous fires from tire buildup around exhaust pipes
No car numbers in front of the door. (Sorry, but while we're talking about changes)

Since they were not racing NEXT GEN what were they racing? Not GEN 6 or COT but GEN 4's. COT's were still four years away.
Even with an unlevel playing field, by season's end the season produced 16 different winners.
The season was 36 races-two road courses the rest ovals. Streets were what was driven on to get to the track, not to race on
Stale schedule. To hear the experts today, the schedule Back in the Day (BITD) was stale and too predictable. Back then it was two races each for Daytona, Rockingham (lost dates), Atlanta(reconfigured), Darlington, Bristol (one dirt*), Talladega, Martinsville, Richmond, Charlotte (one road course), Dover (lost date), Pocono (lost date), Michigan (lost date), Loudon (lost date). All these had larger seating capacity and were filled up. Single race tracks included Las Vegas (gained date), Texas, Fontana (gone), Sonoma, Chicago (lost date),Indianapolis (road course), Watkins Glen, Kansas (gained date),Phoenix (gained date), Homestead. Tracks like Nashville SuperSpeedway, Indianapolis GP, ROVAL, Gateway and COTA were either not built yet or were built but not large enough to meet fan demands of the day. Chicago Street Course and the LA Coliseum were not necessary because fan demands were being met in other markets.

What is not mentioned today is the reason why we kept racing at those tracks at that time was those were the facilities that could handle the fan demand.
So as I listen to the all the experts of today all I hear is that BITD of this picture, they raced a boring schedule of races, using inferior cars, on an uneven playing field, that produced races lacking excitement and drama, in front of fans who had no comfort or any chance to create "an experience" using a point system to crown a Champion who may be worthy of the title yet did not create a Game 7 moment so isn't deserving and then look at this picture and wonder just why in the world did so many people pay that much of their hard earned money, give up so much of their time and put up with that much hardship for the product described?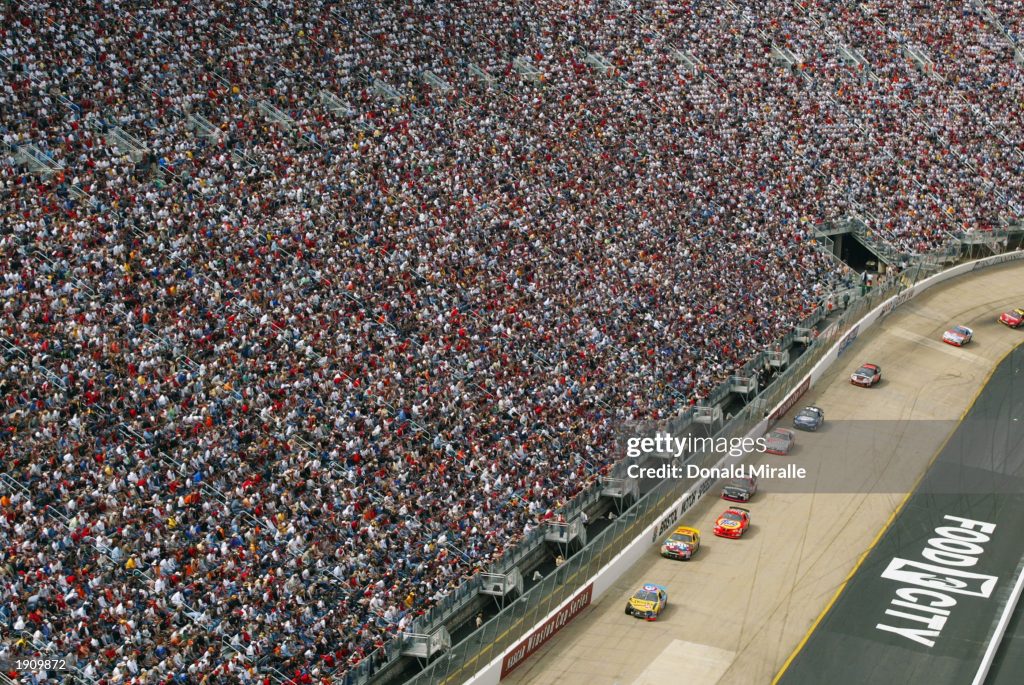 I know why I did.
Then I have to ask, now that the schedule is fresh, the facilities are more comfortable and create experiences galore, the cars are superior, the playing field has never been more level, the drivers are the best ever, Stage Racing, Win and You're In and Playoff eliminations produces harder racing where every lap matters and we won't know who the Champion will be until the checkered flag falls in the last race guaranteeing a Game 7 moment, why does the picture today not look like the picture above?
Kinda makes me wonder. Does it you?
Thunder On… and Stay Safe
*No Dirt race at Bristol 2024 (More here)
Photo Credit (cover); Getty Images