Well, it's time to take one last look into the rear view.
Labor Day. Darlington. The Start of the Playoffs. The resurrection of the 1965 Darlington Southern 500.
Not familiar with it? If you're not, you must not be a listener to SiriusXM Channel 90.
This time of year, this race is always brought up on the satellite airwaves. That was the race won by Ned Jarrett. Margin of Victory-14 laps.
Largest Margin of Victory in the 75 year history of NASCAR.
It's kind of like the Cumberland College football of Stock Car Racing. Keep that in mind.
Lately, this race has gotten a lot of attention. Ned's amazing Margin of Victory has become Exhibit A in the ongoing narrative that racing is so much better now than "Back In the Day" (BITD). When any complaints are raised about the NEXT GEN not giving the fans the competition they want to see, the '65 Southern 500 is the trump card played by the Talking Heads to put down the complaints.
It's now gotten pre-emptive. It wasn't 10 minutes into the "Trading Paint" show following Erik Jones' 2022 Southern 500 win that Chocolate Myers was gushing about Erik's .252 second margin of victory and how the NEXT GEN had leveled the playing field unlike BITD when Ned beat the field by 14 laps.
Of course, there was no comparison to Ricky Craven's 0.002 second win over Kurt Busch. That wouldn't fit the narrative… but I digress.
As Chocolate explained recently, the measure of the "success" of a race is now a two pronged evaluation – was it a good race (whatever that is)? If it wasn't, did it produce good story lines? Ideally, it's a good race that produced good story lines. So if a race weekend produces at least one of these, all is well.
Unfortunately, with today's presentation all the fans know about that race is Ned Jarrett won the 1965 Southern 500 by 14 laps. With nothing else, a 14 lap win couldn't be a good race and it couldn't have any good story lines or we'd hear about it. Since we don't, there must not have been. That's why it's now the trump card.
It's NASCAR's ultimate stinker…
Or is it?
Let's take a deeper dive and see what you think. How many of these did you know?
Setting the Stage
The race was held on Monday-Labor Day.
It was the 45th race of the 55 race season
50,000 fans showed up for the 16th classic. (Current seating is 47,000)
The race was tape delayed on ABC.
Temperatures were hot, typical for South Carolina at the end of summer and would contribute to the attrition in the race
Qualifying was interesting
48 cars attempted to qualify for 44 starting spots.
Six makes competed for the win-Ford, Mercury, Chevy, Plymouth, Dodge, and Pontiac. Over half the field was Ford (25 of 44)
Spring race winner, Junior Johnson won the pole with a speed 137.528 mph… a new race record.
Fred Lorenzen who set the track record in the Spring race earlier started outside front row.
Wendell Scott failed to qualify his #34 but got a ride in Clay Estridge's #57. Starting in last position, Scott was one of 15 cars running at the end, driving the Ford to a P10 finish.
Petty and Pearson were noticeable absent
Not in the field were defending series Champion, Richard Petty and David Pearson. Chrysler had so dominated the series in 1964 with their Hemi engine that Bill France banned the Hemi for 1965. (Think about someone today telling an OEM today they couldn't race). Chrysler boycotted as a result. Rather than switch brands or find another ride, Petty went drag racing. Pearson did likewise, drag racing and also competing in the Pike's Peak Hill Climb. They returned to competition at Bristol and competed in 14 races in the remainder of the season, but neither competed at Darlington this year.
There was still plenty of good drivers in the race… including series champions, past race winners and future Hall of Famers
Even without two of its top drivers entered, there was still plenty of competition. Drivers like Junior Johnson (HOF), Fred Lorenzen (HOF, 2-time Spring race winner), Ned Jarrett (HOF, Cup Champ), Buck Baker (HOF, 3 time Southern 500 winner, defending race winner, 3 time Cup Champ), Buddy Baker, Cale Yarborough (HOF), Sam McQuagg, Darel Dieringer, Marvin Panch, LeeRoy Yarbrough and Jim Paschal all competed.
Rookie battling with Jarrett for Series Championship
Rookie sensation, Dick Hutcherson who was locked in hot points battle with Jarrett rolled off 6th. Hutcherson had 7 wins to Jarrett's 11 going into the race.
Fan favorite returns after being banned for life
The race marked Curtis Turner's return to Cup. Four years earlier, Bill France had given Turner a lifetime ban for trying to organize a drivers union. France lifted the ban in time for Turner to come back and qualify 8th.
Preacher told Jarrett he will win the race
Prior to the race, a South Carolina preacher approached Jarrett and told him that he just wanted him to know that he was going to win the race. The pastor explained it was the same feeling he had in 1963 when he told Fireball Roberts he was going to win the race (which he did). At the "Track to Tough to Tame" drivers needed all the help they could get. Did Ned have a bit of Divine Intervention that day?
Jarrett drove the race with a broken back
Jarrett crashed at Greenville-Pickens and was hospitalized for a back injury. Doctors told him he had three cracked vertebrae and would need to be in the hospital for at least three weeks and then face recovery time. Jarrett explained what he did for a living, that he was in a points battle and could not afford to miss any races. The doctors started treatment immediately and continued almost non-stop. By Wednesday evening, he left the hospital in a brace that would allow him to walk. Two days later he not only started the race at Myrtle Beach but finished second. He continued to race throughout and had not healed by the time he took the green at Darlington. Still today he has one vertebrae that never healed.
Pole sitter starts race battling illness
Pole sitter Junior Johnson climbed into the car sick from the flu he had been battling for several days.
The "Track to Tough to Tame" was known to take down the healthiest of drivers, so Junior was facing an even greater challenge than most.
Attrition hits early…
The field of 44 took the green flag with Junior Johnson on the Pole and Fred Lorenzen on the outside Pole. Before the field completed the first lap Johnson was heading for the pits, with a failed ignition. Racing in that day was a test of man and machine. Speed was a huge part but so was survival. Being the fastest doesn't always matter if you can't make it to the finish line. Johnson's Pole Start/Last Place finish said it all at the "Track to Tough to Tame". It wouldn't be the last time the "Lady in Black" would reach out and put an end to a driver's day. BITD, attrition was one of her biggest weapons and she used it mercilessly to end drivers' days.
Tragedy strikes early…
On the next lap of the race, Buren Skeen spun in Turn Three and was T-boned in the driver's side door by Reb Wickersham. Skeen, who had started the race 21st, was removed from the mangled car and taken to the hospital with head, chest and abdominal injuries along with a broken leg. Sheen would later succumb to those injuries.
He was the 12th racer to die in the series, the 10th in competition (Jimmy Pardue and Billy Wade were killed in tire testing accidents), the first since Fireball Roberts died after a fire at Charlotte the year before and the second at Darlington after Bobby Myers, Chocolate's father died here in 1957.
This was Skeen's eighth Cup race. He had scored 3 Top 10 finishes, prior.
Attrition hits often…
The wear and tear from the high speeds coupled with the high temps begin to take its toll on the field. Oil pressure took out Bud Moore. Tiny Lund exited with a broken A-frame. Marvin Panch and Bobby Wawak's engines blew. Curtis Turner had wheel bearing go. The list just kept on growing as car after car made the hard left turn into the garage area as overheating, head gaskets, .
Many battles Up Front, surprisingly few did not include Jarrett
When you hear of a driver winning by 14 laps the impression it gives you is the winner drove to the front and no one else could catch him (like a Martin Truex, Jr. or Kyle Larson butt-kicking) and he just kept lapping the field until they dropped the flag on his big lead. With no further explanation you would have no other choice. However, that wasn't the case in this race.
Once Junior dropped out on Lap 1 the race turned into a battle between Fred Lorenzen and Darel Dieringer as each took their turn in the lead. Back and forth they battled, each taking their turn on the point.
In addition to the two main players, Ed Balmer (2), Bobby Johns, Jim Paschal (2), Cale Yarborough, Sam McQuagg and finally Ned Jarrett (3) all saw the point.
The race was 129 laps old before Jarrett went to the front, for the first of three times. He wouldn't take the lead for the final time until lap
Crashes take their toll, but create a new astronaut
The race had several crashes but the most famous crash of the race was when Sam McQuagg and Cale Yarborough tangled in Turn Two going for the lead.
The contact launched Yarborough over the guardrail and down a 40 foot embankment and 200 feet outside the track. Luckily, he landed on his wheels.
Yarborough was uninjured in the dramatic launch from the race and told ABC reporter Chris Economaki "he sailed through the air like an astronaut".
Interesting to note that this crash is shown often in the Darlington hi-lights but is rarely mentioned that it occurred in that Darlington race… the current poster child for bad racing.
Rookie's title bid goes up in smoke
Rookie Dick Hutcherson's run for the Cup title went up in smoke on lap 293, when the engine in his '65 East Tennessee Motor Co. Ford gave up the ghost.
The "Lady in Black" did not differentiate or discriminate who she took today. Young, old, fast, slow it didn't matter as she used attrition as a scythe to mow through the field.
Dieringer and Lorenzen dominate the race, but not the finish
The back and forth battle between the two continued throughout the race with Lorenzen taking the point six times for 57 laps and Dieringer leading seven times for a whooping 199 laps.
Dieringer took the lead from Lorezen the final time on lap 303. Their battled ended on lap 319 when Lorenzen's engine gave up, ending any chance he had of catching Dieringer. With Lorenzen out, Jarrett found himself running second, four laps down.
Even though he was not running at the end of the race, Lorenzen completed more laps than six other cars that were running at the end of the race and was scored as P11
Attrition strikes again…
Dieringer appeared to have the race in the bag. He had led the most times, had led the most laps, his main competition was sitting in the garage and he now had a comfortable four lap lead over his nearest competitor, Ned Jarrett. All he had to do was get it to the checkered flag.
The Lady in Black would reach out and grab another victim as the Dieringer's differential developed major problems and was leaking fluid. He tried to continue but each time he hit the brakes to slow going into the turn, the heat would ignite the fluid. He tried to back off and go through the turns without using his brakes but several trips into the wall ended his run on Lap 345, turning the lead over to Jarrett for the final time.
Dieringer's 345 laps earned him a third place finish even though there was thirteen cars still running that were scored behind him.
Quick thinking and masterful driving averts disaster for Jarrett
Several of the leading Fords were sidelined with overheating issues and as they dropped out one by one, the Ford officials collected in Jarrett's pit.
Jarrett's car began showing signs of overheating and it looked like the Lady in Black would take another victim. Ford wanted the crew to bring Jarrett into the pits to try to cool the engine off and keep his winning run alive.
The quick thinking Jarrett figured that if he turned off the engine while going through the turns the unburned fuel would cool the engine enough to allow him to continue. So he would turn the engine off going into the turns and turn it back on going down the straights.
Getting around Darlington is difficult enough when everything is working right, but Jarrett had to repeat the process while navigating traffic and keeping it out of the wall, lap after lap, never knowing if the engine would fire when he needed it to.
Jarrett's quick thinking and masterful driving allowed him to nurse the engine back to the finish and take the win. Makes you wonder about Divine Intervention.
Ned Jarrett led three times for a grand total of 62 laps of 364 laps
Margin of Victory-14 laps.
Ned won by 14 laps… who finished second?
Most fans know Ned won the race by 14 laps. Few know who he beat by 14 laps. Do you?
Buddy Baker thought his day had ended at lap 123 when the engine on his Chevy gave out. His father, Buck Baker pitted and turned his car over to his son, who finished the race second, 14 laps down to Ned Jarrett. Buck Baker shows in the record book finishing second, even though he wasn't in the car at the finish. Buddy Baker was in the car at the end of the race and got the experience but not the credit for the finish. How they divided the purse was never discussed.
Well, if Buck/Buddy finished second, who finished third?
The third place car wasn't even on the track at the finish. As mentioned earlier, Darel Dieringer dropped out of the race with a differential issue.
It turns out that his 345 laps completed was third highest-5 laps behind P2 Buck/Buddy Baker and on the same lap as Roy Mayne, who was still running at end.
Since Darel completed his 345 laps first before Roy completed his, Darel is credited with P3, with Mayne getting P4.
Aftermath
44 cars started the race. Fifteen was running at the end. Attrition, something rarely seen in racing today, played a huge part in this race and kept the level of uncertainty as to who would win pegged. Every competitive car in the race had issues.
There were six makes of cars entered in the race and a representative of each made up positions P1-P6 9 (Ford, Plymouth, Mercury, . That is most impressive considering Ford made up over half the field and there was only one Dodge, two Plymouths and Pontiacs and three Mecurys. entered.
Jarrett's win coupled with Dick Hutcherson's engine woes put him securely in the points lead. Hutcherson would go on to win two more races, giving him nine for the season, a rookie record that stands today. Jarrett would finish with 13 wins and his second Cup Championship.
Newspaper reports from the race said the fans stood the final 100 laps of the race. First it was for the race between Dieringer and Lorenzen and later to see if Jarrett would fall victim to the Lady in Black's attrition. Pretty impressive for a race that today is Exhibit A for bad races.
One thing they won't tell you
One little fact that is omitted when this race is brought up today…
The 1965 Southern 500 had more lead changes than the either NEXT GEN Southern 500's.
Let that sink in for a minute…
Betcha no one ever told you that before, have they? Makes you wonder why…
Similarities between 1965 and 2023
In researching this piece, it was surprising to see the similarities between the two races… how little the "Lady in Black" has changed over these years.
The driver who led the most laps did not win the race. Sunday, Denny Hamlin was today's modern Darel Dieringer. Where Dieringer's misfortune was a differential failure, Hamlin's was a loose tie. Dominate the race but misfortune prevents them from sealing the deal.
Trouble throughout the contenders. In 1965 it was all the contenders having issues. This year it was over half the Playoff drivers who had issues to take them out of contention with several more having miscues that hurt their chances.
The winning driver didn't pass the leader on track to take the win. In 1965, Jarrett passed Dieringer to take the lead while he sat in the pits broken. Kyle Larson went to the point with a pass on pit road under caution.
Once in the lead, there was little challenge from the competition. It was in their hands to win or lose. Once Larson got the lead on caution flag pit stops, it became a race of could he keep the car out of the wall enough to not damage it so much it couldn't maintain the pace. Could he finish? Similarly, Jarrett's issues and his unique solution on how to address wasn't would he get beat but could he finish.
In today's competition, it doesn't take major catastrophes to effectively take a car out of the race. Bent toe links, mis-timed stop and pit miscues are as damaging as blown engines, overheating and burnt up differentials BITD. When you put things in that perspective, the "Lady in Black" is no different than she was in 1965, just a little more subtle in the way she claims her victims.
And with today's race scoring an 83% Good Race on the Jeff Gluck Good Race Poll, can the 1965 race really be that far behind?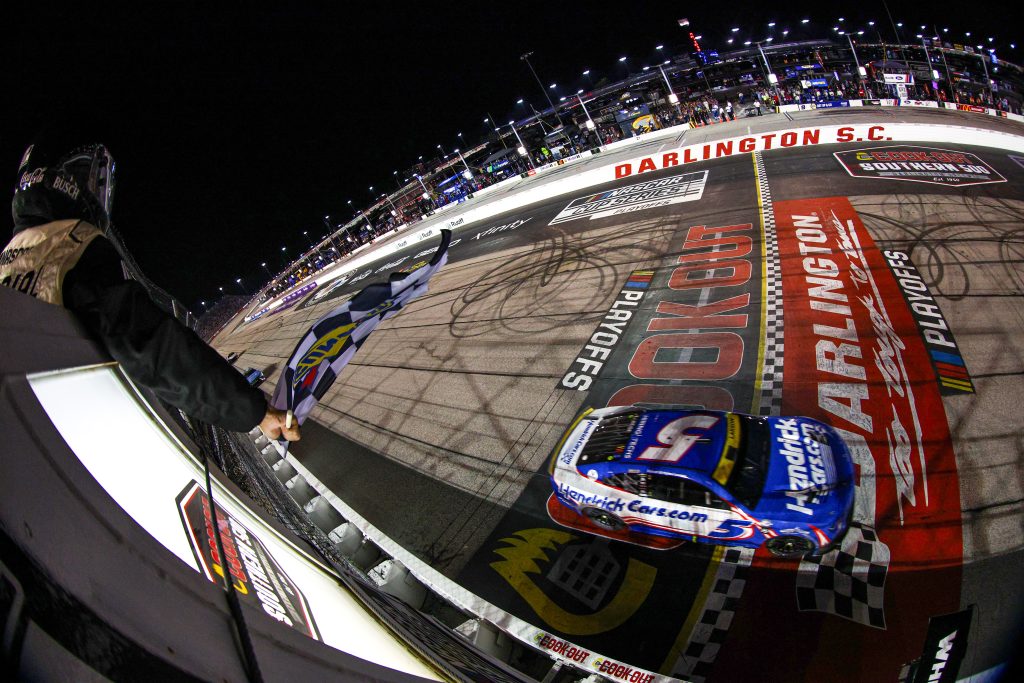 It's time to rethink the 1965 Southern 500
Do you think it may be time to drop using this race to represent all races from "back in the day" and as a comparison tool to "prove" racing today is so much better?
Looks like to me the race had a sizeable bit of excitement and drama. And you could take any of the points above and flesh out plenty of story lines, some pretty compelling ones. Based on that and using today's "good race" evaluation standards, this race isn't nearly the "dog" it's portrayed to be nor what it's being used for.
So maybe it's time to give the race fair treatment and quit using it as the poster child for "the old races bad-new races good" narrative that is spewed today.
I'll close with this final thought. Earlier, I mentioned Cumberland College in football. Do you know what their claimed of fame is?
In 1916, Georgia Tech beat Cumberland College 222-0. It was the most lopsided college football game in history. The 1965 Southern 500 of College Football.
To date, I've never heard announcers trot that game out for comparison to prove why football today is better than BITD.
Never.
Maybe it's time to quit comparing races from different eras "to prove" racing today is better. Or if you must continue, don't cherry pick your facts… tell the whole story so people can make up their own minds.
As a wise man once told me you can tell the truth and nothing but the truth, but if you don't tell the whole truth you can mislead everyone.
No one today is lying. They are telling the truth and nothing but the truth. Ned Jarrett won the 1965 Southern 500 by fourteen laps. But if that's all you are told or if that's all you know and looking at it through today's conditions, factors and procedures, what impression are you left with? Stinking race?
How accurate is that?
After reading this and learning more of the truth, do you have a different impression of the race? And when look at that race through the prism of the day (latest SXM buzz word), where cars were far from bullet-proof, racing was a balance between speed and survival, 500-mile races were tests of endurance-of man and machine. It was a time where few teams were lucky if they had more than one car to race and they raced multiple times a week forcing them to race a certain way. Where an outstanding pit stop was 40+ seconds and at Darlington with everything involved you could easily lose four laps each time you pitted. So, with an extra pit stop or two, 14 laps was not that much of a stretch.
When you look at it that way, through the prism of that day does it change your impression of that Labor Day race in 1965?
Thanks to NASCAR's recent release of the Classic race broadcasts, you can now see the ABC's Wide World of Sports coverage of the event. For those newer model fans who never experienced television race coverage from that era, this is the best there was and for us "dusty old fans" who were around then, we anxiously awaited for a week or two after the race to see Jim McKay, Roger Ward and Chris Economaki's presentation of the race. Thankfully, the World Wrestling Championship clips have been edited out. It was good to see not only see and hear the drivers of the day but to see folks like Bud Moore and Ralph Moody in action really brought the race to life.
Or for a different perspective you can check out the Darlington Raceway's version of the race. It has a different presentation… geared a little more for the entertainment value as sound effects and first-person narration has been added. Still, you get a taste of what it was like to be a fan back in 1965.
Again, viewed not through today's prism but through the prism in which it was ran, is it truly a "bad race" and should be used in the manner it is being used in?
Personally, I think it is what it is. A race that set a record that will never be broken. A race where a driver overcame incredible odds to beat the not only the competition, but adversity and long forgotten attrition. A man who passed the test of speed and endurance.
That's an accomplishment, I believe should never be belittled or used to cast a negative light on the sport.
Let that start now.
Thunder On… and Stay Safe
Photo Credit (cover): Getty Images