Below a weekend racing TV Schedule for Watkins Glen. NASCAR Cup and Xfinity are at historic Watkins Glen International along with the ARCA Series, in the beautiful Finger Lakes region, at the southern tip of Seneca Lake.
Indy Car, this weekend is off this week but returns to Gateway, World Wide Technology Raceway, next weekend for the last oval race of the year.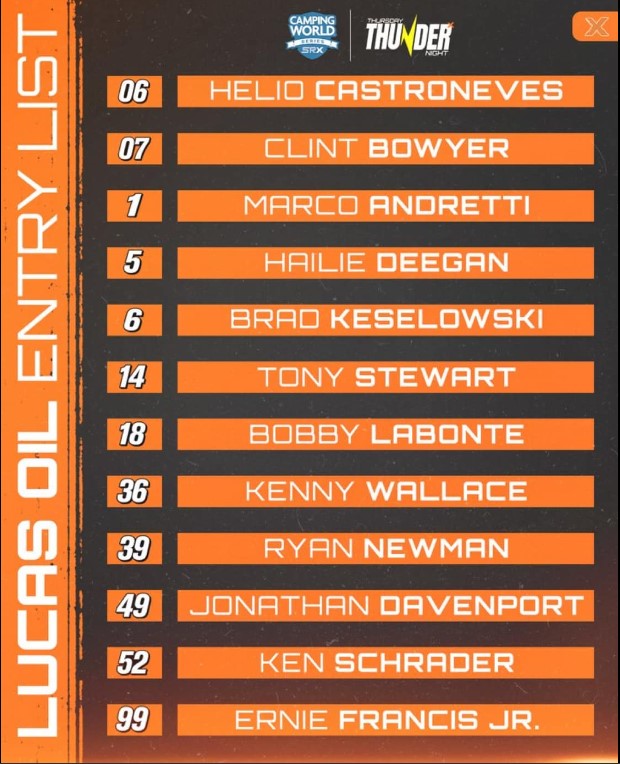 IMSA Sports Car are off from racing this weekend but will return to racing next weekend from Virginia Internation Raceway..
NHRA dragracing are racing at Brainerd for the Brainerd Nationals. Finals are on Fox Sunday 4:PM, eastern, check your local TV provider for details on quals.
The SRX series are having their last race off the season, Thursday night at 9 PM, at Lucas Oil Speedway in Wheatland Missouri. This fantastic facility hosts a 3/8-mile (0.60 km) semi-banked oval with a clay surface built in a former agricultural field. An artificial lake, Lucas Lake, that was added to host drag boats and motorboat circuit racing. Also, an offroad supercross-motocross-style track to host off-road dirt buggy racing.
Some other events of interest; Moto GP is racing this weekend, at Red Bull Ring in Spielberg Austria. Coverage is on CNBC, check your local TV provider for details. V SPORT MOTOR / VIAPLAY got the coverage over the weekend here in Sweden starting Friday with practices.
Friday, August 18
| | | | | | |
| --- | --- | --- | --- | --- | --- |
| SERIES | TIME (US.EST) | TIME (CET) | RACE | TV (US) | TV (SWEDEN) |
| ARCA SERIES | 6:00 PM | | GENERAL TIRE 100 | F.S.-1 | |
Radio; MRN
Saturday, August 19
| | | | | | |
| --- | --- | --- | --- | --- | --- |
| SERIES | TIME (US.EST) | TIME (CET) | RACE | TV (US) | TV (SWEDEN) |
| NASCAR XFINITY | 10:30 AM | | PRACTICE / QUALIFYING | NBC SPORTS APP. | |
| NASCAR CUP | 12:30 PM | | PRACTICE / QUALIFYING | USA NETW. / NBC SPORTS APP. | |
| NASCAR XFINITY | 3:00 PM | | PRERACE SHOW | USA NETW. | |
| NASCAR XFINITY | 3:30 PM | 21:00 | SCHRINNERS CHILDREN'S 200 | USA NETW. | VIAPLAY |
Radio; MRN
Sunday, August 20
| | | | | | |
| --- | --- | --- | --- | --- | --- |
| SERIES | TIME (US.EST) | TIME (CET) | RACE | TV (US) | TV (SWEDEN) |
| NASCAR CUP | 2:30 PM | | PRERACE SHOW | USA NETW. | |
| NASCAR CUP | 3:00 PM | 20:30 | VERIZON 200 | USA NETW. | V SPORT MOTOR / VIAPLAY |
Radio; MRN
Stay Safe
//B
Photo Credit (cover): Sean Gardner / Getty Images