Hello race fans. Ready for a Deeper Dive into Richmond's race?
Let's go!
After Sunday's race, TobyChristie.com (along with other sites) posted the following stat from #SrigleyStats about Sunday's Cook Out 400 from Richmond Raceway.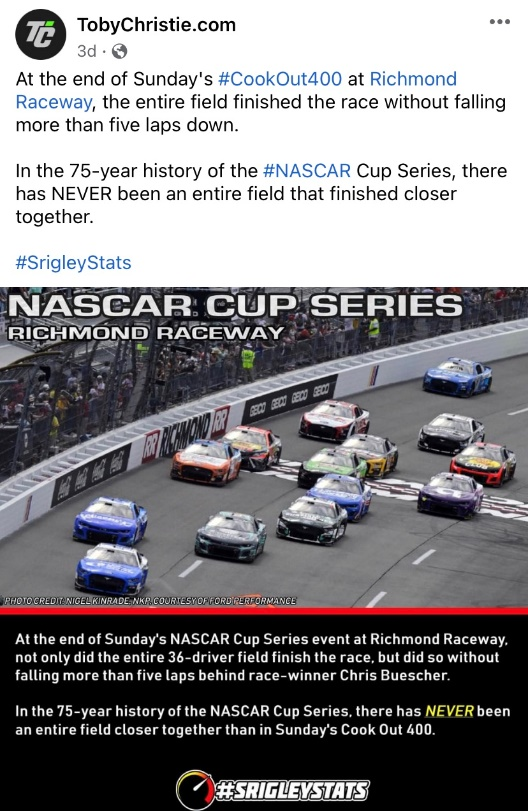 Impressive stat for sure. 36 cars finishing the race and all within 5 laps of race winner Chris Buescher-even more so. First time in the 75-year history of NASCAR it has happened. Amazing!
Thanks Joseph Srigley and TobyChristie.com for the research and sharing the results.
A Deeper Dive into this shows:
The following is a breakdown of the finishing order

0 Laps Down – 19 cars
1 Lap Down – 8 cars.
2 Laps Down – 3 cars
3 Laps Down – 2 cars
4 Laps Down – 3 cars
5 Laps Down – 1 car
When you consider there were only 3 cautions to bunch the field and allow Lucky Dogs and Wave Arounds to give cars laps back, it further shows how tight the field ran behind race winner, Chris Buescher.
The final caution occurred with just 8 laps to go and produced a final green flag run of just two laps. This allowed 22 cars to take the Wave Around to reduce the number of laps down to the final margin. Not that big of a deal unless the previous record for the series was 6 Laps, but since that's not reported we'll just leave it at that.
This was the first time in the 58 race career of the NEXT GEN all cars entered have finished the entire race. Seven races in this era have had 1 DNF (Did Not Finished). The last one was at Nashville SuperSpeedway when Ryan Blaney's crash into an unprotected section of inner wall left his car unable to complete the event won by Ross Chastain.
In the 134 Cup races that have been run at Richmond Raceway since 1953, this was the third race in which the entire field was running at the end of the race. Over that time Richmond has seen multiple configurations (.500-mile dirt, .542 mile paved, .750 mile paved) and races run with varying fields, ranging from a high of 43 cars (1997-2015) to a low of 12 (1961). Race lengths varied from 150 laps to 400 laps.
The first time all cars finished the race here was in 2008 when 43 cars were running at the end. The last car was 65 laps down to race winner and most recent NASCAR Hall of Fame inductee, Jimmie Johnson.
The last time it occurred was in 2016, when 40 cars completed the race with the last place car 10 laps down to winner Carl Edwards.
Other Richmond Deep Dives include:
Over the season one of the major metrics presented by NASCAR is Green Flag Passes (for position). NASCAR's loop data reported 3909 GFPs for the race (10.3 per Green Flag Lap). This is a new record for GFP. This beats the previous record of 3816 (11.0 per GFL) set in the Spring race this season. Neither were mentioned by NASCAR.
High numbers of Green Flag Passes can result because of a high number of restarts which allows back in forth action while the field is bunched, close competition with back-and-forth action, differing pit strategies or a high number of Green Flag Pit cycles or a combination. This race only three cautions which meant few restarts but had four Green Flag Pit cycles which was the maximum expected for the race along with varying pit strategies.
Loop data also shows that of the 3909 Green Flag Passes, 1078 were considered Quality Passes (GFP in Position 15 or higher). An even distribution of GFP throughout the field should have seen 41.7% of the GFP be Quality Passes. Only 27.6% of the GFPs were Quality Passes (P1-P15), meaning the bulk of the passing was for Positions 16-36. Unfortunately, for the viewers at home, this is often outside what is shown on their screens.
Of the 18 Lead Changes recorded, 14 occurred while under Green. 1 occurred on a Restart and 13 were during Green Flag Pit Stops where the leader pulled off and gave the lead to next car. Bubba Wallace, Brad Keselowski and Chris Buescher (2) actually raced past the leader to get to the front for the four Racing Lead Changes. Thanks to Dr. Diandra Lesley-Pelecky for assistance in identifying all these RLCs.
The four Racing Lead Changes was down from six in the Spring that saw a completely different set of overtakers and makes in that race – William Byron (3), Kyle Larson, Denny Hamlin and Christopher Bell with Ford, who was nowhere to be found in the Spring replacing Chevrolet as the dominant make in this race.
Only one of the four Racing Lead Changes were noted on NASCAR.com Richmond Timeline. Those omissions of up-front action only adds to the criticism that Richmond was uneventful and had no action of front, which is most unfortunate considering those who have the most to gain from noting it are the ones preparing the timeline.
Pole Speed was 113.689 MPH. This is the slowest Richmond pole speed in the NEXT GEN era. The fastest speed was the first race of the era at 119.782 MPH. One has to go back to 1988 (GEN 3) when Morgan Shepherd sat on the pole with a speed of 94.685 MPH to find a slower pole speed. Every race since that had faster qualifying speed than Sunday's race.
On the other end of the speed charts, congratulations to the #54 crew of Ty Gibbs who set a new four tire pit stop record. Their 8.54 second stop is the quickest in history and for a fan of the pit crews it is a thing of beauty. Check it out… but don't blink because you'll miss it! Awesome job, men.
Well, that's enough diving for one day. Time to come up for some air. Hope something here added to your Richmond Cook Out 400 experience.
On to Michigan! Have a great race weekend.
Thunder On… and Stay Safe!
David Nance
Photo Credit (Cover): Jonathan Bachman / Getty Images