Below a TV Schedule for, Chicago and Lexington, July 2023. This weekend NASCAR Trucks are off but will be returning to racing at Mid-Ohio next weekend. NASCAR Cup and Xfinity are hitting the new configured Chicago Street Course for the first time. Personally, I would prefer to see NASCAR Cup race on Road America or some of the other fantastic the Road Courses you got over there. But bring them on and let's see what we'll get!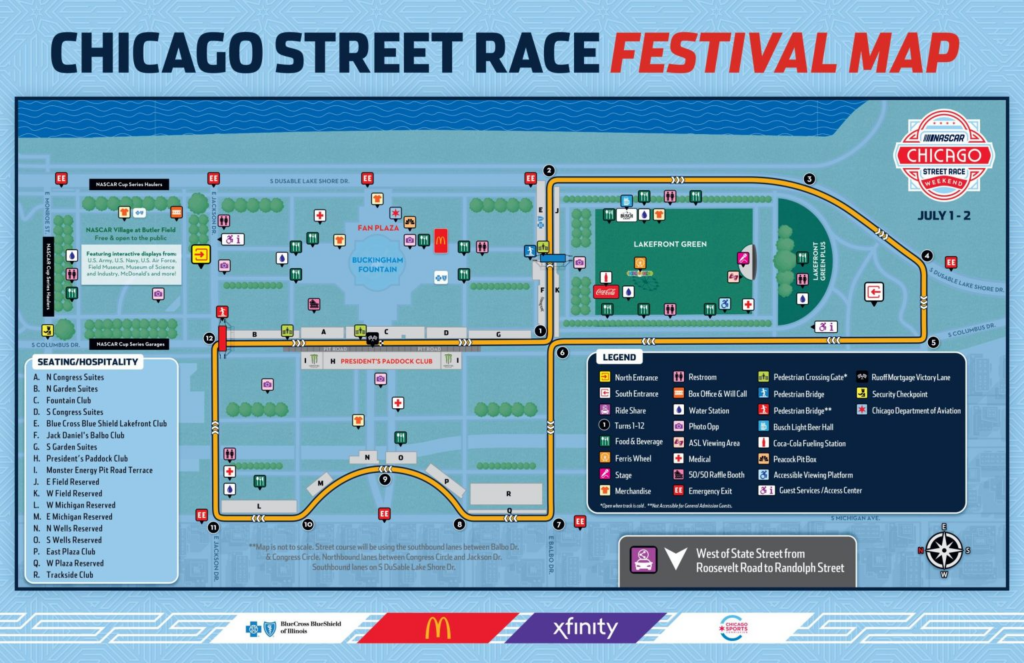 Indy Car, are racing at Mid-Ohio Sportscar Course. The 2.258-mile, 13-turn natural-terrain road course that offers a little of everything — elevation changes, high-speed corners, flowing corners, tight corners, and a challenging entry to pit lane, and most of all exciting racing, for most of the times.
IMSA Sports Car is off this weekend but will return next weekend to Bowmanville, Ontario, and Canadian Tire Motorsports Park.
NHRA dragracing is off over this weekend, next stopp is Denver, Co. and Mile High Nats!
Some other events of interest; Formula 1 is back racing again in Austria, and the coverage is on ESPN, check your local TV provider for details. V SPORT MOTOR / VIAPLAY got the coverage over here.
Saturday, June 3
| | | | | | |
| --- | --- | --- | --- | --- | --- |
| SERIES | TIME (US.EST) | TIME (CET) | RACE | TV (US) | TV (SWEDEN) |
| INDY CAR | 9:45 AM | 15:45 | PRACTICE | PEACOCK | VIAPLAY |
| NASCAR XFINITY | 11:00 AM | | PRACTICE QUALIFYING | USA NETW. | |
| NASCAR CUP | 1:30 PM | | PRACTICE QUALIFYING | USA NETW. | |
| INDY CAR | 2:45 PM | 20:45 | QUALIFYING | PEACOCK | V SPORT MOTOR / VIAPLAY |
| NASCAR XFINITY | 4:30 PM | | PRERACE SHOW | USA NETW. | |
| NASCAR XFINITY | 5:00 PM | 22:30 | THE LOOP 121 AT CHICAGO STREET COURSE | USA NETW. | VIAPLAY |
Radio; MRN, Indy Car Sirius XM
Sunday, June 4
| | | | | | |
| --- | --- | --- | --- | --- | --- |
| SERIES | TIME (US.EST) | TIME (CET) | RACE | TV (US) | TV (SWEDEN) |
| INDYCAR | 10:30 AM | 16:30 | WARM UP | PEACOCK | VIAPLAY |
| INDY CAR | 1:30 PM | 19:30 | HONDA INDY 200 AT MID-OHIO | PEACOCK / USA NETW. | V SPORT MOTOR / VIAPLAY |
| NASCAR CUP | 5:00 PM | | PRERACE SHOW | NBC | |
| NASCAR CUP | 5:30 PM | 23:00 | GRANT PARK 220 AT CHICAGO STREET COURSE | NBC | V SPORT MOTOR / VIAPLAY |
Radio; MRN, Indy Car Sirius XM
Stay Safe
//B
Photo Credit (cover); The Race