Sunday's NOCO 400 from Martinsville was the fourth short track race this season using a new aero package to improve the on-track product.
How did it work?
Statistically, the NASCAR Loop Data in many areas looked like it was a step in the right direction.
Green Flag Passes increased significantly from the 2022 race as the Loop Date registered 2026 GFP and a Green Flag Passing Rate of 5.8 Green Flag Passes per Green Flag Lap. This compared to 2022's 1233 GFPs and a passing rate of 3.4. So not only did it surpass last years race but statistically trounced the 2022 Fall Race that in 500 laps could only muster 674 Green Flag Passes and an anemic 1.5 Green Flag Passes per Green Flag Lap.
Comparing passing rates, you have to go back to the 2015 STP 500 to find a race with a greater GF Passing Rate. That race had a whopping 6.9 GF Passes per GF Lap compared to Sunday's 5.8.
Additionally, Lead Changes doubled from 2022, going from 5 to 10.
Superficially statistically, pretty impressive.
But when you dig a little deeper, peel another layer off the Martinsville onion you find that of those 2025 Green Flag Passes registered, 1392 or 68.2% were for Position 16 on back. This means the bulk of passing took place mid-pack or lower. Due to broadcast limitations these are outside what is shown to fans at home, so fans at home don't get the at-track "action".
Lead Changes
Doubling the Lead Changes on the surface sounds impressive until you look at when they occurred. 5 occurred under Caution-once when leader Ryan Preece got penalized for speeding, Chase Briscoe won the race off pit road and the rest where the Leader pitted and gave up the lead to a car that didn't pit.
Strategy Passes.
That leaves 5 Green Flag Lead Changes.
The Race Start and 5 Restarts produced no Lead Changes.
2 Green Flag Lead Changes were a result of the Leader Pitting Under Green, giving the lead up to someone else.
Three Green Flag Lead Changes were actually Racing Lead Changes-where one car passed another for the Lead.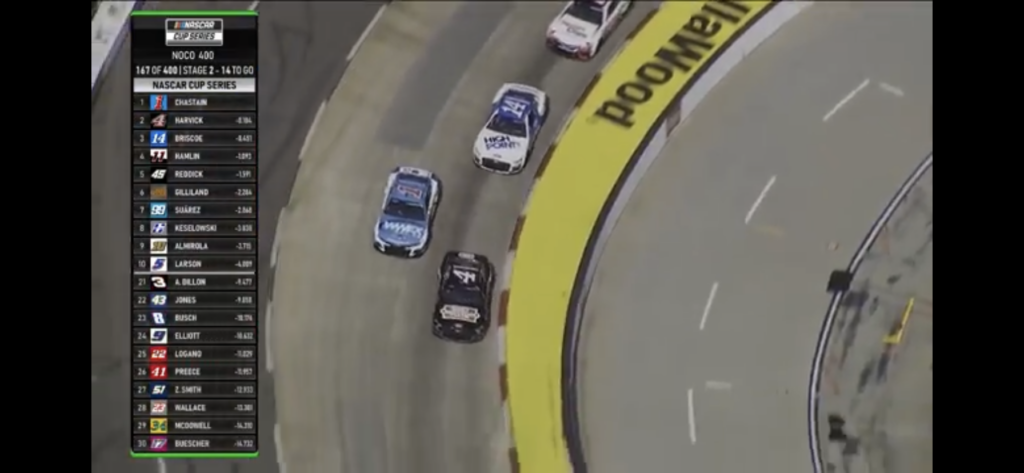 The first was on Lap 167, Kevin Harvick fresher tire advantage passed Ross Chastain who was on older tires. On this pass, FOX did their dead level best to try and miss it by cutting away to another exchange as Harvick made his move. The booth was talking about the battle up front when the picture suddenly went to the other exchange. They did finally manage to switch back and catch the pass, which is more than can be said for NASCAR on their Timeline. Even though this pass led to Harvick getting his first Stage win of the season, it didn't even make the NASCAR Timeline.
On Lap 257, Denny Hamlin passed Chase Briscoe to move to the point. This was the only Racing Lead Change that involved two cars with no tire differential as both had taken four tires at the last pit stop.
The only strategy involved here was outrun the other driver, which is what most fans think is going on when they hear "Lead Changes". As we're seeing, that is not the case.
And finally, the winning pass on Lap 371 where Kyle Larson, who took on two tires passed Joey Logano who stayed out and took no tires. Larson was able to lead the final 30 laps, holding off late race charges by cars that took four tires to finish with a 4.142 second Margin of Victory.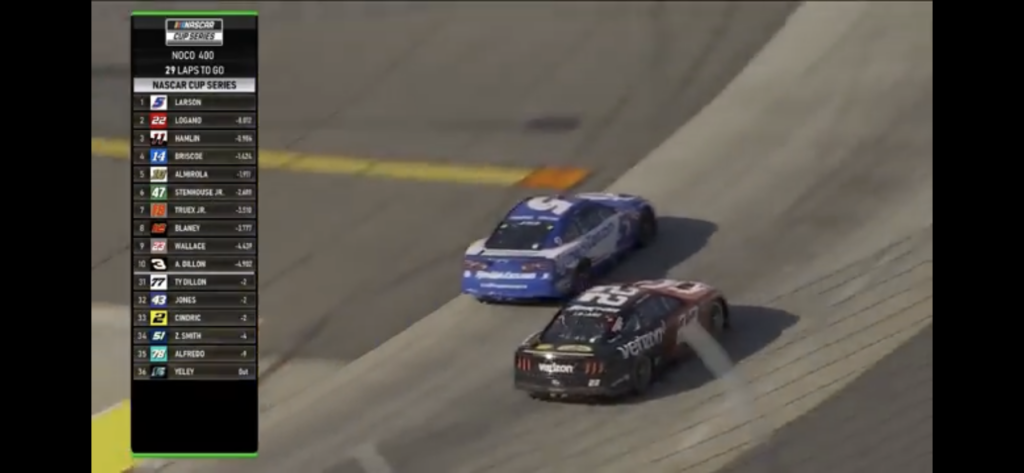 So when you distill it down there was only one true Racing Lead Change for 322 Green Flag Racing Laps. Everything else was tire strategy.
Not the look you expect for 400 Laps on a 1/2 Mile Bull Ring, especially with cars tricked out with a new aero package, new tires and much favorable weather.
So how about the eyeball test?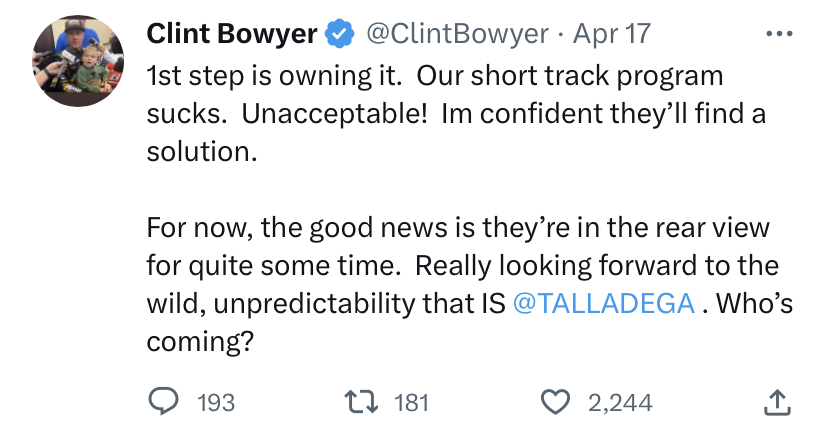 Since the checkered flag fell, the drivers complained about the NEXT GEN lacking the ability to pass. Fans found the NOCO 400 to not be a good race. Even broadcasters like FOX's Clint Bowyer said the NEXT GEN short track package sucks. Everyone seemed to be dissatisfied and everyone had an opinion and/or solution to make the racing better that included ditching the car and starting over to adding horsepower, reducing brakes, changing gears to end shifting, to changing tire compounds for more fall off to reducing tire widths and more.
So how can the stats say one thing and the "eyeball" test say something different? Do numbers tell everything?
Enter the driver of the #11, Denny Hamlin who calls into question the numbers and what they actually mean to NASCAR's stat man Mike Forde.
The answer is Yes. If Denny pits from the lead, comes out 24th and after everyone else pits and he finds himself back in the lead at the end of the pit cycle, he gets credit for 23 passes even though he passed no cars on the track.
Weird isn't it? But that's the way Loop Data is counted.
It is what it is.
But it gets better.
Each of these 23 other cars who passed Denny while he was in the pits… they each get credited for passing him even though he wasn't on the track.
The result in this instance is now 46 Green Flag Passes for Denny pitting under green although no fan saw him pass a car on track or a car pass him on track.
What?
Now multiply that by the number of cars and the number of Green Flag pit stops and you have some impressive numbers…
and nobody passed anybody on track.
So on some tracks, especially short tracks where Green Flag Pit Stops can cost a driver so many positions, the mere act of pitting under Green can inflate the Green Flag Pass numbers with no real action taking place on the track. And like the gift that keeps on giving, the more you do, the better the numbers can look.
Just look at the Richmond numbers. Three Green Flag Passes records in a row, but have those been barn burner races?
Check out the Green Flag Pit Stops.
Now do you see how "good" numbers may not mean "good" racing or how "not good" racing can produce "good" numbers?
It Affects Quality Passes…
This even extends into other numbers as well, such as Quality Passes. Quality Passes are Green Flag Passes that take place in the Top 15 positions.
So going back to Denny's example of pitting first from P1 and coming out P24 to cycle back to the lead, when the other cars in the P1-P15 pitted and he passed them, those passes would count as Quality Passes even though he again made no on track passes.
And Green Flag Passes For the Lead as well
Similarly, for the Green Flag Passes for the Lead and Lead Changes. When the Leader pitted and Denny hit the next scoring loop as the Leader, that counts as a GFPFL. If he holds P1 to the Start/Finish line where Lead Changes are officially scored, it also counts GF Lead Change
So for those numbers, passes that take place as a result of Green Flag Pit Stops can also give one impression as to what really happened when unless you dig deeper may be something entirely different.
And that 2015 Martinsville STP 500…
To further demonstrate this, let's take a look at the last race that produced similar Green Flag Passing Rates to Sunday's race. Sunday's race had 5.8 Green Flag Passes Per Green Flag Lap. The 2015 race had 6.9. Similar numbers should reflect similar races, right?
Hardly.
Sunday's race had 5 cautions, two for Stage Breaks. 2015 had 16. This meant the pit stops and resultant shuffling took place during cautions and didn't inflate the Green Flag numbers. GFPs were passes on track rather than shuffling through pit stop cycles where no one passes anyone.
Big difference.
Sunday's race had 10 Lead Changes among 7 drivers vs 31 Lead Changes between 14 drivers
Big difference
Winning Run Length was 46 Laps vs 34 producing Margins of Victories of 4.142 and 0.183 respectively.
Big difference
If you look back at the cause of the Cautions for each race, Sunday we saw one spin, one single car wreck and one wayward tire.
2015 had 6 single car spins, 1 multi-car spin, 3 single car accidents, 3 multi-car accidents (involving 18 cars), along with 3 for debris.
Looking at those numbers which car do you say is more difficult to drive-the high HP, low aero, narrow tired, small braked, no shifting GEN 6 or NEXT GEN?
If driving difficulty creates better short track racing… aww I'm not even going to ask that question.
Final thoughts
I'm a numbers nerd. Most people aren't and that's OK.
Over the last few years I've tried to report Loop Data Numbers in such a way as to give fans a different, a broader look at what they are being presented about the race they just saw.
There is more information out there than just the Green Flag Passes and Green Flag Passes For the Lead-the primary metrics NASCAR uses to measure their product. When this additional information is presented, hopefully properly, in proper context and within the limitation each measure has, I feel it gives the fan a more full, a more accurate understanding of each race. It helps explain why things are the way they are. It also triggers questions like those that have been asked by Denny Hamlin and others.
That, along with the growing interest in the Data, it's presentation and use is to me, encouraging.
To finally ask questions may be the most important thing to come out of the Martinsville weekend.
We'll see.
On to Talladega!
Thunder on… and Stay Safe
David
Photo Credit (cover): Jared C. Tilton / Getty Images