I don't know a damn thing about Chad Siegler, Vice President, NASCAR International, or Jerome Galpin, NASCAR Euro Whelan Series President CEO, but I want to promote the hell out of both of them. Jim, Mike, Steve, and everybody else, MAKE ROOM!
Last week it was announced that NASCAR's Euro series would race on a frozen lake in Rovaniemi Finland as part of its 2023 schedule. Can you imagine the pissing and moaning from some current Cup drivers if U.S. NASCAR tried something like that? I couldn't stop laughing and cheering.
For years I've been banging the drum that NASCAR needs to ditch more of its same-old, same-old and break some new ground, and I wasn't referring to just spending more money on engineers and marketers. I meant events that gave the audience a break from long races on ovals or if-we're-lucky-it-won't-be-boring road courses . . . something like an ice race.
On the other hand, you might have seen that NASCAR is developing a tire to use in the rain on short tracks. To me, this just adds one more reason NOT to attend a race in person. All the money goes into making races more watchable on television (or at least keeps them running while the ad money flows in), but if you plunk down your heard-earned bucks for a seat at the track, you now get to watch in the rain, with water spilling on you from the guy next door's umbrella. Anything to show how much we appreciate the fans, right?
NASCAR definitely needs new ideas, but it needs ones that entertain the fan at home AND the fan at the track. Over the years, I've made a bunch of suggestions for this, and while ice racing wasn't one of them – shame on me – it's worth reviewing a few of the others. Maybe this time somebody in a suite in Florida will be listening. Here goes:
"Classics" Mid-Week Races Racing at Charlotte on Sunday? Add a race Thursday night at Hickory. Use a much cheaper version of a Cup car and have a one-night show, with qualifying that eliminates slower cars and starts the fastest 24 – NO PROVISIONALS/CHARTERS! Get more daring if you want, and have it at the dirt track at Fayetteville or Gastonia.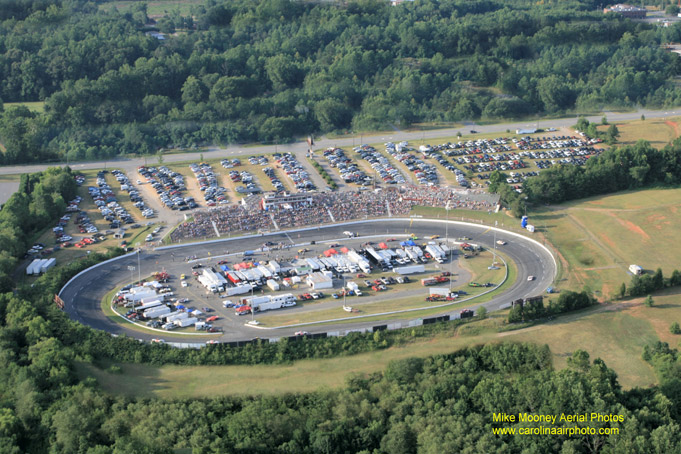 Winter Series Run a handful of races (again, with cheaper cars) in warm climates (the Caribbean – with a cruise tie-in! – Mexico, Southern California), or maybe indoors (the St. Louis dome).
"Triathlon" Races Only Indianapolis has all the facilities visible from the same seats at present, but the idea is a maybe 100-lap or shorter race on the superspeedway, a 50-lapper on the road course, and a 100-lapper on the infield dirt track. Winner determined by points or maybe whoever wins the final event. If e- or i-racing continues to take off, maybe even make one segment drivers operating drones.
Build-a-Car-and-Race-It Start with a pile of parts, and crews have 24 hours to assemble a completed car. Inspections cover safety only – no laser-beam measuring allowed. Then you race 'em.
Driver-and-Fan Combo Races Driver runs 100 laps, then the car is turned over to a selected fan, and this group races 25 or 50 laps on a specially built, much smaller/safer course, after which primary drivers return to the cars for another 50 or 100 laps, with starting lineup determined by fan-race finish.
"Normal" Races with "Gimmick" Segments – Until the dreaded insurance "big brothers" stopped it, the Eastern Museum of Motor Racing had a race-ish event where retired drivers drove cars blindfolded, with passengers (media members, spouses, fans) directing them from the passenger seat. My idea is to run 1/3 or a normal race, then a gimmick event like that, and then the final 1/3. You also could do "construction zone" races, where the track is narrowed to one lane by cones/barrels/tape, or Curtis Turner's speed bump on the backstretch. The idea is to take a break from the more serious racing and throw in some fun.
There are varying levels of practicality above, but I look at each of these ideas as once or twice a season, with traditional racing spaced in between – something to take the "sameness" out of the current schedule. That's an issue NASCAR has yet to address.
Frank's Loose Lug Nuts – Actually, NASCAR may already have missed the opportunity with winter racing. I see more and more people going to FloRacing, MAV TV, or other cable/streaming outlets for the racing fix year-round. I tend to be old school and visit YouTube. As with everything else these days, there's plenty of competition, and you have to be "up on the wheel" to win the race.
Good to see Tony Stewart give Ryan Preece another shot at a fulltime Cup ride next year. Preece is old school and came up through the ranks, developing a strong record and following in the Whelan Modified Series. He deserves this.
I don't want to bad-mouth Cole Custer, because he's proved himself to ba a good driver, but he does represent the kind of driver who succeeds today: family with resources enabling brief stops at each racing level (with considerable success, but also ample backing); very little opportunity to establish a strong fan base.
Here's the issue: Stock car racing (which NASCAR used to be) has blue collar roots – or middle class, at least – yet it's become limited to those who can bring their own money for a ride. That's the antithesis of its roots, and it still hurts.
NASCAR recently released its own self-congratulatory assessment of the 2022 season and seemingly encouraged having people call it the best EVER!
Maybe that was true for the VPs whose checks didn't bounce. It's not a thought that ever occurred to me.
(Photo Credits – The ice racing photo came from Yes! Magazine, where it was part of a story about climate change. The Hickory aerial was from the speedway, where it was credited to Mike Mooney Aerial Photos. The pile of auto parts came from the website for Goodfellow Motors of O'Fallon, Mo. – check 'em out. The blindfold race photo seems to have come from Hyundai. The Ryan Preece photo is from NASCAR cover photo from Autosport.com .
Frank Buhrman