Racers have always been known for the practical jokes they play on each other. I never got to see Joe Weatherly or any of his buddies play their mongoose in the box/cage trick on anybody, but I sure wish I had.
I do, however, remember one racetrack practical joke very well. At the time. I was Manager of Wrangler Jeans NASCAR Special Events, sponsoring Dale Earnhardt in Bud Moore's Ford. It was early 1982, a time of great happiness for Dale Earnhardt after suffering through a winless 1981 season for three different car owners. He now had stability with his race team, along with family stability, having recently been awarded custody of children Dale, Jr. and Kelley.
One of World War II hero and NASCAR car owner, Bud Moore's volunteer race crew for many years was Harold Stott. He owned a Ford dealership managed by his brother in Tryon, NC. Harold was one of the best, if not the best, tire changers on the circuit. Every year he was voted by his pit crew peers as a member of the Skoal All-Pro Pit Crew.
Harold, however, was superstitious and very jumpy. If you walked up behind Harold (who was built like a fireplug) and shouted, "Boo!", Harold would jump a foot off the ground. Other crew guys were always throwing rubber snakes at Harold's feet in the garage to watch him jump and shout!
At that time in 1982, we raced at Richmond in February on the weekend after the Daytona 500. It was often snowy, sometimes icy, and always cold at the ragged old Richmond Fairgrounds half-mile. On Friday and Saturday night the Cup cars were housed in Richmond's open air garage buildings under their car covers. Track owner Paul Sawyer employed several off-duty Henrico County, Virginia Police K-9 officers with their dogs to guard the race cars during the down time.
The car cover at that time for Bud Moore's Wrangler Jeans sponsored, Dale Earnhardt driven #15 Ford Thunderbird was actually made of the same 14 ounce heavy duty denim that we used in our men's Wrangler jeans. It was also lined/padded and very heavy, requiring two crew members to take it off the car and roll it up.

Late on Friday afternoon at Richmond, two of Harold Stott's fellow Bud Moore crew members had one of those brilliant ideas that racers sometimes get. They approached the Henrico Police K-9 officers and made a deal for the next morning.
Just before the Richmond garage opened on Saturday morning, Bud Moore crew members Doug and Ray accompanied the K-9 officers to Dale Earnhardt's blue & yellow #15 Wrangler Ford. They proceeded to sit a German Shepherd police dog with two stainless steel teeth in Earnhardt's driver's seat and chain him to the roll cage with the assistance of the two K-9 officers.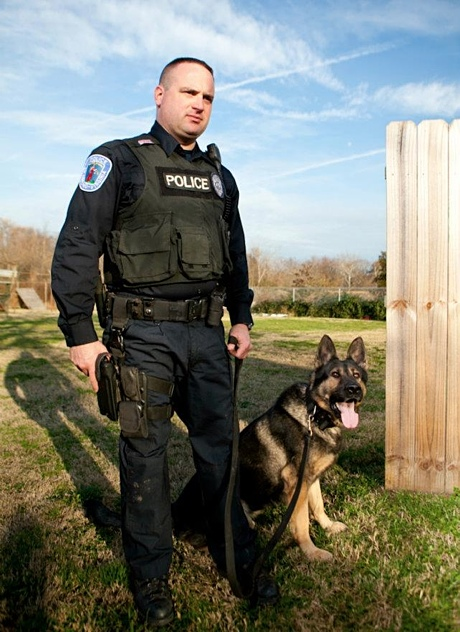 The car cover was put back on the car just before crewman Harold Stott arrived in the garage. Ray and Doug alerted all the other crews to watch. When Harold, standing by the driver's window, lifted that car cover the German Shepherd barked and acted like it would eat him alive!
We were all convulsed with laughter until we became afraid Harold was having a heart attack. He didn't and for many years after was forced to listen red faced to Bud's crew describe that morning in the Richmond garage to newcomers in NASCAR.
If you were ever around Dale Earnhardt when he was truly tickled, you'd recognize the twinkle in his squinting eyes that morning, along with an upturned mustache as he howled with laughter alongside Bud Moore at Harold Stott's misfortune.
I don't guess anything like that is done in NASCAR garages anymore. There's too much on the line with all these professional pit crew members who are flown in for race day only duty trying to make it to "The Chase." But, I'll never forget the sight of that German Shepherd in Dale Earnhardt's driver seat back in 1982!
Post script: Driver, Dale Earnhardt, Richmond track owner, Paul Sawyer and car owner Bud Moore have each gone on to their heavenly reward. Harold Stott is retired from NASCAR racing, but still helps a grandson with drag racing.
Instead of a ragged fairgrounds track, Richmond's race facility is now a ¾-mile showplace – the favorite track of many competitors. And the garage where Dale Earnhardt convulsed with laughter has been named in honor of the late Richmond car owner, Junie Donlavey.
# # #
(Editor's note: This story is publish with the permission from the author! It has appeared previously at RacersReunion.com, GhostTracks.com )
More of Dave Fulton's articles ( Here )
Photo Credit; RacersReunion.com. From the Wrangler Jeans TV commercials, Bud Moore's #15 Dale Earnhardt driven 1982 Ford Thunderbird in September 1982 at the Richmond Fairgrounds Raceway 1/2-mile asphalt layout prior to the Wrangler 400 Cup race.