It's been more than 40 years since I was part of one of the most remarkable deals in NASCAR racing history.
The year was 1981 and I was Manager of Wrangler NASCAR Special Events. I had moved to Greensboro, North Carolina, the corporate headquarters of Blue Bell, Inc. – parent company of Wrangler Jeans – from the beautiful eastern North Carolina city of Wilson.
I had been the Division Personnel Manager for the largest Wrangler Womenswear manufacturing division and had a small interest in a weekly dirt car. Several times a year I went on recruiting trips to North Carolina State University and East Carolina University to recruit potential industrial engineers for Wrangler.
It was on a recruiting trip to East Carolina with our head corporate recruiter in late summer of 1980 when he informed me that Wrangler was going stock car racing in 1981. He asked if I knew anyone who might be interested in heading up the program. I thought immediately of Brer Rabbit and the briar patch. It was early fall of 1980 when I interviewed to go racing full time.
Our new Wrangler Special Events department had been created to market the "Wrangler – One Tough Customer" advertising theme created by the New York advertising firm of Dancer, Fitzgerald, Sample. Both our new domestic President and our Advertising Director had each been Winston Cigarette brand managers at RJ Reynolds and been instrumental in Winston's initial NASCAR sponsorship.
Wrangler President Robert M. ("Charlie Bob") Odear was a University of Kentucky grad by way of Princeton, who after leaving RJR had invented the "L'eggs" concept of packaging pantyhose in plastic eggs, earning a fortune for the Hanes Hosiery folks in Winston-Salem. Remember Tina Turner hawking Hanes hosiery? Wrangler Advertising Director Jack Watson, a product of Cincinnati's famed Procter & Gamble consumer goods advertising before his Winston stint, was a nice laidback family man.
In addition to NASCAR racing, our new Special Events arm would also sponsor Pro Rodeo, Country Music concerts & contests, performer Willie Nelson, Stadium SuperCross motorcycle competition, and NTPA Tractor Pulling. We were throwing a lot of money at our Wrangler Jeans target audience with these new advertising and marketing venues.
At that time in 1981, you could purchase a pair of our jeans at retail for between $6-$9 and our profit margin per pair was approximately $3 – the break even point. In 1981, I gave away 55,000 tickets to NASCAR Winston Cup races that event promoters sold to me for $3 each. You bought a pair of jeans and you got a race ticket. The promotion was spectacularly successful, along with many others.
The showpiece of my NASCAR program was the sponsorship of the 1979 Winston Cup Rookie of the Year and 1980 Winston Cup Champion – Dale Earnhardt.
What many folks don't realize, or recall are all the behind the scenes dealings that had to take place almost overnight in 1981 to keep Dale Earnhardt competing in our blue & yellow Wrangler colors. Nor do they know what it took to convince Richard Childress to give up driving and field a car for Earnhardt.
The background story is that California real estate developer and car owner Rod Osterlund had befriended the penniless and deep in debt Earnhardt and put him in a ride that previously had been wheeled by Dave Marcis. Osterlund had brought a whole bunch of youngsters east from San Jose, California in the late 70s where they had worked weekly races with him and driver Roland Wlodyka (called "Roland from Poland" by Osterlund). The group included just many nice young Californians like future crew chief Doug Richert, engine builder Bob Burcham, former driver, Marv Acton, and big rig driver Rick Peters with his "protected by Smith & Wesson" decal on the Osterlund tractor door. Wlodyka was the team manager. I wished I could remember them all.
Wrangler was shopping in mid-1980 for a situation to go fulltime racing in 1981 with a program to match our "One Tough Customer" ad campaign and NASCAR led us to the Osterlund/Earnhardt tandem. It didn't take any rocket scientists to see that Earnhardt was our "One Tough Customer" in the flesh. Osterlund had become a father figure to Dale. We – Wrangler – went on the car as sponsor for the last race of 1980 at Ontario, California, when Dale barely clinched the 1980 championship over Cale Yarbrough.
Unbeknownst to us (Wrangler) or Dale, car owner Osterlund had encountered some serious real estate reversals in California and was about to shop his team for sale to the highest bidder. He had Dale and he had Pontiac factory sponsorship and he had Wrangler as a major sponsor on board.
The real coup was hiring away the disgruntled Dale Inman from Petty Enterprises to become the new crew chief for the Earnhardt/Wrangler deal. When Richard Petty won his final Daytona 500 in February 1981, few knew the real reason for Dale Inman's tears in victory lane. It had not yet been announced that he'd be joining our Wrangler Racing Team as Earnhardt's new crew chief in time for the March 1981 Atlanta race.
Early one summer morning in 1981, we got a call that Osterlund had sold the team to former Neil Bonnett car owner Jim Stacy – a coal mining magnate. Heading up the team for Stacy would be Robert "Booby" Harrington, a one-time local Charlotte area dirt driver. We weren't happy campers and Dale was both furious and dejected over Osterlund selling him down the river.
We – Wrangler – immediately met with Stacy at the former Osterlund shop just north of Charlotte on Old Statesville Road in the small community of Croft. Stacy told us he didn't care whether he had a sponsor or not. It was not a good sign when he fired team publicist Joe Whitlock, the former Columbia, South Carolina Associated Press bureau chief and Joe's secretary Judy Tucker. Wrangler paid for Whitlock to form ProSports and paid his expenses to handle Wrangler Racing PR with Judy as his employee.
By the time of the 1981 Talladega August race, Dale Earnhardt had had all he could take of Stacy and told us he wouldn't drive the car again. At meetings in Talladega, a consortium of Wrangler, NASCAR, Winston, Goodyear and Junior Johnson convinced Childress this was his big chance. He agreed to get out of the driver's seat and put Dale Earnhardt in it. Richard had a small shop in Welcome, NC with a very few dedicated employees like Kirk Shelmerdine and a lot of at-track volunteers like "Doc" and Richard's brother, Ronnie.
Wrangler was having to spend a ton of money reprinting ad materials changing the car number from #2 to #3. And I had recently had Dale sign one of the first "driver personal services contracts" in the spring at the old Darryl's Restaurant on Church Street in Greensboro for $100,000/year. That contract, I might add, had marinara sauce dripped on it from Dale's meatball sandwich. Anyway, our budget money was spread thin and my new fiscal year didn't begin until October 1.
Here's the amazing deal Richard agreed to:
Wrangler would pay him $10,000 per race for the remaining events in 1981 – IF Dale Earnhardt made the starting field in 1st Round qualifying. If not, we'd pay nothing.
I know that today's youngsters don't know what first round qualifying was. Back then there were often 3 rounds or so of qualifying spread over several days. Each week for the rest of the 1981 season, I took a $10,000 check with me and had it in the right rear pocket of my Wrangler Jeans standing beside Richard Childress on pit road during 1st round qualifying.
Richard sweat bullets and I didn't want to think of having to not pay. Anyhow, Dale made every race for Richard during 1st round qualifying.
Richard Childress had taken a huge gamble that would pay million-dollar rewards down the way. We did some other things for Richard like put Doug Richert on the Wrangler corporate payroll and paid Robert Gee directly to fabricate some cars and financed the purchase of shop equipment.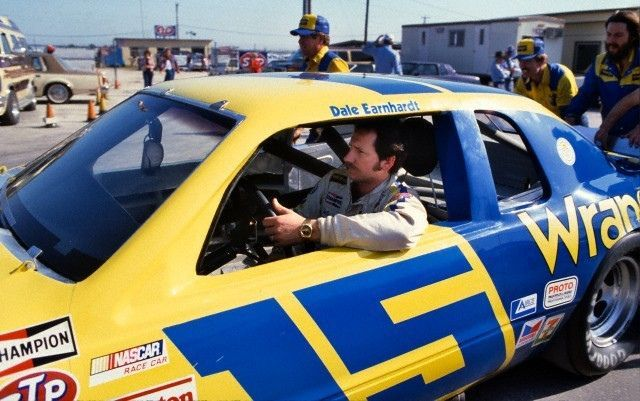 Gambling for the payoff of a "possible" $10,000 per race, Richard Childress gave up driving. You've got to admire the gamble he and Judy took. As for Dale Inman, he eventually hooked up with car owner Billy Hagan, but he got shafted by Osterlund. In late 1981, Wrangler contracted to take Dale Earnhardt to the Bud Moore team for 1982. Richard Childress was not yet up to the task of fielding competitive cars to withstand the punishment of Earnhardt.
Most fans know the rest of the story. Earnhardt and Childress, beginning in 1984 with Wrangler sponsorship, formed a team for the ages.
Before 1981 was over, I had dealt with four different car owners for Earnhardt – Osterlund, Stacy, Childress and Moore. To say it was stressful is an understatement. I earned my salary in 1981.
Dave Fulton
(Editor's note: This story is publish with the permission from the author! It was originally published on Race Fans Forever. )
More of Dave Fulton's articles ( Here )
Photo Credit ( Cover ); Sporting News