One thing the Kimi Raikkonen-to-race-at-Watkins-Glen story accomplished right off the bat was to give NASCAR some exposure in the general sports media in the middle of Indy 500 week.
Fifteen years ago, NASCAR was getting more exposure than IndyCar even on the eve of the year's biggest open-wheel event, but how times have changed. With secret purses, secret attendance, and a club-members-only small entry list, it's hard to tell that the World 600 (excuse me, make that Coca-Cola World 600 NASCAR Cup Series Race) is anything other than just another stop on the traveling circus.
One year when he was still running Charlotte Motor Speedway, Richard Howard brought in the cartoon character Underdog as the track mascot to poke fun at its position relative to Indy. Howard also had Charlotte pay the pole winner more than Indy paid. Now, NASCAR seems not to care . . . or maybe it's OK with what should be rival Speedway Motorsports' biggest event being just another race.
I don't know whether Trackhouse Racing's Justin Marks had the timing in mind when it was announced that Raikkonen would race at Watkins Glen for a new team created by Marks to bring international drivers to run NASCAR Cup races. It seems not to have hurt the coverage, though, and these days getting that coverage takes some doing.
General sports media (newspapers, TV, magazines, large websites) devote most of their time/space these days to the "big three" of NFL (#1 by a mile), MLB and NBA. Everything else gets better coverage in specialized media, so the general sports folks just pay attention to the MAJOR major events: Masters, Wimbledon, Kentucky Derby, Indianapolis 500, and maybe Daytona 500. Everything else is either ignored or relegated to whatever each sports medium's specific equivalent is of the bottom of Page 7 (to use my standard, the newspaper).
The Raikkonen story might not have been at the top of a page, but it broke through the normal ceiling, as best I can tell. That's saying something for Justin Marks and has partner, Pitbull.
What it also says to me is that NASCAR's decade-plus fall from "the next big thing" to "is that still around?" has re-set the clock back more than half a century.
Fifty-five years ago, two-time former Formula 1 World Champion (and 1965 Indy winner) Jim Clark was persuaded (paid) to run a Holman-Moody "factory" Ford against NASCAR's best at Rockingham.
Clark's visit wasn't a smashing success, competitively. He qualified 24th, behind (among others) James Hylton, G.C. Spencer, John Sears, and Red Farmer (driving Henley Gray's car). The #66 went out after 144 laps with engine failure. H-M teammates Bobby Allison and David Pearson finished 1-2.
(Just for the record, buddy Dave Fulton and I were at that race, having taken the legendary Seabord Coast Line race fans special train down from Richmond.)
That was back when NASCAR (Big Bill France) felt that his big tracks needed to be called "Something-or-other INTERNATIONAL Speedway," and to make that name seem legit, "international" drivers needed to be brought in from time to time.
French road-racing standout Jo Schlesser ran Daytona a couple of years before Clark's Rockingham run, and the first 500 back in 1959 featured a pair of drivers from Peru. Indy stars were regular Daytona entrants, although to be fair, that was in the days when USAC also had a stock car division in which most ran, so it wasn't quite like Clark or Raikkonen.
Still, it was a grab for respectability (just like having Jackie Stewart in the announcing booth for many events in the early days of regular NASCAR appearances on network television), and I think it can be argued that the same thing is going on today. Bringing Raikkonen in for a race gets more attention, which NASCAR desperately needs these days.
As much as I don't care for the current NASCAR product, I hope it works.
Frank's Loose Lug Nuts (they're getting looser)
Having just returned from a lengthy trip to Ireland, Northern Ireland, Scotland, and England, I have a racing-related thought.
I drove more than 2,000 miles during that special vacation, endangering countless lives while I struggled to stay on the left side of the road (on roads generally much narrower than ours), but I was helped a lot by the fact that the other drivers were much more predictable. They obeyed the rules of the road, generally drove close to the posted speed limit, and other than polite horn-honking, showed no evidence of road rage.
I hadn't been back on the road here for five minutes (in a city I won't mention) when a driver moved into the left-turn-only lane to pass several cars stopped on the go-straight lane at a stoplight. At the next light, the same driver moved into the left-turn-only lane at a stoplight, and with the light still red, made a right turn across the front of the line of cars waiting to go straight.
"Jeez," I thought, "I'm back in idiot land."
People here drive faster and with much less regard for the rules, and they seem to be angry all the time. I hated those narrow lanes across the pond, but I'd almost switch sides of the road to reduce the number of times somebody makes me mad by acting like an idiot.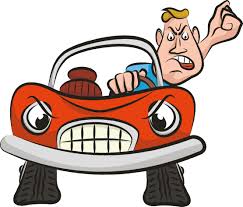 So think about this: When those rules-obeying Brits, Scots and Irish go oval track racing, they wreck each other routinely in contests that are as close to demo derbies as they are to NASCAR events. Over here, on the other hand, it's like all access to food/drink/sex/entertainment will be taken away if we don't go faster and get by those other idiots, yet then we treat one driver bumping the other out of the lead in NASCAR as a capital offense.
Do you see where I'm going with this: They take out their frustrations on the track, and we try to hide our excesses (idiocy) by criticizing that sort of thing when the racers do it.
Feel free to go over for a few weeks if you want to test this. If you get a chance, stop for the shrimp and crayfish cocktail (actually, a salad) at the Barrasford Arms pub in the tiny village of the same name in Northumberland County, England. It's delicious.
(PHOTO CREDITS – Jim Clark talks with John Holman with the #66 Ford Fairlane he would run at Rockingham behind them. Photo from Holman & Moody Twitter page. The Underdog cartoon came from a website called PowerPop, and the road rage cartoon was, of all places, from Korea Bizwire.com. The Jim Clark photos came are credited to Reddit, Pinterest and Twitter, respectively, which means I have no idea where they actually originated. The Eduardo Dibos photo was from a site called Scorum, but I'm certain it didn't originate there)
Frank Buhrman.