NASCAR Trucks series are back in action this weekend and all three top series are heading into the Throwback weekend at the classic Darlington Raceway. I'm sure you have seen a few of the Throwback paint schemes in different series like this one of Corey LaJoie and Spire Motorsports honoring Marty Robbins. To see more Paint Schemes from the different series Click Here.
We here in Sweden are fortunate enough to get the NASCAR Cup races live and commercial free from NASCAR's international feed and when you go on commercial break we get excellent commenting from our Swedish analyst. During last weekends race at the Monster Mile, the upcoming Darlington throwback race-weekend was mentioned as a look ahead on what to come in the racing world. A couple of things that was talked about and later on came in my mind was Corey LaJoie outstanding paint scheme and Kyle Larson tribute car to Tim Richmond. So here's my small contribution to the Throwback Weekend and the memory of Tim Richmond written by a much missed friend, PattKay Lilley . So I hope you enjoy all the stories behind all the fantastic paint schemes this weekend.
A look at the schedule tells us besides NASCAR there's not to much els going on other than F.1 from Miami. Below is the NASCAR Tv schedule for Darlington Raceway, May 2022.
Friday, May 6
| | | | | | |
| --- | --- | --- | --- | --- | --- |
| SERIES | TIME (US.EST) | TIME (CET) | RACE | TV (US) | TV (SWEDEN) |
| NASCAR TRUCKS | 3:00 PM | | QUALIFYING | F.S.-1 | |
| NASCAR XFINITY | 5:00 PM | | QUALIFYING | F.S.-1 | |
| NASCAR TRUCKS | 6:30 PM | | PRERACE SHOW | F.S.-1 | |
| NASCAR TRUCKS | 7:30 PM | 01:00 (lörd) | DEAD ON TOOLS 200 | F.S.-1 | VIAPLAY |
Radio: MRN
Saturday, May 7
| | | | | | |
| --- | --- | --- | --- | --- | --- |
| SERIES | TIME (US.EST) | TIME (CET) | RACE | TV (US) | TV (SWEDEN) |
| NASCAR CUP | 10:30 AM | | QUALIFYING | F.S.-1 | |
| NASCAR XFINITY | 12:30 PM | | PRERACE SHOW | F.S.-1 | |
| NASCAR XFINITY | 1:30 PM | 19:00 | ROXOR 200 | F.S.-1 | VIAPLAY |
Radio: MRN
Sunday, May 8
| | | | | | |
| --- | --- | --- | --- | --- | --- |
| SERIES | TIME (US.EST) | TIME (CET) | RACE | TV (US) | TV (SWEDEN) |
| NASCAR CUP | 2:00 PM | | PRERACE SHOW | F.S.-1 | |
| NASCAR CUP | 3:30 PM | 21:00 | GOOD YEAR 400 | F.S.-1 | V SPORT 1 VIAPLAY |
Radio: MRN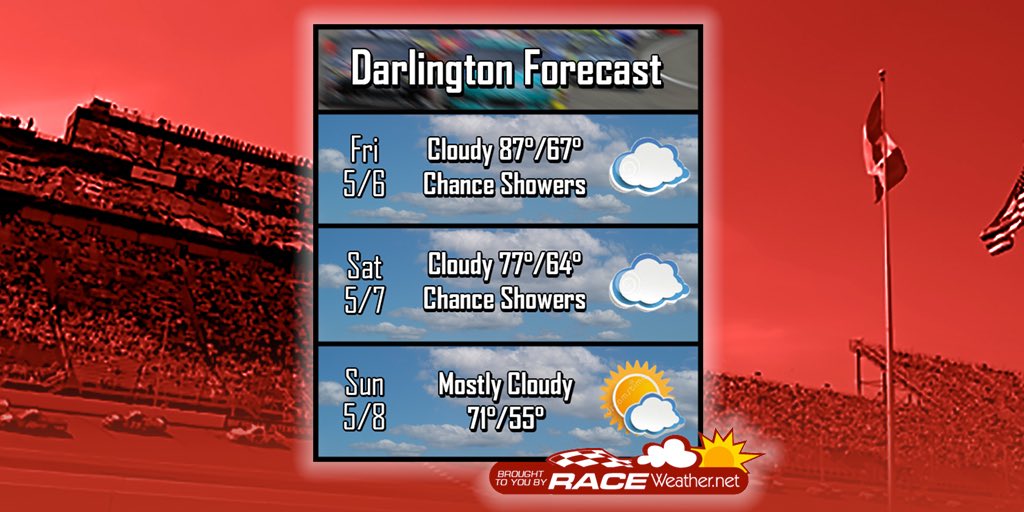 Stay Safe
//B
Photo Credit (cover); Chris Graythen | Getty Images