NASCAR just finished its first Easter race this century. First scheduled Easter race in 52 years. The first in the "Modern Era", since way back when Winston came on as the Series sponsor. Only the twelfth time in seventy-five years.
Modernizing tradition.
Congratulations to Kyle Busch on the win. Great battle Tyler Reddick and Chase Briscoe. Just one more turn.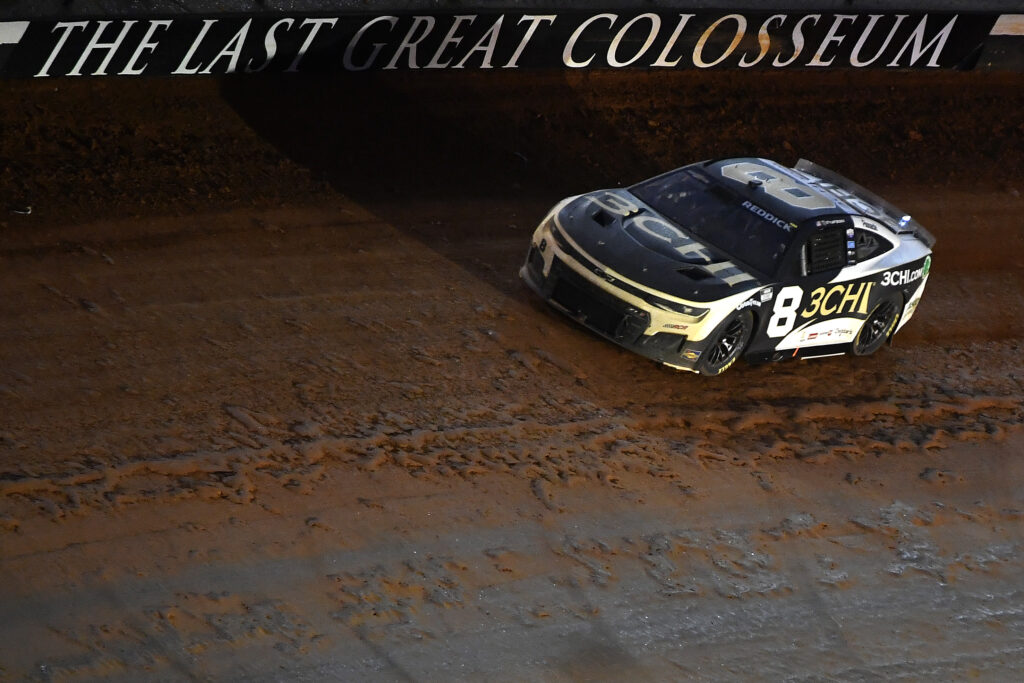 Kudos to NASCAR and SMI for getting the race in, even with the adverse weather conditions.
Tip of the hat to those hardy fans who stayed with it, through the downpours and drizzles to see it through to the Checkered Flag.
Tomorrow will undoubtedly bring glowing reviews for the Great Easter Night Dirt Race Experiment. Ticket sales were reported up 20%. The finish alone ensures better numbers in the Jeff Gluck "Good Race" survey than last weeks Martinsville Freeze-Out.
Broadcast coverage moving from FS1 to FOX should in itself produce enough of a ratings bump to secure the Experiment's success.
Kicking the race off with "Boogity, Boogity, Boogity" probably didn't hurt in some fans eyes.
Easter racing is here to stay.
As if there was any doubt or debate?
Proponents are quick to point out "NASCAR has raced on Easter before" and trot out the now dozen examples to justify things. Strangely, they are silent over why NASCAR went fifty-two years, about two generations before scheduling an Easter race again.
Could it be that "back in the day" when the series did run on Easter they ran anywhere from 48-56 races in the season as compared to 36 now? Or maybe, once Winston came on board and reduced the schedule to a more manageable number, Easter racing was no longer needed and was avoided?
If it is so darn good, if it is such a good idea, if it is such good business, it is so right, why did it take so long to do it? Why, after the 1970 season did the Sanctioning Body decide they were no longer going to schedule Cup races on Easter? Why did it take until 2022 for the Sanctioning Body to finally see the light?
What changed? Why now?
I don't expect answers. It doesn't really matter at this point. Just another tradition, another thing that separated NASCAR from other sports "modernized."
"It is what it is", as NASCAR's Vice Chairman Mike Helton once said.
So now that Easter racing is probably a lock going forward, how will NASCAR deal with scheduling Easter races in the future? Unlike other holidays which fall on a set day or date, Easter can fall from as early as March 23rd to as late as April 25th.
For sake of discussion, assuming the 2022 schedule remains the same going forward, that means that depending on the calendar, Atlanta, COTA, Richmond, Martinsville, Bristol, Talladega could at some point be facing an Easter race date.
If spring Bristol remains dirt, the 2022 race shows that it needs to be a night race. Night racing seems more palatable for an Easter race. So does NASCAR make Bristol dirt the "official Easter race of NASCAR" and slide it's night race from late March to late April?
Next season Easter is April 9th. Does NASCAR switch Martinsville and Bristol? It makes sense since Bristol already has all the Easter Bunny signs, stencils and stickers or do they leave the order the same and Martinsville hosts the Easter race?
Oh wait, that's the same weekend as the Masters, so Martinsville can keep the date, run the Cup race Saturday night like it did this season and avoid both.
Whew! Dodged two bullets there.
What about in 2024? Easter is March 31-COTA. Pretty early to be switching Bristol to that date for a night race. I don't recall that track having lights so do you shift the race to Saturday? That kinda messes up the triple header weekend.
Man, what a mess. But we've raced on Easter and the fans liked it… so what's a Sanctioning Body to do?
2025 is April 20, which is creeping into Talladega weekend. There are no lights there, so a Bristol-'Dega swap would be a simple solution. Or maybe by then the Sanctioning Body is ready to "modernize tradition" again and just go head to head with Easter and run the race in the day.
Three seasons… sounds about right.
Richmond would get the next year. If we haven't made the leap to Easter day races by then would you run a spring night race there, followed by a Martinsville night race to avoid the Masters, followed by a Bristol night race to keep the dust down? That's a lot of night racing under what has proven to be leas than ideal weather conditions.
On and on and on.
Regardless of the schedule, if NASCAR is going to race on Easter there are only a certain number of tracks that the Series can run on during those time frames.
Maybe, it wasn't the theology or business aspects that kept NASCAR Cup off the track on Easter. Maybe it was just simpler to just not take it on. Maybe that's why no one until now wanted to deal it.
Now that in 2022 NASCAR has offered it (and will sell it as a success), "unoffering" it is going to be very difficult. Accommodations and considerations have to be made going forward. It will have to be dealt with.
It should be interesting.
Thunder On… and Stay Safe!
David