Talladega is known for its action and the 2022 version of the Geico 500 had its share, including 20 Racing Lead Changes. After two races with zero RLCs, the double digit racing lead changes was definitely a welcomed change.
Thirty-nine competitors put the NEXT GEN through its first paces on the series biggest oval in a race that saw Ross Chastain pick up his second win in the last five races to join William Byron as the only multi-win drivers in the opening 10 regular season races.
A Typical Wild Talladega Finish
Chastain came from a lap down to find himself running third behind leader Erik Jones and Kyle Larson as they came down for the flag. Coming off of turn four a d heading to the tri-oval, the three car train of Larson-Chastain-Austin Dillon had a huge run on the solo Jones. Larson took the shove for the pack to go high to try for the win. Jones moved up to block Larson's advance forcing Larson into a hard-charging Kurt Busch who was coming through on the outside. Contact ensued, bouncing Busch into the outside wall and back across the track, clipping his teammate Bubba Wallace and sending him hard into the outside wall.
With the track clear ahead and the melee developing behind, Chastain found himself with a clear path to the Checkered Flag and another trademark watermelon-smashing celebration.
Austin Dillon, who was locked on Chastain's bumper followed the Moose to the line for second, 0.195 seconds behind. Kyle Busch found his way through for third, while the ricocheting Larson pinballed his way to fourth. Martin Truex, Jr. brought his Toyota across to round out the top five.
Erik Jones, who found the front 10 times and appeared to have the race won, brought his #43 Chevy across sixth, followed by Larson's teammate, Chase Elliott. 2021 Daytona 500 winner, Michael McDowell was the top finishing Ford in eighth.
More race info
The race was slowed six times for 28 laps, including two multi-car accidents that involved three and nine cars respectively.
There was 41 Lead Changes among 16 drivers, with William Byron leading the most laps-36. Jones found his way to the front 10 times for 25 laps, while race winner Chastain led one time and was given credit for one lap-the final one!
This race had the longest green flag run to the finish this season as the entirety of the final Stage, last 63 laps of the race were run under green.
Now about those passes
Over the 160 Green Flag Laps there was 8025 Green Flag Passes. This was down 1713 Green Flag Passes from last years race.
Of those passes, 3774 were Quality Passes, occurring in the Top 15 positions. This means that 47.02% of the passes took place in the top 38.5%, meaning there was more passing up toward the front of the field.
At the very front there was 125 Green Flag Passes For Lead. This was up 45 from 80 in this race last year. Those resulted in 34 Green Flag Lead Changes (out of 41 overall for the race).
A deeper look:Racing Lead Changes
Eight of those occurred during the first three laps after the race Start or Restarts. Due to the uncharacteristic long green flag runs (the final Stage saw no cautions) an additional six lead changes were a result of the leader pitting under green and turning the lead over to a trailing competitor.
This resulted in 20 Racing Lead Changes among six drivers. The breakdown is as follows-
6-Bubba Wallace, Erik Jones
5-Kyle Larson
1-Daniel Suarez, Ryan Blaney, Ross Chastain
Racing Lead Changes Ranking
With his 6 Racing Lead Changes to go with his 4 from Daytona, Bubba Wallace now sits atop the Racing Lead Change Standings. After 10 races we find-
10-Bubba Wallace
7-Erik Jones, Ross Chastain
6-Kyle Busch, Kyle Larson
5-Martin Truex, Jr., Ricky Stenhouse, Jr.,
4-William Byron
3-Brad Keselowski, Tyler Reddick, Chase Elliott, Ryan Blaney
2-Austin Cendric, Denny Hamlin, Joey Logano, Kurt Busch
1-Alex Bowman, Kevin Harvick, Justin Haley, Chase Briscoe, Daniel Suarez
Martin Truex, Jr., Chastain and Ryan Blaney lead with Races with RLCs as each had RLCs in 3 of the first 10 races.
Kyle Busch, Larson, Wallace, Stenhouse, Jr., Reddick, Elliott, Byron, Jones and Hamlin passed someone for the lead in two races. The rest got their RLC in a single race.
Racing Lead Changes by Race
Talladega's 20 RLCs ranks them second in RLCs behind Atlanta's 24. The season's breakdown is as follows-
24-Atlanta
20-Talladega
18-Daytona
5-Las Vegas
4-Auto Club
2-Richmond
1-Phoenix, COTA
0–Martinsville, Bristol (Dirt)
This means for the first 10 races of the season fans have seen one car pass another for the lead outside of starts, restarts and pit stops 74 times. At first blush, a 7.4 RLC average looks pretty impressive. When you consider 62 of those were in three super speedway races, 14 RLCs in the remaining seven races for a 2.0 RLC/race looks a bit thin, especially when two races produced goose eggs.
Other numbers of interest
60,000-Estimates of the fans in the stands for Sunday's race. Nice crowd out to see a race. I just wished NASCAR would just report the number of tickets scanned and put an end to the "estimate" and "percentage" nonsense. You know.
29-two time winners. With his second win, Ross Chastain leaves the "one win wonders" and joins 28 other two time winners. Other current drivers in this group includes current drivers A.J. Allmendinger, Erik Jones, Ricky Stenhouse, Jr. and David Ragan, Hall of Famer, Red Byron and other notables such as Ricky Craven, John Andretti, Juan Pablo Montoya, Jimmy Spencer, Steve Park, Derrike Cope, Marcos Ambrose, David Reutimann, James Hylton, "Tiger" Tom Pistone, Billy Myers, Gober Sosebee and Emanuel Zervakis among others. The next win will move him into a group of nine with three wins.
28–Clint Bowyer paced the field in Davey Allison's #28. It was the 35th anniversary of Allison's first win and a most fitting tribute. The only thing that would have been better would have been if Red Farmer or Donnie Allison could have wheeled it. Nothing against Clint but it needed an Alabama Gang member behind the wheel for some closure.
4-rank this season in Jeff Gluck's "Good Race Poll" as 86.8% of the 23,081 fans who voted said "YES" it was a good race. I'm sure Trackhouse Racing would agree-23XI might beg to differ as they trashed both cars in a final lap crash.
3– members of the B. J. McLeod team suspended four weeks when a wheel came off their car after a lap 85 pit stop. Understand that it is an installation issue but wonder just what the purpose is of the "safety snout" (my term) that goes on after the lug nut. I thought that was to prevent loose lugs from coming off entirely., I guess I misunderstood it's purpose-cause if that's it… it's not working.
2-cars with ECR engine have issues. Unlike back in the day, you just don't see engines fail much anymore. Sunday saw two ECR engine failures. Tyler Reddick's resulted in an uncharacteristic last place finish while Daniel Hemric's triggered the first multi-car incident, that included a very hard hit by Chase Briscoe. The disappointment was off-set with ECR power plants in P1 and P2's cars.
2-rank in viewership behind the Daytona 500 with 4.862 million FOX viewers. Although down slightly from last years race, a nice showing.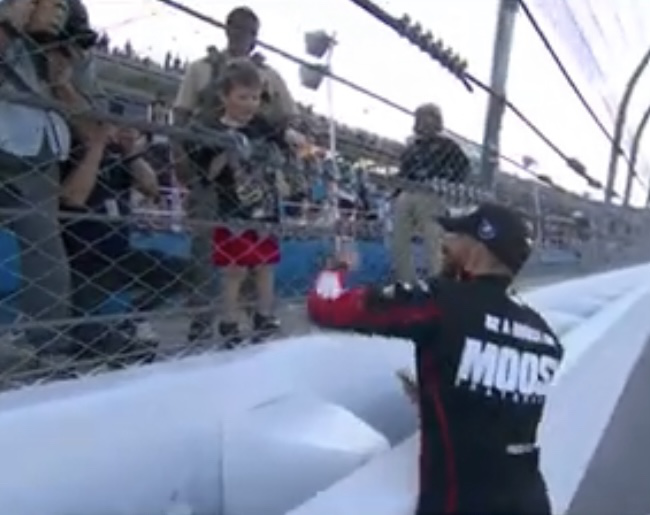 2-Pieces of watermelon. The only thing better for an eighth generation watermelon farmer than having watermelon as part of your victory celebration is breaking a piece in two and sharing with a fan. Nice touch, Ross. You made a memory that young man will never forget.
1.5-gallons short of fuel for Denny Hamlin. The late splash and go stop took the 11 team out of the mix for the win.
1-winning chassis. Ross Chastain used the same chassis in both wins this-COTA and Talladega. Using the same car to win a road course and super speedway is unheard of today but it's now a reality with the NEXT GEN. I think that one is a keeper.
1-Is a big number for Chastain this weekend. It's his car number, the number of laps they went down, the number of times penalized, number of times led, number of laps led, finishing position and big check received. Pretty good number, I'd say.
0-Number of left side tires reported changed by Erik Jones crew. Not sure what impresses more-the tires held up or the car handled that well with that much wear on them. One thing's for certain, that sure cuts down on the tire bill and the chances of a pit road miscue and having a tire come off.
On to Dover
With the 2.66 mile super speedway in the rear view (or rear camera now), the 2022 NEXT GEN Experiment moves the the concrete mile track at Dover. It will be interesting to see how Miles and the new car play together and may provide a preview of fall Bristol.
In recent history Dover produces somewhere between 10 and 17 lead changes. Sunday we'll find out how NEXT GEN stacks up
Here's to a good race and a nice crowd. With all the schedule jumbling and shuffling for race dates for new venues, this long-time mainstay on the circuit, but recent addition to SMI holdings seems to be most vulnerable if the Nashville Fairgrounds becomes a reality. A good showing would help solidify its continued presence on the schedule.
Have a great race weekend!
Thunder On… and Stay Safe!
David Nance
Credits: Nascar.com, Jayski.com, Racing-references.com and Tobychristi.com
Photo Credit (Cover); David Gilliland Racing