As best I remember, one of the first 45 rpm "single" records I ever got – please ask somebody a generation older than you if you have no idea what that is – was the Kingston Trio's version of Pete Seger's "Where Have All the Flowers Gone?"
It's a great anti-war song (inspired, ironically, by lyrics from a Russian folk song), but its continuing line can apply to countless situations:
"When will they ever learn?"
Actually, that early 45 record might have been "It Takes a Worried Man," now that I think about it (still Kingston Trio), but the title remains appropriate to what I'm about to say.
All of this came to me with the news that NASCAR will both open the 2022 season and debut the Next Gen race car on an "impermanent" (whatever that means) quarter-mile track inside the Los Angeles Coliseum.
Where have all the race cars gone?
To the L-A Coliseum.
Where have all the race cars gone?
Where nobody cares.
Where have all the race cars gone?
Obliterated by marketing, every one.
When will they ever learn?
When will they ever learn?
(The "cover photo," by the way is NOT the L.A. Coliseum; it's Soldier Field in Chicago, but that IS a NASCAR race being held in a huge football stadium; the stands on the other side are empty. I'm sure NASCAR would like to see this kind of crowd at the Clash next winter.)
Unlike a lot of people in Daytona Beach, I think you can learn from the past, and the past doesn't indicate that this is a great idea.
Ben Kennedy was quoted in NASCAR's release about this race as saying, "the fan base that we have here in Los Angeles, the largest that we actually have in the nation," would be part of making this event "special."
Yeah. That's the same base that's been flocking to Auto Club/California Speedway in such numbers that they're planning to convert it from a 2-mile superspeedway to a half-mile short track. At least that still seems to be the plan, but who knows – I'd go for converting it into the Cup version of a Monster Truck course.
It's the same fan base that was going to make Ontario Motor Speedway the Indianapolis of the West. (Yes, I know Ontario was successful at first and debt service assumptions were unrealistic, but attendance didn't keep up, regardless, and the bottom line is that the track is gone.)
California has a lot of racing fans, some of which are NASCAR traveling series fans (many are not) but this still sounds like a move by people who don't see clearly how NASCAR has fared here in the past, or – for that matter – in other major metropolitan areas outside its core market:
Chicago – Now we have TWO defunct superspeedways to prove the sport's popularity.
New York – Remember that great plan to build a track on Staten Island?
Overall, when you look at the 2022 Cup Schedule and count 39 "events" as NASCAR does (Daytona qualifiers and the All-Star Race, along with the L.A. Clash; I do not count Daytona pole qualifying or the All-Star qualifying open, which also are listed by NASCAR), the picture is clear. 22 of those events are solidly in NASCAR's heartland South (Daytona, Atlanta, Texas, Richmond, Martinsville, Bristol, Talladega, Darlington, Charlotte, Nashville, Homestead, with Texas having two different tracks), with another nine in areas that might share at least some characteristics (Las Vegas, Phoenix, Kansas, Indianapolis, and St. Louis), and only six in the North (New Hampshire, Dover, Pocano, Road America, Michigan, and Watkins Glen), and three in California (L.A. Coliseum, Auto Club, and Sonoma).
Furthermore, that "North" group has lost dates at Pocano, Michigan and Chicago, while gaining only Road America, which never would have been added, had it been an oval. The South has recently gained dates in Atlanta, Texas, Darlington, and Nashville, on the other hand.
Maybe using the current logic, Daytona should put in a bid for the Winter Olympics.
The whole idea of running an all star-ish race on a track unlike any other the series uses seems a bit bizarre to begin with (like the U.S. Open tennis tournament switching to badminton), but if you're going to do it, try a place where people might actually get excited about it:
Bowman Gray Stadium.
It might also be worth talking here about whether "impermanent" asphalt might give us another Bristol dirt situation, but I'm just tired of it all. On the other hand . . .
Did Richmond Offend NASCAR?
The 2022 Cup schedule has fewer surprises that this year's had, but an unhappy trend for a native Richmonder like me is the continuing shift of Richmond Raceway to crappier dates.
Since attendance is now an official state secret, we don't know if Richmond's crowd size has nose-dived worse than other venues, but we know that capacity crowds once topped out at more than 110,000, and seating capacity today is considerably less than half that. That certainly could play a role in the track getting less desirable placement. But if it gets any worse, there will be reason to worry about the ghost of Rockingham, which at the end was running in February and November, which all but guaranteed scare-the-fans-away weather.
Back in the good old days of huge crowds, Richmond's spring race was around the first weekend in May, a great time for a night race. This year it was April 18 (during the day), and next year it's April 3. Since the downturn in attendance, day races haven't been slam-bang successes in Richmond, and the date is now almost as close to its old half-mile date of the Sunday after Daytona as it is to that Saturday night in May.
But the real issue is the fall race. Since it began in 1959, this race was a fixture on the weekend after Labor Day. NASCAR began fiddling with the schedule in 2018 and moved the event back two weeks, but in 60+ years, it has only been held outside of September three times, none since 1976.
Next year it's in mid-August, the first year since the playoff format began that it has been neither the last race before the playoffs races nor a playoff event.
I can't see a single positive about this date, although there are good PR people at work figuring out a positive spin for you. It just sucks.
A Final Note – Last Saturday I stood in the pits at Lincoln Speedway in Pennsylvania and watched 74 super late models and sprint cars file in for the night's racing. 18 vintage racers affiliated with the Eastern Museum of Motor Racing joined them, running exhibition laps between the regular events. I was announcing for the EMMR portion of the show.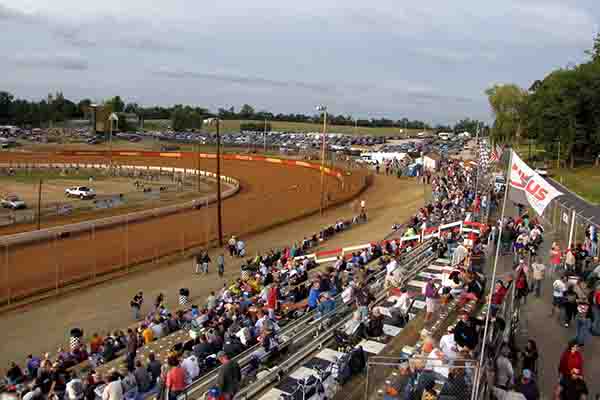 I felt a twinge. Racing was going on at Richmond Raceway at the same time, and that's where I would have been for 40-some races in decades past, either as a fan or a part-time track public relations assistant. Part of me said I should be there.
A much larger part of me, though, said that for the racing I value and love today, I was in the right place. That's the way it is
(More notes about "Where Have All the Flowers Gone?" Pete Seger's lyric inspiration was a Cossack folk song, and he "borrowed" the basic tune from an Irish lumberjack song. This, of course, was before you could get sued for using three consecutive notes that somebody else had used first. For the record, I also remain very fond of the Peter, Paul & Mary version.)
(PHOTO CREDITS – The Soldier Field photo is from Getty Images as used in Autoweek. The L.A. Coliseum midget racing program photo was posted on Facebook by the Coliseum. The Auto Club Speedway shot is from the website SnapLap.net. The Richmond Raceway photo came via Pinterest with no credit there, but I think it might be an official track photo. The Lincoln Speedway photo came from Destination Gettysburg, the tourism/visitors bureau.)
Frank Buhrman