I'm so excited that the 2021 Playoffs are finally here. And the way it broke down I couldn't be happier. It's like Christmas came early this year!
Woo Hoo!
There are so many story lines going into this Playoff. Can Kyle Larson continue his run that allowed him to overcome Denny Hamlin's massive points lead and win the Regular Season Championship? What a comeback story. Is Ryan Blaney peaking at the right time? Will Brad Keselowski give the Captain a Championship going away present or will it be Joey Logano bringing the hardware home to Penske? Can Kyle Busch turn his luck around and catch fire or will it be Martin Truex, Jr. carrying the Toyotas deep into the Playoffs? Do the Toyotas and Fords have anything for HMS' Chevys?
And then there's Chase.
So many story lines. Just take your pick.
The story lines that intrigue me the most though are Denny Hamlin and Kevin Harvick. The two were dominate in 2020 winning a combined 16 of the season's 36 races. Harvick was last season's Regular Season Champ. Both battled for the final spot in the Championship Four with Hamlin edging Harvick out by one point to advance, knocking Kevin out of what looked to be another Championship .
2021-Neither have a win.
While the Harvick and Hamlin fans are hardly happy with this year's turn of events and results, I'm tickled pink! Things couldn't be better.
It's the most wonderful time of the year!
It's not because I don't like these two and don't want to see them successful. Hardly. I'm a Ford fan so seeing Kevin put the Blue Oval back on the Championship podium is fine by me. Denny, he is one of my new favorites, because of what he hasn't done this year… and that's win.
You see this duo enters the Playoffs with the best chance to be NASCAR's first Winless Cup Champion.
It's happened in Xfinity. It's happened in Camping World Trucks. Never in Cup.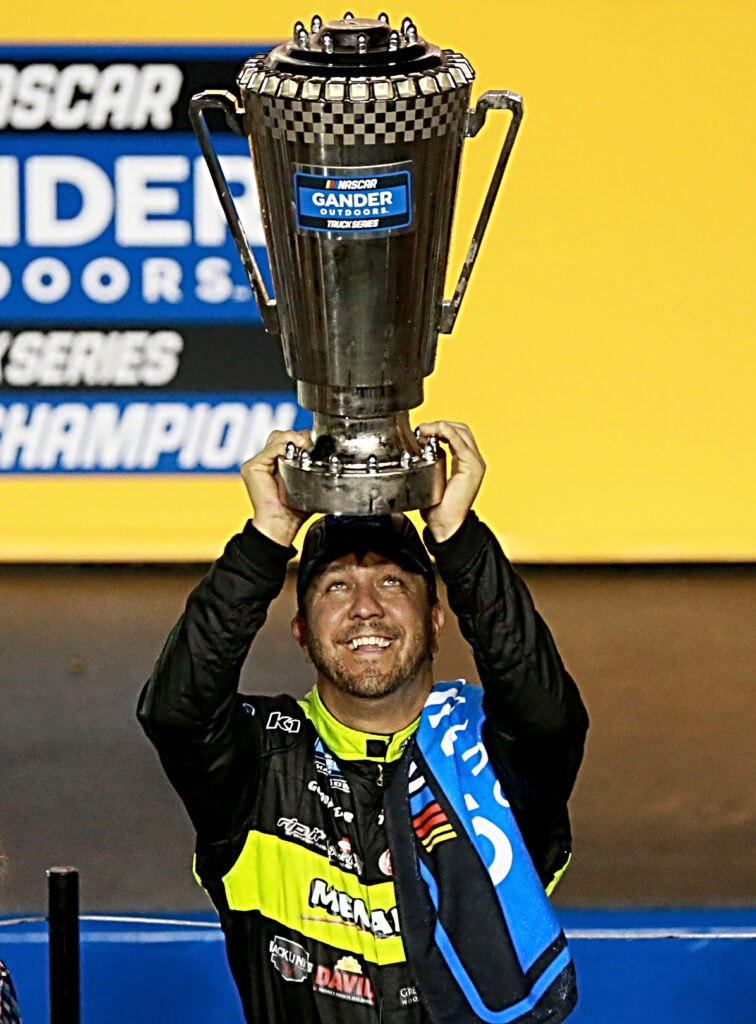 Could this be the year? Who will be first?
Under the Playoff system, a Winless Cup Champion is not complicated. First thing is they can't win. Winning automatically eliminates them from that distinction. Next, they have to finish each Playoff Round fifth worst or better in points to advance. Keep doing that and you make it to Phoenix. Finally, just outrun the other three cats who made it to Phoenix with you. You don't have to win the Finale-just outrun those three and you are the new Champ!.
So far, these two seem to have the first requirement under control with Hamlin and Harvick entering the Playoffs riding 32 and 34 race winless streaks respectively. Will those streaks continue or will one or both of them finally break out, win and ruin their chance at becoming the first Winless Cup Champ?
We'll just have to watch and see.
As far as the pointing their way to the Final, on the surface Denny is in the better position-10 points ahead of elimination, while Kevin is in a three point hole this first Stage. Denny has to stay ahead of William Byron, Joey Logano, Brad Keselowski, Kurt Busch and either Christopher Bell or Michael McDowell to go on toe Round Two. Kevin needs to outrun Bell or McDowell, teammate Aric Almirola and Tyler Reddick to advance (provided none of them win).
Remember, this is points racing and it's like that old joke where Denny and Kevin are out camping and a grizzly bear wanders into camp. Kevin hops up and puts on his tennis shoes. Denny says, "Kevin, you can't outrun a Griz." Kevin replies, "I don't have to outrun the Griz (win the race), I only have to outrun you!"
So as the Lady in Black welcomes the Sixteen into her midsts to kick off the 10 Race Playoff, fans will be pulling for their favorite drivers to win and advance. Story line after story line will be followed from Darlington all the way to Phoenix.
Me, I've got my eye on Denny and Kevin. I know, I know Tyler Reddick is in the mix for the Winless Cup Champion as well, but you know what? I can't pull for him to be a Winless Champion because I'm pulling for him to get that first win!
I want to see those story lines-Denny winning his first Championship, bringing the J.D. Gibbs car a Championship without entering Victory Lane. And after Kevin's nine win season last year and missing the Championship Four by one point, it would be most appropriate to get it this way and let some other dominant drivers feel that same sting he felt last year.
Both are Championship caliber drivers. In this format, either could win it and not see the Checkered Flag.
Now wouldn't that be amazing?
I can't wait!
Let the games begin!
Thunder On and Stay Safe!
David
Photo Credit John Raoux / AP photo