Every year around this time my mind gets to racing (bad pun intended.) OK, okay, my mind is usually focused on some form of motorsport, but this is a great time of year, the winter is just beginning to ease.
The IMSA SportsCar Championship season has begun with the 24 Hours of Daytona already in the books. We are on the precipice of the Daytona 500 and the beginning of a new era in NASCAR with the Cup Series being sponsored by Monster Energy.
The IndyCar, Australian Supercars and Formula 1 seasons are all just around the corner. It's a great time to be a race fan, because anything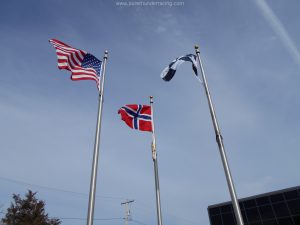 can happen and the whole heart-pounding, nail- biting season lies on track directly ahead of us. Buckle up and enjoy the ride. With that thought in mind and great sunny Ohio weather outside, I hopped into my car to take a road trip to my favorite NASCAR team shop.
This team is the only NASCAR team based in Ohio. It's the only major Camping World Truck Series team based outside of the greater Charlotte, NC area. It's the longest-tenured team in the CWTS, racing in the series since 1996. This team is also the only NASCAR CWTS team with a direct connection to Scandinavia. The Norwegian flag used in this team's logo is a tip of the hat to the ancestry of team owner Duke Thorson. This team is the only team to win back-to-back CWTS Championships in 2013 & 2014. That's right, you guessed it, the team is ThorSport Racing based in Sandusky, Ohio. As Team Manager, David Pepper has stated fast trucks can be built anywhere, not just in North Carolina.
I have always loved the excitement that the NASCAR Camping World Truck Series brings, I personally believe that it is one of the top 10 race series in the world; yes, I said it, the WORLD. Trust me, I watch a lot of racing. I mean a LOT of racing. From DTM, ELMS, F1, GP2, V8 Utes to WEC. I think you get it – when it comes to racing, I do my homework.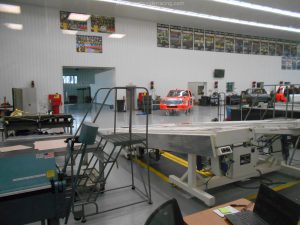 My love of the NASCAR Camping World Truck Series can be traced back to a specific moment that 17,500 of my closest friends and I witnessed in May of 2008. The setting, Mansfield Motorsports Park, a 1/2-mile track located in Mansfield, Ohio. Rookie Donny Lia, on the final lap split veterans David Starr and Todd Bodine to set up a three-wide photo finish to win a race of which he never led an entire lap. To say it was thrilling would be an understatement.  It was magical. Lia, won by a mere .241 of a second.  My love for the CWTS was sealed in that moment. ThorSport finished 6th and 12th at this magical race.
During its 22-season history ThorSport Racing has had its share of ups and downs. The team owned by, Duke and Rhonda Thorson made its humble debut July 6th, 1996 at the Milwaukee Mile. It was then known as Sealmaster Racing. The #88 truck driven by Sylvania, Ohio native Terry Cook finished 12th.
Terry Cook took the teams first pole at Flemington Speedway in August of 1997. The following season Cook would go on to notch the team's maiden CWTS victory at the same track. On October 28th, 2000 Matt Crafton took over the driver duties in the #88 truck. Crafton finished 12th in points his rookie season.
By 2002 the team had expanded to two trucks. In November of 2005 Johnny Sauter made his first start for ThorSport Racing.  In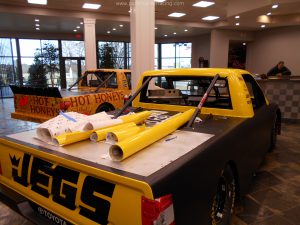 November 2006, the team entered three trucks for the first time in their history.  In May of 2008 Matt Crafton took his first victory with the team. In September 2009 Johnny Sauter took his first Camping World Truck Series victory at Las Vegas. In that same season ThorSport had its first one-two finish in the NASCAR CWTS. On August 6th, 2011 ThorSport became the longest running truck series team.
Matt Crafton became the only driver to race every lap in 2013. He went on to win the team's first NASCAR Camping World Truck Series championship, a feat he would repeat in 2014 to become the first team to win back to back championships.
The most personally meaningful piece of ThorSport NASCAR Camping World Truck Series history occurred on August 16th, 2014 at Michigan International Speedway when Johnny Sauter won the Careers for Veterans 200. I was a guest of the team watching from the pits. When Sauter won, I ran to victory lane and was able to be a part of the celebration. I helped the team push the truck into victory lane and aided in the handing out of podium hats (3 of them I have in my personal NASCAR collection.)  I am forever thankful to ThorSport Racing for giving me that experience. Now I think you can understand why this is my favorite NASCAR team.
The 2017 ThorSport driver lineup is:  two-time Champion Matt Crafton, Sophomore driver Ben Rhodes and two Rookie drivers.  2015 ARCA Champion Grant Enfinger & Delaware Ohio native Cody Coughlin. I look forward to cheering the team on to victory during what I am sure will be a thrilling 2017 season.
Stephen Dando (@SteveOnTheGrid) 
Photo credit: Stephen Dando/Pure Thunder Racing