A dramatic penultimate round to the 2016 NASCAR Whelen Euro Series (NWES) befell Freddy Nordstrom at the Adria International Raceway last weekend (17th-18th September). Despite double points on offer, Freddy's mantle was taken from him when bad luck intervened.
Free practice quickly became non-existent due to torrential rain. After fitting a new windscreen and
 a set of wet tyres, the rain gave way, and Freddy managed to bank a few laps, before heading into the all important qualifying session the next day.
Race one saw Freddy able to secure the vital points he needed. After being pushed off in a first corner incident that saw his lose five places, Freddy managed to keep himself calm, as he strived for the best result possible, under the circumstances. Despite his first corner woes, the youngster steered his way to a fantastic sixth place finish, and a collection of double points.
Freddy's bad luck returned in race two, in an outing that lasted only three laps. As the field lapped, ready for an exciting finale to the Adria round, Freddy's race ended abruptly.
As he headed into one of the corners early on, a rival behind out-braked himself, driving into Freddy's rear wheel and breaking something behind the wheel. Unable to manage his modified race car, Freddy was forced to drift back to the pits, ending his race immediately.
"It's a shame the weekend ended how it did," said Freddy, "but up until then it had gone quite well.
"The lack of running due to the weather on Friday made things slightly difficult, but we had a good result during race one, which was just what we needed. Especially with double points on offer."
There is just one round of the 2016 NASCAR Whelen Euro Series left, and with double points of offer once again, Freddy will be hoping to end his season on a high. The season finale will take place at Zolder, in Belgium, on 8th-9th October.
Leanne Fahy – Media/PR:
Tel: +44 (0) 7530 084953
Email: pr@leannefahy.com
Website: www.freddynordstrom.com
Twitter: www.twitter.com/freddynordstrom
Facebook: www.facebook.com/FreddyNordstrom
More Photos from Adria International Raceway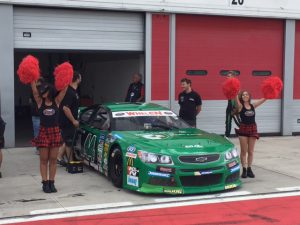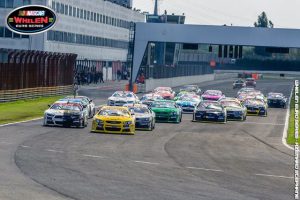 Photo credit: Monica Nordstrom and Euro NASCAR