My busy day as a NASCAR Xfinity Series motorsports journalist at the 4th annual, Mid-Ohio Challenge began bright and early at 7AM. By 7:30AM I was out the door and ready to hit the road for the exciting racing adventure that would await. A quick pit stop for my drive through morning coffee & I am off; on my hour and fifteen minute drive to my "home" track, the Mid-Ohio Sports Car Course.
By 9AM I had picked up my media credentials. It may sound silly, but this was a special moment for me as I hadn't been credentialed at my "home" track previously. I've been credentialed for Public Relations and writing at a multitude of other tracks: In 2000 the Toronto Indy course in Canada (as a trackside gopher), 2013 Road America in Wisconsin, 2014 Michigan International Speedway and in 2015 Chicagoland Speedway in Illinois.
By 9:15 AM I was at my "normal perch" at the keyhole, watching morning practice and finishing my coffee with the spotters of the Xfinity Series. Practice 1 was led by Ty Dillon, with a speed of 96.087 MPH. For practice 2, I decided to watch / work from the Cooper Tire media center. This is a building that I have always wondered what the rooms look like and what happens inside this secret world (I 've wondered this practically as long as I have been coming to Mid-Ohio, nearly 30 years now).
As a teenager during an IndyCar weekend, I patiently waited outside this tower to get Scott Dixon's autograph, on a piece of a front wing from my racing collection. This was after one of his record five wins at the track. (I did this because I knew this was where the winner's post race press conference was held). This tower also houses the trackside announcer. Now, I was going to literally have an all access pass into this fascinating side of the Mid-Ohio Sports Car Course.
As soon as I walked into the media room I was warmly greeted by Matt Humphrey, Senior Manager, Competition Communications, Integrated Marketing Communication for NASCAR (and a fellow native Buckeye). He welcomed me in that "I'd give you the shirt off of my back." way that so many of us Midwesterners often have.
When he heard that I was writing for a European-based website he had me speak to Joe Balash, who is an International Competition Liaison for NASCAR, who was spending the weekend working with NASCAR Whelen Euro Series, Israeli driver, Alon Day. Day is Rookie of The Year in the Whelen Euro Series, and a NASCAR Next driver. He is currently 4th in the Elite 1 driver standings with his sole victory of the season coming at Valencia.
Both Balash and Humphrey reiterated the importance of European fans for both the NASCAR Whelen Euro Series and the NASCAR American series. The importance and value of #NordicNASCAR and the European fan movement is not lost on NASCAR corporate; in fact, it is encouraged and even celebrated.
Practice 2, was led by 37-year-old Buckeye, Sam Hornish Jr. in the #2 RCR Rheem Chevrolet. Later in the day the road course ringer Hornish, set a new track record taking pole with a speed of 96.374 MPH, his eighth pole in 113 Xfinity Series races and his first pole of the season.
Aussie V8SC driver Owen Kelly qualified in P2. Ryan Blaney, was third followed by series points leader Elliott Sadler who rounded out the front two rows. The fastest rookie was Erik Jones who qualified in sixth.
In the post qualifying press conference, Hornish said that he remembers coming to Mid-Ohio with his Dad, spending the day with him, walking around the track being in amongst the trees, eating some good food and watching the cars go around the track. He continued saying "Those are memories I really cherish. I never thought I'd have the opportunity to race here." For this race, Hornish hopes that it doesn't rain because there is greater "odds of something strange happening" in the rain. Rain or shine, it should be an exciting race!
I would like to thank Mid-Ohio Sports Car course for giving me the opportunity to be credentialed for the 4th annual Mid-Ohio Challenge NASCAR Xfinity Series race weekend.
Photos from Mid Ohio Challenge weekend – from a NASCAR journalist view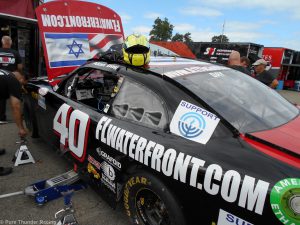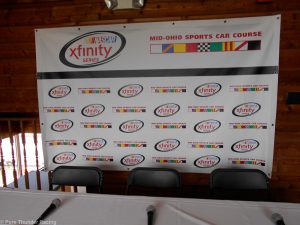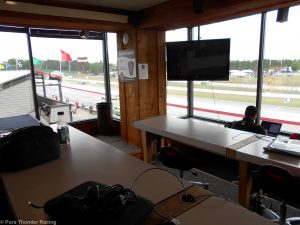 Photo credit: Stephen Dando/Pure Thunder Racing