It's 06.00 (6 AM) and my car is loaded with all the stuff that a day at the racetrack demands. My long time travel companion (and father) and me are set to start our 2.5 hour journey to Falkenberg Raceway. We were prepared for somewhat rough weather conditions at the track but could not imagine that the famous "Swedish summer" would be this bad. More of this topic later.
It's the third race weekend for V8 Thunder Cars (V8TC) Swedish Championship this season (race 5-6). This time, V8TC was reunited with Scandinavian Touring Car Championship (STCC) for the classic West Coast Race (an annual race that started in 1952). So, all the support classes were the classic ones from STCC; Formula STCC Nordic (former Formel Renault 1.6), Swedish GT, Renault Clio Cup and Porsche Carrera Cup Scandinavia.
The journey to Falkenberg Motorbana caused no alarm (early Sunday mornings there are normally no worries). The media credential check-in at the gate was absent, but I had my media parking ticket ready so no problems there. A quick visit to the media center and a few words with V8TC press officer Joakim Tärnström and off we go to the public areas. The rain was already pouring down at 08.30 (8:30 AM) and it wouldn't be any better for many hours. Falkenberg Raceway was covered with light mist and heavy dark clouds – the worst kind of weather conditions for racing and for open air race fans.
All the STCC support classes did put up with a real fight against the tough race track and each other. Personally, I admire the open wheel class of Formel STCC Nordic. How could they even see the racetrack with all that water spraying their helmet visor? Anyway, LL Motorsport #76 Linus Lundqvist did take the checkered flag in race one – as so many times before this season. In Formel STCC Nordic race two, Linus did get beaten by Finndrive #50 Juuso Puhakka. If I'm not mistaken, Formel STCC normally has more race cars than today's nine starting cars?
The last race before lunch and the grid show was what I have been waiting for – V8 Thunder Cars race one. Memphis Racing #77 Alexander Graff was in pole position with Bryntesson Motorsport #7 Mattias Lindberg on his side. The rain, which had continued relentlessly for many hours, did take a momentary break in this race – but the track, as you can imagine, was covered with water in some areas. Graff, who totally missed the start, was way back in the first couple of laps. Lindberg took the lead but faded back. When Lindberg started to go backwards, Graff started the climb the other way. Lap after lap Graff worked his way to the front. A front which then was guarded by Team Trysil #96 Stein-Frederic Akre and Team Pampas #96 Marcus Palnér – who both looked solid and confident on the rainy track. But they couldn't hold off the new black 2016 Camaro (first time on track in Sweden), which Graff steered steadily to victory lane. Remarkable comeback by Graff! Akre was the runner up and Palnér ended up third. Last year's champion Lindberg ended up in position five (there were some protests and arguments from Lindberg's side about passing under yellow flag, but this was overruled by race control). The Finnish veteran #92 Toni Lähteenmäki was also competing at Falkenberg Raceway this weekend and ended up in position eight. #42 Christoffer Bergström impressed with his position six finish also.
Luckily, the rain was under a break when we all needed a lunch. I even saw some glimpses of sun for a few minutes under this moment. Nice after four hours of rain in the open.
After lunch, STCC did their first race for the day. Many fans and "VIP's", unfortunately, still just arrive when STCC will do their races. That's sad if you ask me. Give the other race Series a chance also! Anyway, this race was very exciting and had all of the racing ingredients that you want – as a race fan that is. Perhaps not for the teams and drivers. There was pushing & shoving and aggressive driving from many drivers in this race. Maybe too aggressive driving from some drivers. As a race fan, you want to see the cars on track and not standing still in the gravel or towed away. Who won then? Polestar Cyan Racing #12 Richard Göransson won both this race and the second race today. Very impressing by the veteran Göransson. Prince Carl Philip Bernadotte was back on the track that he won at last season, but there was no repeat today with a position eight (race 1) and four (race 2).
The downside with STCC today is that I think there are too few cars competing on the track. Eleven cars in Falkenberg and even fewer in the races before are not acceptable for a Series like STCC.
The small break from the rain and wind was gone in the afternoon. Jumping forward to V8TC race two, which was the last race for the day, was the worst weather conditions I have experienced in long time. Some of the audience did quit after the STCC race two, but I was happy to see that so many did stick around in the horrible weather and waited for the second V8TC race. There were an annoying long waiting time between the STCC race and the start of the V8TC race. The speaker was silent and nobody knew what was going on. Finally, the American thunder cars came on track.
Lindberg started in pole position with Graff on his side in the second race. Lindberg led the race for a couple of laps but faded when the race progressed. I think Lindberg's new 2016 Ford Mustang was not perfectly adjusted for this kind of weather. You could see that he did try everything to defend his front position, but ended up in position three at the end. Instead it was, again, Alexander Graff that took the lead and held it with ease to the checkered flag. Stein-Frederic Akre controlled the rough race track masterfully and again ended up in position two. Lindberg "rescued" a third place. Five thunder cars did not classify (70% of the laps) (#86, #66, #99, #11, #96). Three cars were excluded (#92, #48, #42) from the race (technical non conformity). I think much of this large DNC and EXC are due to the bad weather. #96 Marcus Palnér's race ended directly after the start with some failure to the car. #78 Jonas Fors got his best finish for the season with a position five. #48 Andreas Wernersson did not repeat his success from Ljungbyhed Raceway and his day was as dark as the clouds in the sky with two EXC. #13 Toni Persic was noted with his first top ten result (P7) for the season.
So that was the end of the annual West Coast race 2016 at Falkenberg Raceway. Due to bad weather, I didn't have the ability to take proper notes, the ink washed away. I also managed to forget my camera lens protection and so the photography today was not at my best. The worst for me personally, was that my water protected shoes were not so water protected in the real world. My extra pair of socks was quickly wet also and the 2.5 hour's return drive with wet feet is, as you can imagine, not so inspiring. But today's racing did keep my heart warm and that is all I need…
Photos from Falkenberg Raceway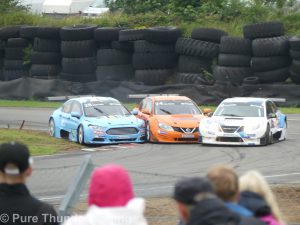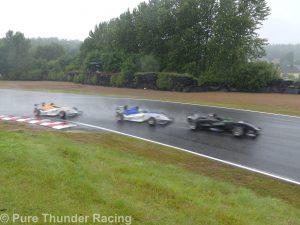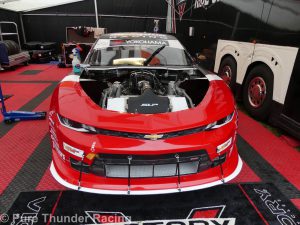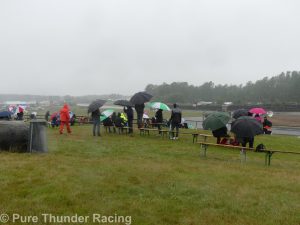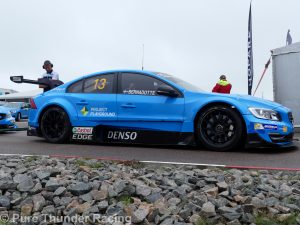 Photo credit: Jens Martin /Pure Thunder Racing