Rodger Penske was born in 1937 in Shaker Heights, Ohio and not long after, he began building his business empire. By the time he was in high school, he was buying and selling cars for a profit. Penske is currently worth an estimated $1.44 Billion and oversees the Penske Automotive Group, the world's second largest dealership, as well as many other automobile based businesses.
Team Penske, is one of, if not THE most dominant motorsports teams ever. Rodger Penske has run cars in, and won, virtually every major race series worldwide, from IndyCar, NASCAR, V8 Supercars, sports cars and Formula1. If it's a prominent race, chances are Team Penske has won it. Daytona 500- won it twice, Indy 500- you better believe it. The team has won Indy a record 16 times. They've won the 24 Hours at Daytona, of course, and even a Formula1 Grand Prix an amazing accomplishment since they raced less than three complete seasons in F1. I think you get the picture.
Rodger Penske's love of the automobile led him into sports car racing, and by the early 1960s, he was a four-time national Champion in Sports Car Club of America (SCCA) racing. In 1961, he was featured on the cover of Sports Illustrated as Driver of The Year.
In 1965, he was offered an IndyCar tire test that he turned down to do the "responsible" thing and focus on his newly acquired Philadelphia Chevy dealership. That missed tire test launched the IndyCar career of one Mario Andretti.
Penske decided to retire as a driver to focus full time on his various business interests. In 1966, Penske Racing would field its first professional race team. He entered Corvettes, in 24 Hours at Daytona & 12 Hours of Sebring; in both races the Penske Corvettes won their class.
Later that same year, Mark Donohue took the team's first major victory. In 1967, Donohue won the team's first championship. In 1969, Team Penske makes its Indy 500 debut; Mark Donohue finished seventh and took Rookie of the Year honors. In 1972, the team made its NASCAR debut and Mark Donohue won Team Penske's maiden Indy 500 victory. In '73, Donohue scored the first NASCAR victory for the team. In 1974, Donohue drove the car in Penske's F1 debut at the Canadian G.P. Sadly, later that same season, Donohue was killed during practice for the Austrian G.P.
Mark Donohue was a driver who was prominently featured in many of the milestones in Team Penske's early years. Without him as Rodger Penske has said, Team Penske wouldn't be Team Penske.
John Watson, won the American teams first Grand Prix in 1976. The next year Tom Sneva won the outfits first IndyCar title, a feat he repeated in '78. The next season a young driver named Rick Mears took the Indy 500 and the IndyCar title for Penske. In 1979, Rick Mears won Rodger Penske his second Indy 500 and his third IndyCar championship.
In the decade of the 80s, Team Penske seemed to really hit its stride. In '81, Rick Mears won six IndyCar races en route to his second championship. That same year, Bobby Unser won the Indy 500 from the pole. Again in 1982, Mears took his third title in IndyCar. For 1983, Al Unser won the team its sixth championship in seven years. In 1984, Mears won his second Indy 500, but seriously mangled his feet and legs in a violent superspeedway crash later that season. In 1985, Al Unser edged his son Al Unser Jr., by one point to win the IndyCar championship. Danny Sullivan had his famous "spin and win" Indy 500 victory. In 1987, Al User Jr., took the team's sixth Indy 500 Borg Warner trophy. For the 1988 Indy 500, Penske cars swept the front row and Mears sealed the deal with his third Indy 500 win. Danny Sullivan went on to claim the IndyCar championship for the team.
In 1991, Penske Racing South formed and Penske returned to NASCAR competition with driver Rusty Wallace in a Miller Beer sponsored car, a sponsorship deal that continues to this day. This same season Rick Mears claimed his fourth & final Indy 500 victory.
In 1992, Mears retired but stayed on as a consultant and a spotter for the team. (It's not uncommon to see him around the paddock, and he is more than willing to talk to and sign autographs for fans. I' ve spoken to him on more than one occasion.) He likes to show off his Indy 500 ring and always signs autographs with "Thanks" as a thank you to the fans.
In '93 Emerson Fittipaldi won his first Indy 500 for the famed organization, number nine overall for the team. For the 1994 IndyCar season, Penske ran a three car team. Drivers included Al Unser Jr., who won the Indy 500 and season championship. He was teamed with Paul Tracy and Emerson Fittipaldi. In 1996 due to the CART / Indy Racing league split, the team did not field an Indy 500 entry for the first time since 1969. The team entered the new millennium with the beginning of a new racing era with drivers Gil De Ferran and Helio Castroneves. De Ferran won his first IndyCar title (Team Penske's tenth), a feat he repeated in 2001. Castroneves got his first oval victory at the 2001 Indy 500; he was followed by his teammate, giving Penske a 1-2 at the Indy 500. For the 2002 season. Team Penske joined the IRL (Indy Racing League) Helio Castroneves won his second Indy 500 (a race that I attended).
For 2003 De Ferran won the Indy 500 with Castroneves finishing second, the second time this happened in three seasons. Later that year, De Ferran would retire. For 2004, Ohio native Sam Hornish Jr. joined the Team Penske IndyCar operation. He won in his debut race. In 2005, the team joins the American Le Mans sports car series as a factory Porsche team, winning in its debut at Laguna Seca.
In 2006, my fellow Ohioan Sam Hornish Jr. won both the Indy 500 and the IndyCar championship. Team Penske and Porsche dominated the ALMS series and win the LMP2 championship. In 2008 Ryan Newman gave Rodger Penske his first win in "The Great American Race", the Daytona 500. In 2009 Helio Castroneves won his third Indy 500 for the Team Penske IndyCar outfit. The same season, Australian Will Power joined the IndyCar team competing in six races and winning one of them. At the end of the 2009 season, Power was involved in a crash in which he broke his back, thus ending his 2009 campaign. 2010 proved to be a banner year for the race team; Brad Keselowski won the team's first NASCAR Xfinity Series title. The team had a total of 18 wins, 22 poles, and won a NASCAR All-Star race that season.
In 2012, Keselowski, won the team's first NASCAR Sprint Cup Championship adding yet another trophy to the already full trophy cabinets of Team Penske in Mooresville, NC. The next hard earned trophy would come from Australian IndyCar driver Will Power, who took the 2014 IndyCar series title. Joey Logano kicked off the 2015 season with a huge win at the Daytona 500. This banner year continued with the Indy 500 win of Juan Pablo Montoya. This was the first time that Team Penske had won both historic races in the same season. Penske also expanded operations and partnered with Dick Johnson Racing to form DJR Team Penske to compete in the Australian V8 Supercars Series. To date the team has a whopping 432 victories, 498 pole positions and 28 championships. It's likely that Team Penske will continue to dominate world motorsport for the foreseeable future. The current issue of Racer Magazine has a great article about the 50-year history of the team. It's worth a read.
Team Penske photos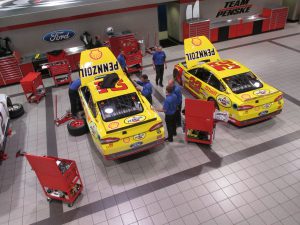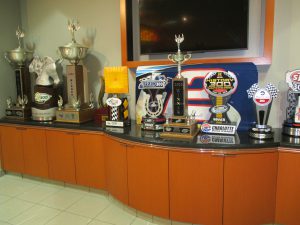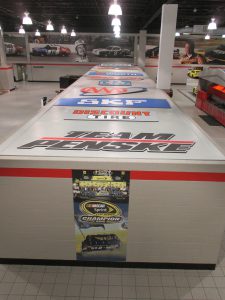 Photo credit: Stephen Dando/Pure Thunder Racing