I never thought that I would be writing or blogging about this subject, but here we go. I'm talking about NASCAR Sprint Cup's ongoing "The Chase" (playoff) system and the Joey Logano / Matt Kenseth wrecking "affair". This is from one Swedish fan's point of view, nothing more.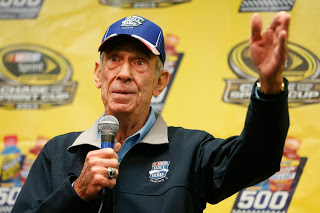 NASCAR Hall of Famer Ned Jarrett
Credit: 313890Brian Lawdermilk/NASCAR via Getty Images 
Let's start with the Logano/Kenseth dilemma. I think nobody has missed the ongoing "war" between these two drivers and teams. I will not go into the actual event and explain the issue – you all know what I'm talking about.
The official media is trying to sort the issue out in thousands of different of approaches. All "expert" writers give their own explanations of what is right and wrong. Personally, I have read many of these expert articles. None of them gave me the answer that I was looking for.
I have watched many different sports over the years and I have never seen a sport like NASCAR, which changes the rule book so much. I have never read NASCAR's rule book; there is no need either, but surely there must be rules as to how a driver shall conduct himself/herself at the racetrack. Hold that thought for a second and think of NASCAR's extremely accurate, strict, detailed, etc. car control before entering the racetrack. Everything else in the NASCAR world is very controlled and overworked, but when they're talking about penalties for drivers and teams, the rules seem diffused and blurry.
An intentional wreck is an intentional wreck; it doesn't matter if you are the leader, driving for position 40 or in the Chase or not. In my world, the rules should be the same for all the examples above. NASCAR obviously doesn't see this the same way. We, who all love stock car racing, get confused. We don't want to get confused; we want to enjoy the race; it's as simple as that. I don't know how you feel but I'm not enjoying this as I use to do. If you check the NASCAR television ratings for NBC/NBCSN this season, there is no happy reading at all.
Jerry Cook and David Gilliland
Credit: 313891Chris Trotman/NASCAR via Getty Images
Sometimes I check the trend in the social media flow, in both the US and Europe. Right now, social media is almost flooding with sarcastic and degrading comments and pictures. The majority of this is, of course, exclusively about the Kenseth/Logano affair. "Free Kenseth" is the most popular slogan for now.
I have done some thinking about this. Personally, I don´t like this trend at all. I especially don't like all of these so called "funny" pictures of Logano/Kenseth. It's offensive, insulting and above all, very unprofessional behavior.
Don´t get me wrong here; I'm not a supporter of the Team Penske drivers, but there can't be "outlaw" racing at the track. This is NASCAR's biggest dilemma. They are not able to give the right penalties at the right time, nor can they be consistent about the penalties either. NASCAR should have suppressed the Logano/Kenseth situation a long time before the Martinsville race.
Then, perhaps, we would have had two strong drivers competing for the championship right now.
Well, let's see how this "charade" will end up for this season. I only know that NASCAR can't
continue with this kind of penalty system for the 2016 season. It's killing the best sport in world – stock car racing.
Next time, I will try to put down my thoughts about the "The Chase Dilemma". Thanks for reading. Take care. (JS)