This Sunday will mark NASCAR Iron Man Jeff Gordon's 797th and final full-time Sprint Cup start at the Ford Ecoboost 400 at Homestead-Miami Speedway. The drive for five championships is still alive for the driver of the #24 Drive to End Hunger / Pepsi Chevrolet. No matter what the result Sunday will cap a historic NASCAR career.
Jeff Gordon was born in Vallejo, CA. on August 4th, 1971 and his racing story started at a young age. A five- year old Jeff started running laps in a quarter midget around a makeshift track that he and his stepfather John Bickford had converted from an old fairground. Bickford always encouraged Jeff to be the best he could at everything he did. Jeff's competitive spirit was sparked behind the wheel and the young driver was soon hooked on racing.
By age 13, Jeff had taken an interest in open-wheeled sprint cars. Soon he and his family had moved to Pittsboro, IN. to be in the heart of sprint car country and to pursue his racing dream. As a young sprint car driver, Jeff gained national attention due to his young age and driving skill. Championships quickly followed including a title at Ohio's Eldora Speedway. In 1990 he was the USAC National Midget Series Champion and in 1991 he was the USAC Silver Crown Series Champion.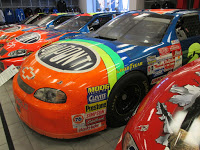 Jeff turned his first laps in a stock car at Buck Baker's Driving School at North Carolina's Rockingham Speedway. As soon as he got out of the car he declared to his family that this was what he wanted to do with the rest of his life. In 1990 Jeff met Hugh Connerty, a partner in Outback Steakhouse Restaurants. Connerty set up a Busch Series team and invited future Crew Chief Ray Everham to join the team. Due to a lack of funds Gordon went to race for Bill Davis Racing in 1991. Jeff won three races and was 1991 Busch Series Rookie of the Year. This caught the attention of car owner Rick Hendrick. Jeff Gordon and the #24 car made their NASCAR Sprint Cup Series debut at the Hooters 500 in Atlanta. It was to be a passing of the torch as this was Richard Petty's final race.
1993 marked Jeff Gordon's first full-time season with Hendrick Motorsports in the Sprint Cup Series, He earned rookie of the year honors. In 1994 Gordon won his first Sprint Cup Series race the Coca Cola 600 at Charlotte. He also won the inaugural Brickyard 400 at the world-famous Indianapolis Motor Speedway. In 1995, only his third full-time season, Jeff Gordon won his first Sprint Cup title, at age 24 he was the youngest champion in the modern era (1972-Present). Gordon went on to win further Sprint Cup championships in 1997, 1998 and 2001.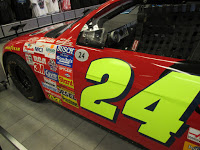 Gordon is a three time Daytona 500 winner. He won the Great American Race in: 1997, 1999 and 2005.  Gordon has won a record five Brickyard 400 races and two Southern 500 at Darlington. Gordon is third on the all time NASCAR race win list behind only Richard Petty and David Pearson. Jeff Gordon has modern era single season wins record winning 13 races in 1998. That was his third season with ten or more wins. Gordon is no doubt one of NASCAR's greatest drivers ever and destined for the NASCAR Hall of Fame.
Beyond the racetrack Gordon is a businessman with a Chevrolet dealership in Wilmington, NC. and a vineyard located in California. Gordon is also a philanthropist with a Children's Hospital located in Concord, NC and a foundation that fights childhood cancer. I will be cheering for Jeff in the Homstead race, but no matter what happens NASCAR will miss one of its greatest stars in 2016.
All photos by Stephen Dando