By: Stephen Dando – @SteveonTheGrid
The great state of North Carolina has given the world a great deal including a delicious style of BBQ, moonshine, and NASCAR. (The latter two are closely linked but that's a history lesson I'll save for another article.) No diehard NASCAR fan's trip to the greater Charlotte area would be complete without a stop at least a few race shops. On my recent trip to "Race City USA", Mooresville, NC, I visited a few of my favorites.  On various trips to Charlotte, Concord, and Mooresville I have visited nearly all of the NASCAR series teams based in the state. This includes the majority of the Sprint Cup, Xfinity and Camping World Truck series teams.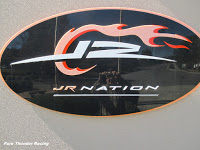 Jr. Motorsports
The setups in most NASCAR teams race shops are fairly formulaic: 1) Some show cars / trucks on display in the lobby; 2). A trophy case or area where the team trophies are on display: 3) A viewing area where fans can watch the teams preparing the cars or trucks (usually behind a large glass window):  4) A team gift shop that sells t shirts, hats and most exclusively race used sheet metal.
The smaller team shops tend to be more like a warehouse than a corporate headquarters. All of the shops are welcoming and often teams are happy to show you around as long as you don't touch anything and stay out of the way. In this article I will walk you through a few of my favorite race shops.
Dale Earnhardt Sr's legendary Wrangler no.3
The first team I visited during my recent trip was Jr. Motorsports an Xfinity and CWTS team owned by 12- time most popular driver Dale Earnhardt Jr. In 2006, the Xfinity team was founded and in 2008 the team merged with Hendrick Motorsports. This resulted in eight victories over the 2008 and 2009 seasons and by 2014 the team won its first Xfinity Series championship with driver Chase Elliott. Some unique things that the Jr. Motorsports shop has are mementos from Dale Earnhardt Sr's. career, the race shop also has the Dirty Mo radio station. (A radio show that the team puts on).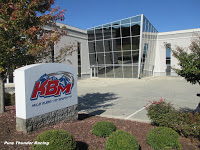 Entrance to Kyle Busch Motorsports
The next shop that I visited was Kyle Busch Motorsports, an ultra-modern 77,000-square foot shop. KBM was founded in 2009 by Sprint Cup driver Kyle Busch. In the teams brief history they have already collected three Camping World Truck Series Owners championships and have 39 truck series wins and counting. The shop has an impressive array of race winning cars from Kyle Busch's career and from the teams multiple wins. One of the coolest things on display is Rowdy Burns helmet from the NASCAR themed movie Days of Thunder.
Home of Team Penske
My second stop was Team Penske, one of the most successful teams in all of world motorsports history. A team that has been referred to as "the New York Yankees of Motorsports". The team has been racing and winning since 1958. They have won 13 IndyCar championships and the teams' most recent Sprint Cup championship came in 2012 with Brad Keselowski. The team has an impressive total of 423 victories and won 27 championships
The race shop is located on 105 acres and pairs performance with style. Both the NASCAR and IndyCar teams operate out of this huge facility. The shop has a sterile corporate headquarters feel to it, but the sheer size and number of employees is impressive. This shop has a ton of NASCAR, IndyCar and Sports car memorabilia on display. The retail store even has a small mock Shell gas station to promote the number 22 Shell sponsored car driven by current NASCAR Sprint Cup points leader Joey Logano.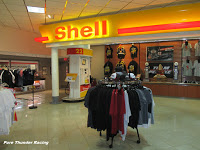 Joey Logano's no. 22 Shell gasstation
The next team shop on the agenda was the soon to be closing Michael Waltrip Racing. The team founded in 2007 currently fields drivers Clint Bowyer and David Ragan. The team will cease to exist after 2015 due to financial woes. This large team shop features a small museum on the ground floor, a gym for the team members to work out in and offers guided tours. At the facility you could feel the sadness of the employees due to the team shutting its doors at the end of the season.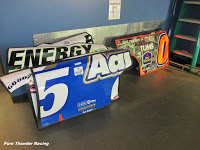 For the die hard race fans!
My last stop on the race shop tour was the Joe Gibbs Racing facility located in Huntersville, NC. The team has a large collection of trophies on display, including two grandfather clocks from winning the Martinsville race, one from former JGR driver Tony Stewart and one from current JGR driver Denny Hamlin.
At this team shop I gave in and purchased a piece of race- used sheet metal from Matt Kenseth's Charlotte car. The facility is nestled in an area of leafy suburban office buildings.
If you're a NASCAR fan and you find yourself in the Charlotte area I would advise you visit a few of these great team shops. You will certainly enjoy it.
All photos by Stephen Dando
More photos from this tour will be posted on PTR Facebook. Make sure to "like us" there.