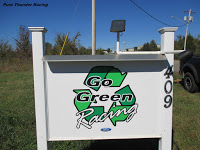 This tale begins in 2009 when Archie St.Hilaire formed Go Green Racing, a full-time team in the Xfinity Series. In 2011, a similarly budgeted Sprint Cup team was formed by, long-time Crew Chief Frank Stoddard who founded FAS Lane Racing by purchasing cars and other equipment from his former employer Roush Fenway Racing. Let's fast forward to late 2013 when both teams decided that it was in their best interest to merge and pool their collective resources in hopes of becoming a stronger overall unit.
The merged team Go FAS Racing are based in a small unassuming building in the Mooresville Motorsports Complex located in "Race City USA", Mooresville, North Carolina. Team Manager Mason St.Hilaire was kind enough to sit down and have a chat with me.
One of the core themes of our discussion was how expensive it is to run a full-time NASCAR Sprint Cup team and how "tough" it is to find full-time sponsorship, something that Mason St.Hilaire works on daily. Currently the team has several great sponsors Ohio based car parts company Keenparts.com / CorvetteParts.net. VisoneRV.com the world's largest dealer of used RV parts and C & J Energy Services.
The Go FAS Racing team looks for sponsors that want to grow with the team. One advantage of being a smaller team is that it offers sponsors a better tailored program to fit their needs and that the sponsor is viewed as part of the team not simply viewed as a check. He told me that all told, a race weekend can cost between $125,000-$150,000 (This includes paying the crew, fuel, tires, food etc.)
He went on to say the "budget is the number one priority". When something major needs to be done to the car the team sits down, assesses the situation, and figures out the smartest and most economical way to solve the problem. He said something that surprised me – that technology partners like Roush Yates engines, Ford and even some of the big budget teams like Roush Fenway Racing will from time to time share some basic data, or do things like give them scrubbed tires with a few laps on them to aid the team in cutting down on costs. Due to a strong relationship with Ford, the team is even allotted a certain number of free spare parts and equipment like timing and scoring services. The team does not have an engineering program; instead, they have Wally Rogers, a Team Consultant.
All in all, Mason St.Hilaire feels that NASCAR treats the big and small teams equally and even at times more closely scrutinize the larger big budget teams, because they can afford to push the limits and pay a large fine if caught. A small team like his could not afford a $50,000 penalty. Such an expense would end their racing days. He only wishes at times for a bit "more concentration on the smaller teams" such as more TV coverage during the races.
Team management feels that the merger between the two teams has strengthened the overall organization. He proudly watches Go FAS Racing beat teams with bigger budgets. Several of the goals for the 2016 season are to move up in the ownership points and to advance consistently up the field: to finish 32nd where they may have finished 36th the prior season.
Mason feels that one of the strong suits of the organization is that they plug the right people into the right positions. The teams is like a family and everyone knows everyone else personally, unlike in a mega team with 600+ employees.
Mason St.Hilaire also credited Frank Stoddard's management during some of the tough times during the transition from full-time Xfinity Series team to full-time Sprint Cup Series team. Mason went on to say the transition was at first hectic and overwhelming due to the high level of competition. "It took a while to get used to" because you can't make a mistake in the Sprint Cup Series, the racing is so tight there are no room for errors.
The Team Manager seemed almost touched when talking about the grassroots support of the fans. One of the team's milestones was finishing fourth in the voting on the retro Darlington paint scheme. Mason St.Hilare says that the team relates well to the fans since they are a team of "regular guys".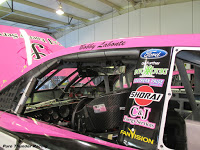 During the 2015 season, the Go FAS Racing Ford Fusion has had an impressive array of drivers: Bobby Labonte, Boris Said, Jeffrey Earnhardt and Josh Wise. For the upcoming 2016 season Go FAS Racing will have Jeffery Earnhardt as their driver primarily sponsored by Can-Am Motorcycles. Bobby Labonte will be the driver for the restrictor plate races.
For the upcoming CampingWorld.com 500 race at the Talladega Superspeedway located in Lincoln, AL driver Bobby Labonte will be making his 725th Sprint Cup start in the number 32 C & J Energy Services Ford. At Talladega Bobby Labonte has one win and six top-five finishes. I know I am going to be cheering on this team of "regular guys".
Photo credit: Stephen Dando/Pure Thunder Racing