Pure Thunder Racing is very proud to present a new driver interview with V8 Thunder Cars no. #32 Ford Mustang driver Christian Axelsson. (Text & Photo: Jens Martin) 
Personal Q
CA: A
tattooed and bearded man who loves to drive a race car.
PTR: Who Christian
Axelsson 'in private'?
CA: A tattooed and bearded man who loves his
family
Series Q


PTR: If you compare
V8TC to other racing series in Sweden, is there any significant difference?
CA: It´s
more bad-ass. The cars are cooler and the racing is more fun to watch. That's
the difference! 😉
PTR: Under 2015
season, V8TC has increased its promotion for the series. As driver, have
you managed to get more media time and/or sponsorship?
CA: More
Media. I like the idea and I think the new promotion package has been great.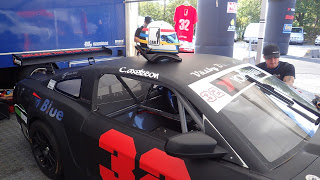 PTR: Do you think V8TC
should continue to race under the "STCC umbrella", or perhaps in the future,
try to make it by themselves? 
CA: Yes,
because "Racing Sweden" is to small. We need to work together.
PTR: "Thunder Cars" are also racing in Norway and Finland. Have you ever thought of a "Scandinavian
V8TC Series"? From your point of view as driver, could it be
possible?
CA: It´s a good idea. But the main problem for
every team/driver is the budget. And a Scandinavian series means more travel
and higher costs.
Team Q


PTR: Short background
of your team #32 – BELGIAN BLUE RACING
CA: New
team for this race. A new energy drink from Sweden that´s about to go viral.
The best Pre-work out drink on the market.
The car is a Black Mustang that´s ready to release the beast.
PTR: Who works with what at your team?
CA: Mattias is the guy who runs it all. Palle is the crew chief. David is
the tyre magician . Dennis and Micke is the guys who makes the car go BRUM. 🙂
PTR: You are currently
in P11 in the overall standings with 24p. What to expect in the last two tracks
with four races left?
CA: We will
see. With a new car and team the conditions has changed. Hopefully we can bring
home some more points.
PTR: Are you satisfied
to race in V8TC or do you want to change directions in the near future?
CA: At the
moment this is the best series for me.
PTR: Is it possible to
see you in any of the American NASCAR series in the future? Perhaps a 'guest'
driver or so like Alx Danielsson?
CA:  Hopefully. I would´t mind that!
PTR: Finally, if you
could pick any Motorsport to race in – which one would you race?
CA: NASCAR or Tudor United Sportscar
Championship (IMSA)
___________________________________
I would like to thank Christian for his valuable time, both for this interview and garage area discussions at Solvalla. 
Other interviews with V8 Thunder Cars drivers: 
#77 Alexander Graff 
#83 Patric Sundel
#78 Jonas Fors
#96 Marcus Palnér