It's time for the final races for the season. It will all end at the classic track of Ring Knutstorp. Can #11 Fredrik Ekblom do anything to threat the outstanding STCC overall leader #1 Thed Björk?
In V8 Thunder Cars, there will be a tough battle to the end. #77 Alexander Graff is the overall leader with 165p, #7 Mattias Lindberg, 160p and #98 Stein Frederic Akre is at third spot with 142p. Also in V8TC, there will be a interesting battle for P10 spot. #42 Christoffer Bergström and #78 Jonas Fors are all fighting to overtake #19 Erik Stillman's P10 position. Can Stillman hold them off?
Will #3 Johan Kristoffersson win all races in Porsche Carrera Cup? It will be a fight to the end. In Formel Renault 1.6, there is the battle between #8 Ilmari Korpivaara and #4 Oliver Söderström. Only 1 point separates the two drivers!
Also in Renault Clio Cup, the final battle between #20 Henric Skoog and #89 Andreas Wernesson will go down. Skoog has a lead with 20p. Will it be enough for Skoog? He has been the overall series leader all season long. It will be a weekend to remember! (JS)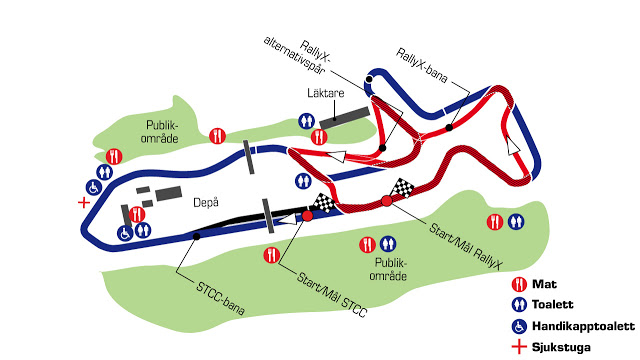 Ring Knutstorp (STCC)
Schedule Friday 25th – Saturday 26th at Ring Knutstorp
FRIDAY, September 25th

09:00 09:30       Formel Renault 1,6 Test
09:40 10:10       V 8 Thunder Cars Test
10:20 10:50       STCC Test 1
11:00 11:30       Clio JTCC Test
11:40 12:10       Carrera Cup Test
12:10 13:10       Lunch
13:10 13:40       STCC Test 2
13:5514:15        FR  1,6 Qualify
14:25 14:45       V 8  Qualify
14:55 15:15       Clio JTCC Qualify
15:25 15:45       Carrera Cup Qualify
16:00 16:15       STCC Q 1
16:20 16:40       STCC Q 2
SATURDAY, September 26th


09:30 09:50       FR  1,6 Heat 1. 18 laps
10:00 10:20       V 8 Heat 1. 18 laps
10:30 10:50       Clio JTCC Heat 1. 16 laps
11:00 11:20       Carrera Heat 1. 19 laps
11:20 12:30       Lunch – Gridshow
12:30 12:55       STCC Heat 1. 20 laps
13:10 13:30       FR  1,6 Heat 2. 18 laps
13:40 14:00       V 8 Heat 2. 18 laps
14:10 14:30       Clio JTCC Heat 2. 16 laps
14:40 15:00       Carrera Heat 2. 19 laps
15:20 15:45       STCC Heat  2. 20 laps
16:00 17:00       Non-race activities at track