First some reflections from Falkenberg Saturday race day…
This time the STCC circuit landed in Falkenberg Motorbana. From a fan perspective, it was almost perfect weather conditions with ~20 degrees, sunlight and a smooth, not to cool, wind. Personally, I like Falkenberg track. The track invites to tough and hard racing and you have a good view at the track and of its beautiful surroundings. As usual, me and my companions was seated at the "s-curve" (first curve after the start), here you get to see the most of the exciting actions of the racetrack.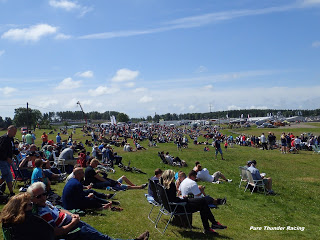 Saturday racing events included STCC, V8 Thunder Cars, Carrera Cup, FR1.6, Clio Cup and Swedish GT. Highlights from here must be prince Carl-Philip Bernadotte (Volvo Polestar Racing) first ever win in STCC after a very dramatic second race. First time I really heard the fans cheering and screaming real loud! Also, the 'king' of of Carrera Cup, Johan Kristoffersson (Kristoffersson Motorsport), collected 2 more victories – truly amazing (again)! Also, for once, there was not a 'Henric Skoog show' in Clio Cup. This time, Andreas Wernesson (STC Racing Team) 'stole the show' and won all 4 races this weekend.
And now for something completely different… (do you remember that line…?) 
Its time to look into V8 Thunder Cars teams and drivers. There are only 4 races left in the season (2 race events). What did we expect from the teams? Have they performed better or worse? Here is PTR's view of this. The below 'list' is based on championship standings and have nothing to do with performance/expectations.
1. Stein Frederic Akre, #98 Chevrolet Camaro, Team Trysil, 140 p. 
Akre moved up to first spot after Falkenberg's 2 races. I would like to call Akre "Mr. consistent" because he always has solid top-3 finishes and qualifies good. Only one time has Akre been outside top-3 (P4) and this is what you want for a championship contender. I had Stein Frederic as a top 3 contender this year, but maybe not at P1, so this is better then my expectations (so far).
2. Mattias Lindberg, #7 Chevrolet Camaro, Memphis Racing, 139 p. 
Lindberg, new in V8TC this season (from STCC) was before the season a 'dark horse' for me. I had difficulty to really predict where Mattias could end up after season finale at Knutstorp. To drive a 'thunder car' is far different from any other race cars. Its big, heavy and old fashioned in many ways. Lindberg, with his experience from STCC, have adapted and learned very quick under this season. I predicted a top-5 place for Mattias, but now he is a champioship contender. Who can not be impressed by that?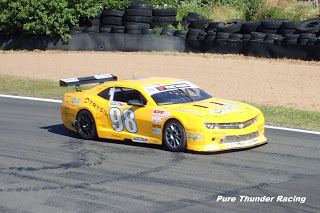 3. Alexander Graff, #77 Chevrolet Camaro, Memphis Racing, 127p.
Graff lost his P1 spot after collecting 0 points in 2 races at Falkenberg. When I made my pre-season interview with Alexander (read again), he saw himself as a favorite and so did the press as well, me included. After following test and qualifying times at Falkenberg, I got a bad feeling about that #77 car. I was right. Can Graff bounce back at Solvalla? He had good results there last season but I think the pressure to win can be tough to overcome. I think the first race at Solvalla will predict Alexanders season. Heaven or hell? I'll give that black #77 Camaro one more chance…
4. Andreas Ahlberg, #6 Ford Mustang, Micke Kågered Racing, 78 p.
Ahlberg has gone from worse to better. Collecting 2 zero points races and no wins hurts the overall standing if you want be top-3 contender.
Anyway, Andreas has a positive trend with two P3 at Falkenberg. I thought #66 Ford Mustang could challenge for a top-3 spot this season, but instead its to defend its P4 in the standings – and that's not a easy task. Andreas last season ended up with a P3 and 126 p.
5. Patric Sundel, #83 Chevrolet Camaro, Bryntesson Motorsport, 60 p. 

Sundel is the only driver that has collected points in all 8 races. Patric has finished at best P4 and worst P9. When I interviewed Patric (read again), his team goal was a top-3 spot for this season. That goal will not be fulfilled. Anyway, after last season P10 in the standings (41 p), I think Sundel is going in the right direction. Perhaps a little more aggressive driving will earn his first win?
6. Marcus Palnér, #96 Chevrolet Camaro, Palnér & Co., 60 p.  
Palnér, started this season strong with three 12 points races in a row. After that, the trend is not positive. It was a disaster for Marcus at Falkenberg, ending up with +6 laps in the first race and DNF in the second race. The result at Falkenberg could be the opposite. The #96 car was strong and drove hard and passing cars, but you need some luck also. Before the season I predicted that Marcus should be a contender for P3-P5. I think P4-P5 is still reachable. Marcus announced himself that he was a championship contender this season.
7. Fredric Magnusson, #86 Chevrolet Camaro, Memphis Racing, 53 p. 
Magnusson's season is up and down like a carousel. When you think that Fredric will be consistent and make a charge up in the standings, then that 0 p race come again. With 2 DNF already, the #86 team needs to be more consistent. Driving for Memphis Racing, you expect to collect points. So I expected Frederic to have collected more points so far and the last 4 races must end up with points and no DNF. Then Magnusson will have a chance to move up a spot or two in the overall standings.
8. Hampus Lindkvist, #04 Chevrolet Camaro, Hampus Lindkvist Racing, 46 p. 
Lindkvist started promising in Skövde's 2 races with impressing P2 and P5. After that there have been three 0 points races (2 DNF) and that hurts for the overall standings. Hampus normally qualifies top-5 and that shows there are speed in that black #04 Camaro. P8 in the standings is not that bad, but I feel that Hampus is not satisfied with that position. In pre-season, Hampus did considered himself as a championship contender.
9. Joakim Ahlberg, #66 Chevrolet Camaro, BDS, 36 p. 
J.Ahlberg ended up with 30 p and P11 last season. Joakim has already succeeded that with 4 races to go. At Falkenberg Joakim did get his best finish with P4 in race 2. I think Ahlbergs season is what to expect and P9 overall in standings is pretty ok.
10. Erik Stillman, #19 Chevrolet Camaro, Bryntesson Motorsport, 24 p. 
Stillman, former Radical driver and V8TC rookie has blended in well with driving a Camaro. Collecting points in all races except two, with two P6 finishes as a highlight (latest at Falkenberg) its looking bright for young Stillman. Perhaps he has a good mentor in teammate Patric Sundel as well. Erik has performed better then expected but I got a feeling that he is not satisfied yet though.
11. Christian Axelsson, #32 Chevrolet Camaro, Norrlandsgjuteriet Racing, 24 p.
Axelsson is driving his second season in V8TC. Last season, a more of a test season, ended up in P15 with 12 p. Christian has already doubled his total points so far this season. Christian said before season started that he wanted to take points in all races. Only in one race did car #32 end up with 0 points so far. At Falkenberg, Christian had two solid P7 finishes. I think Axelsson has a chance to end up in a top-10 overall finish this season.
12. Jonas Fors, #78 Chevrolet Camaro, Fors in Racing, 17 p. 
Fors started the season with a sensational P6 and P8 finish at Skövde. After Skövde the #78 car has cooled down to a more 'normal' or expected finishes. Bad luck with tires, weather and rough racing at the track has driven Jonas down to a P12 in the overall standings. But Jonas and his own team has taken big steps from last season (0 p and P23) and with some luck Fors can even end up in a top-10 position at the end of the season. When I interviewed Jonas pre-season (read again), he said that a top-10 final position would be over his expectations.
13. Linda Johansson, #51 Chevrolet Camaro, J:Son Motorsport, 12 p. 
Johansson, former Clio Cup driver and rookie in V8TC has adapted well with driving a Camaro. Its a big step to go from driving a small Clio Cup car to the biggest car in the circuit. Linda has already three  P8 places so far and Falkenberg was her best race weekend so far. Perhaps she can fight for P12 overall position as well.
14. Christoffer Bergström, #42 Chevrolet Camaro, Team Pampas, 4 p. 
Bergström, also a rookie, has three times finished at top-10. Christoffer has multiple finishes at P11 and just missing earning valuable championship points. At Falkenberg, Christoffer had his best weekend with two solid P10 finishes. Bergström normally qualifies around P10 and shows there are some speed in that #42 car. Currently P14 in overall standings is what we could expect before the season.

15. Toni Persic, #13 Chevrolet Camaro, Mek1 Motorsport, 2 p. 
Persic, also a rookie that tries to settle in with V8TC series. The road have been somewhat rough for Toni's first season. Normally running at the back in the field, the all blue #13 car has some work to do before getting solid finishes. Not a top-10 car obviously, but valuable lessons is learned this season for Persic and his team. P14-P16 is what I expected before the season started for car #13 and P14 is still reachable for Toni.
16. Peter Möller, #44 Chevrolet Camaro, Micke Kågered Racing, 2p.  
Similar to Tony Persic, Möller is almost in the same situation. A rookie that tries to get a full season for gathering valuable experience. Peter got his only points directly in his debute race at Skövde and finished P9. Some DNF but also some P11-P12 results so far. Driving for Micke Kågered Racing, there should be synergy effects from car #6 team. Peter still has a chance to advance as far as P14 in the overall standings.
17. Borgar Hansli, #76 Chevrolet Camaro, Hansli Racing, 0 p. 
Hansli got injured at Skövde and hasn't return to the racetrack yet. Borgar was scheduled to race at Mantorp but didn't race. I hope that Borgar will recover and return to V8TC next season.