So, the STCC circuit landed in Mantorp Park June 25, 2015. The third race event for the season.
Mantorp Park was built in 1968/69 and the first race here was held in August 31, 1969. The attendance record is around 28 000. There are several track options for racing in Mantorp Park. Today's race was held in the "Paris track" – a 1868 m short track that offers fast intense racing.
PTR, as usual, tries to write on a fan focus point of view. Me and my companion had our base camp east of the "Paris curve" with a pretty good view of this big curve and beyond to the "strip". The weather was sunny, but a strong southern wind was disturbingly cool at the evening. No hot summer night here!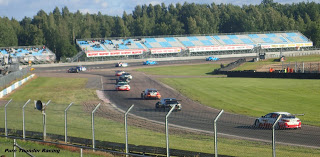 For the first time, STCC arranged an evening race. According to STCC management "evening race will attract fans after work". Well, I don´t have any official attendance number, but the stands was way too empty for calling this concept a success. Also, STCC seems to think that the fans only come for the STCC races. Maybe some fans do so, but for me and many others, the support classes are equal important.
For me, with 3,5 h of driving, I had to take a vacation day just to see my favorite class – V8 Thunder Cars race 1. If you ask me, I like the standard Saturday "09-17" race day better.
So with above said, over to PTR's top 7 hottest driver list after Mantorp's two races.
P7. #11 Fredrik Ekblom – Volvo Polestar Racing (STCC)
Volvo S60 driver Ekblom, age 44, still looking solid in STCC. Currently holding the runner up spot in STCC total points (156). Ekblom is a good qualifier with solid finishes and could give Björk a real challenge for the championship.
P6. #4 Oliver Söderström – PWR Junior Team (Formel Renault 1.6)
The FR1.6 series did not race at Mantorp, but have already 5 races total so far.  Söderström, age 17, is leading FR1.6 overall championship. With 3 wins and 2 runner-up in 5 races, young Söderström is dominating FR1.6 series right now with 141p. Only runner-up, Ilmari Korpivaara (Finndrive), with 135p could change this.


P5. #77 Alexander Graff – Memphis Racing (V8 Thunder Cars)
Chevrolet Camaro driver Graff, age 28, started red hot in his first 4 races with 3 wins and 1 P2 in the V8TC series. The V8TC pre-season favorite in media, did cool down little in Mantorp with a P2 and P4 respectively. Graff is still leading the series with impressing 127 points. Team Trysil driver Stein Frederic Akre is the runner-up with 104 points. I think Graff will bounce back in Falkenberg…
P4. #7 Mattias Lindberg – Memphis Racing (V8 Thunder Cars)
Only Dodge Challanger in the field, Lindberg (STCC driver last season), age 21, started with 2 zero point races in Skövde, has become red-hot in Mantorp with double wins. You could see Lindberg's trend changing in the rain at Anderstorp with a P3 and P2 finish. In Mantorp, Lindberg dominated the field and was almost left unchallenged at the top position. Lindberg holds the third position in the V8TC series with 85 points. I predict that Lindberg will attack teammate Graff and Akre hard in Falkenberg.
P3. #20 Henric Skoog – PFI Racing (Clio Cup)
Renault Clio driver Skoog, age 19, dominates the Clio Cup series totally. With 6 wins and 2 P2 in 8 races, there are really no competition in the standings. The outstanding Clio Cup leader has 196 points and Wernersson (STC Racing Team) is the runner-up with 140 points. Nothing indicates that Skoog will loose this position.
P2. #1 Thed Björk – Volvo Polestar Racing (STCC)
Volvo S60 driver Björk, had dominated STCC since 2013. Björk, age 34, attempts to take his third straight STCC championship in a row. Leading the series with 181 points and with a 25 p lead over second place teammate Ekblom, Björk is heading in the right direction. Björk has collected 4 wins in 6 races and qualifies always in top-3 (STCC qualifying earns points as well).
P1. #3 Johan Kristoffersson – Kristoffersson Motorsport (Carrera Cup)
Porsche 991 Cup driver Kristoffersson, age 26, is totally dominant in Carrera Cup series. With 6 races so far, Kristoffersson have won all 6 races. Doesn't matter if Kristoffersson starts in 15 place (Anderstorp), he passes car by car with brilliant driving. In my Anderstorp report, I wrote that "Kristoffersson is worth the entrance fee alone" – this argument has not changed. In Mantorp race 1, #3 car started at pole and held that position all the way to the checked flag. In race 2, there were little more drama with cars going of the track in wild driving from many drivers. It all ended up with Kristoffersson passing leader #11 Mangs in the last laps. Have you seen that before…? Kristoffersson has 157 points and Mangs (in P2) has 85 points. Say no more.