Finaly, the Swedish racing circuit of STCC and its support classes had it's opening day of the season in Skovde, 8-10th of May. For the first time, Skovde airport, was the host for STCC. Skovde military airfield was rebuilt to a race track and hosted all the racing classes in the STCC program, including V8 Thunder Cars, Formel Renault 1.6, Carrera Cup and Clio Cup. Sundays event included Swedish GT and Rally X.
The good stuff: Awesome Racing 
Saturday's racing delivered awesome racing from all the classes. In Clio Cup, Henrik Skoog dominated both races and ended up with P1 and P2. But Skoog had to battle hard for his success.
In STCC, it was a one man show this day. Ted Bjork had his perfect day with winning both races. It didn't matter that Bjork started last in the the second heat (reverse starting order) – he drove his Volvo S60 Polestar to the front and stayed there for the rest of the race. Bjork's teammate #11 Fredrik Ekblom took 2nd place in heat 1 but a surprisingly DNF in heat 2 with a "drivers error". The last Volvo Polestar driver, #13 prince Carl-Philip Bernadotte ended up P9 in the first heat and DNF in the second heat. The rookie, Emelie Liljestrom had a rough debut with 2 DNF. Notable is that only 3 cars finished the second heat.
In Carrera Cup, both races was about #11 Jocke Mangs and his battle against #3 Johan Kristoffersson. It was tight, fast and amazing driving from both drivers. It ended up with a double victory for Kristoffersson and Mangs was double runner-up. In heat 2, Mangs had the lead all the way into the last turn and there he lost the race by a spectacular pass by Kristoffersson.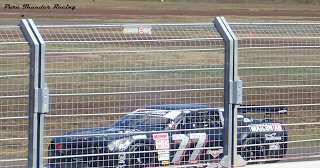 In V8 Thunder Cars races there were all about the series favorite #77 Alexander Graff.
Graff took P1 in heat 1. In heat 2, Graff had a great lead against #98 Stein Frederic Akre, but a late caution changed this around and Akre took the lead and held it all the way to the checkered flag.
Notable is #78 Jonas Fors good finish with P6 and P8 respectively.  #13 Toni Persic had a tough debut with 2 DNF. It went better for the other rookies; Linda Johansson finished P8 and P13 and Erik Stillman finished P10 and P9.
In Formel Renault 1.6 class, #4 Oliver Söderström was a class of his own with double victories. Double runner-up was #8 Ilmari Korpivaara.
The bad stuff: Logistic horror at Skovde
I got a bad feeling instantly when we got of road 200 from Skovde for driving to the parking area at the airfield strip. The queue was about 1 km long. I was debating with my travelling companions and hoping that my theory of "hope they don't use a single parking fee entrance to collect the 50 SEK". When we finally got to the last narrow road, a thin dirt road, there were, "surprise surprise", one single entrance fee for the car. Thanks to this, we missed the first V8 Thunder Car race. We was hoping that the STCC we take notice of this and postpone the start but no way. When you have driven for 4 h, this is the last thing you want to see. Why not have free of charge for parking when the logistics is obviously not working?  A blind man could see how bad this arrangement was.
The grand stand (with seats) distance to the fence/concrete wall was a joke. You could only see half of the car and in the Formula Renault series almost nothing at all. For a ticket fee of 495 SEK this seats was the worst I ever been at.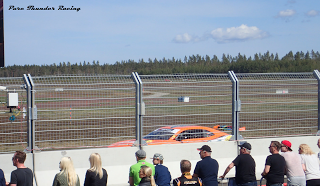 There were almost no other places to watch the races except from the stands.
Luckily, we brought own food and beverages, otherwise you had to spend all your lunch time in a overcrowded and undersized catering area that was almost impossible to pass to get to your seat in the grandstand.
I understand that a first time event at a new place can be difficult and tricky to arrange but the focus must always, always and always be in view of the paying attendance. Bare this in mind STCC.
Overall races grade: PPPP
Arrangement grade: P