Pure Thunder Racing is proud to present its first driver interview with Bryntesson Motorsport/Team X3M Chevrolet Camaro driver of car # 83 – Patric Sundel !
Brief presentation and background of  Patric Sundel
Patric Sundel, born 1973, is living in Perstorp, Skåne, Sweden.
Patric first tested to race karts at age 24, with very good results. After many victories in the kart series and a couple track record in kart's royal class -125 cc (6-gear), Patric moved on to race Superkarts (Formula-E). After a first testing season and one year off from racing, Patric drove a full Superkart series season in 2009. This resulted in a world record for the car magazine "Bilsport Superstage" with the time 1,13.72. Patric holds the Ring Knutstorp track record with the time 55,501. (Patric manage to break a 19 years old track record). Swedish Superkart champion in 2009 with 131 points (runner-up 86p).In 2010, Patric started driving a Chevrolet Camaro in V8 Thunder Cars (V8TC) series. The road to success in V8TC series have taken a long and sometimes difficult way. It takes time to adjust to a heavy and powerful car like the Camaro. But the trend is more and more positive for Patric. In 2014 V8TC season, Patric tested and qualified well in all races, but couldn't get the top result at the checkered flag due to different reasons. Patric and Team X3M is about to turn things around in the 2015 season.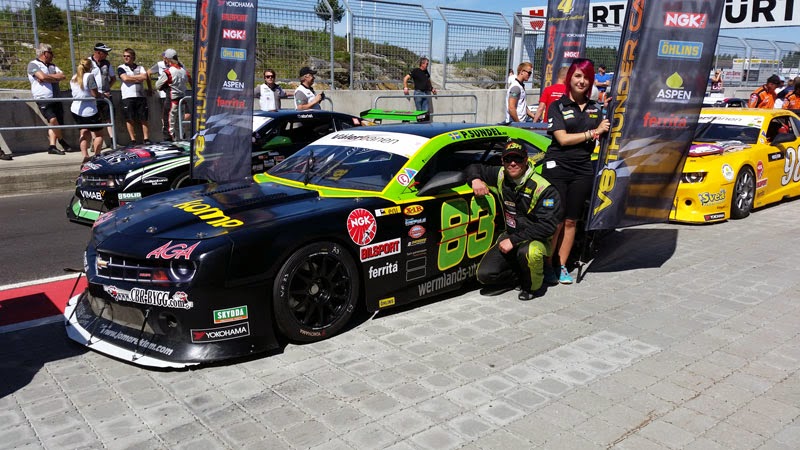 Photo by Alexandra Axmin
Career record:
65 Top-3
46 Wins
7 Track records
Rookie of the year – V8 Thunder Cars
Kaj Hilding Award – V8 Thunder Cars
Off track, Patric owns a mechanic workshop
with 5 employees (Ergoswede AB). Is happily married with 2 children and drives a Volvo.
How has the pre-season been? How much work is it for the team?
-There is always to little practice (!?). I/we don't work with the car ourselves between races, it's handled by another team – Bryntesson Motorsport in Jönköping. Bryntesson Motorsport is a highly qualified team and since 2014, also works as race engineers on race days. I drives for Team X3M (extreme) with Peder Jonsson at the helm. Team X3M also has two mechanics, one tire man and one VIP & catering manager.
Who works with what at your team? 
-Peder Jonsson is the team's chief, I'm the driver, Tony Bryntesson is the race engineer, Göran & Anders are the mechanics, Kaj is the driver coach, Niklas from AGA Gas is the tire engineer and Erika handles the catering & VIP.
New season with new opportunities. Last season ended with P10 with 41 points. What can we expect from you and your team this season?
-We are heading for a top 3 spot this season. Anything else would be a disappointment. It's impossible to have bad luck for 2 seasons, isn't it? 
Some of the more experienced drivers are not competing this season, incl. 2014 champion Jens Edman. There are some new interesting younger drivers, Linda Johansson and Eric Stillman instead. Will this have an effect for you, and if yes – in what way? 
– Eric will be my new teammate, so this will have big impact for me. Eric is a competitive driver and shows already good pace and intentions. I don't know so much about Linda but she's more than welcome to V8 Thunder Cars series. 
Who is your favorite pick for 2015 champion in V8TC?
-In media, the favorites looks like Graff and Ahlberg, two young talents. 


Photo by Patric Sundel

How did the first test day at Gelleråsen racetrack (Karlskoga) go? The weather wasn't that good for testing? 
– Good. New chair and driving position together with some new technique was all the adjustments made for this day. There were enough to practice as i was anyway. At the end of the day, my speed at the track was far better than last season, so we were very pleased with that.   


If you could choose any motorsport to race in, which one would it be? 
 – Formula 1, without any doubt. Perhaps my talent will reach all the way to drive fast in V8 Thunder Cars – a big and heavy car with plenty of muscles. But, easiest for me to show talent would be in a series with cars more similar to a formula car…, that showed, for example, at the STCC test last Autumn, where I was the fastest driver of all the testing talents that day.  
_____________
I would like to thank Patric for his time and wish him good luck in 2015 V8TC season.
– Jens Martin /Pure Thunder Racing