Friday, September  11, 3.45 AM.
It's early, more early then a "normal" Friday for me. A quick shower and a hot cup of coffee and away we go to Ronneby airport. A flight that will take me and my father to Sweden's capital of Stockholm. But it's not an ordinary weekend ahead in Stockholm, it's STCC (Scandinavian Touring Car Championship) race weekend at Solvalla horse race track.
Solvalla horse race track is Sweden's largest of its kind, and, only for this weekend, it is converted to a Motorsport race track. The track conversion work is an enormous logistical project (video). I can only say that STCC and its subcontractors have done the track transformation perfectly. Bear in mind that the track also shall host Rally-X Series as well. Demanding part dirt, part asphalt, the track has two layouts for both Touring racing and Rally racing. Also, the food and beverage facilities at the track are top class with numerous of restaurants and bars.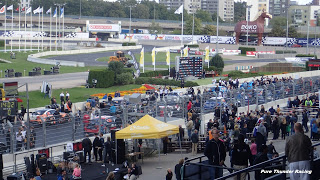 After landing in Bromma airport, Stockholm, it was only 275 meters (902 ft) to the hotel. After a quick drop of the luggage, we went the 1000 meters (3280 ft) by walking to Solvalla race track. Being ready for racing at the track around 08.30 AM was perfect. Taking a flight has its advantages some times.
Friday's event at the race track was a day for testing and qualifying. We saw all series at the track, STCC (main series organizer), V8 Thunder Cars (V8TC), Porsche Carreras Cup, Formel Renault 1.6 (open wheel), Renault Clio Cup and Rally X. The weather was good, 14-17 degrees, mainly cloudy – ideal for racing.
For me, it was my first time to witness a day of testing and qualifying and I must say, I liked it. There aren't as many people around the track & garage area on this day. You get a chance to talk with teams & drivers. The atmosphere is more of a relaxed kind. We managed to see when the V8TC teams, in the garage area, adjusted the cars after testing – that is always a pleasure to witness. After almost 12 hours at the track & garage area, we went back to the hotel. A very long day had ended, but you went to bed happy – with a smile.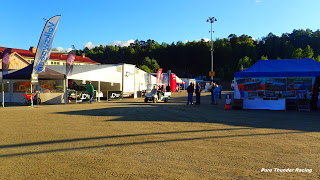 Saturday's racing event started at 09.00 AM. A few qualifying runs were conducted early and the rest of the day was mainly for hard & rough racing. STCC and V8TC raced in two heats; other series raced only one heat this time. Rally X and its support series had equal time at the combined dirt/asphalt track. It took some time to prepare the track from Rally racing to Touring racing, but the break was welcomed for stretching your legs and get some beverages.
I will not go into details with in depth race results and highlights this time. Only a few personal reflections that influenced me this day will be mention below. There was so much good racing to watch!
V8TC; Finally the Ahlberg brothers, #6 Andreas Ahlberg and #66 Joakim Ahlberg (not driving for the same team) nailed it for once in both races at Solvalla. Andreas proved what we all expected from him this season, that he can race fast and get a good finish with his P1 (race 1) and P2 (race 2). Joakim also made his best weekend results for the season with P2 (race 1) and P3 (race 2). There was some hard and intense racing, but fair, between the brothers at front of the field.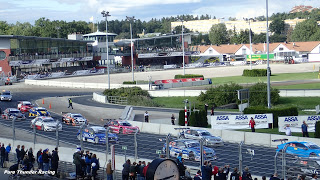 Also, the Stockholm native, #77 Alexander Graff, managed to control his nerves and bounced back from some bad finishes of late, ending up with a P4 and P1 finishes. Graff went up to P1 spot in the overall series standings. "Mr. consistent", #98 Stein Frederic Akre, had a bad weekend at the small and curvy racetrack with a P16 and P10 finish. This weekend's most positive surprise came from the rookie #42 Christoffer Bergström who had his best weekend ever with his double P6 finishes. That's the spirit Christoffer!
STCC; Really exciting racing from both of the two races. In the second race, the weather changed to drizzle in the last laps. The track got slippery quick and tested the best race drivers in Sweden to perform at the highest level. PWR Racing team manager #37 Daniel Haglöf took his first victory ever in race 1 and ended up P2 in race 2. in race two, #4 Fredrik Larsson was at not threatened after he took the the lead and won with +11,885 -second margin over P2 Haglöf. Most cheers today from the large crowd (~15600) were for the Finnish female driver of  car #93 Emma Kimiläinen. She really drove that #93 car majestically and masterfully, passing veteran drivers in an aggressive, but clean way. She has taken big steps to be a top-3 contender in the future, for real.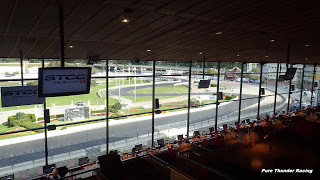 Carrera Cup: Sweden's most dominant driver, Johan Kristoffersson, has won every race up to Solvalla (10) and already a Porsche Carrera Cup champion, wanted to continue that streak. Others, like #11 Jocke Mangs, for example, has hunted Kristoffersson all season long without succeeding. Today, Mangs was fast but Kristoffersson blocked every move and trick from Mangs and all other hungry pursuers. The race had all that you ever could want from a touring car race. I must say, this was the best race at Solvalla this day.
Well, after another long day at the race track it was finally time to leave Solvalla for this time. I can only say that this was worth the effort and the money. Awesome racing, enthusiastic crowd, good arrangement and the most important thing; you actually could see the whole racetrack from the stand.
I warmly recommend all race fans to give Solvalla a chance, it's worth it – wherever you live in Sweden or Scandinavia.
______________________________________________
I would like to thank PattyKay Lilley for all her help with correcting the grammar & spelling – you are a true angel!